The three most common ways the word "discipline" is applied to the Lakers:
1) As a verb to convey punishment handed down by the league. The most recent examples include Metta World Peace's current seven-game suspension, or the four-game sentence served at the beginning of the season by Andew Bynum.
2) With the prefix "un" in front of it, and a "d" at the end.
3) As part of the phrase "a team that lacks discipline."
One element that's always impressed me about the Spurs throughout the Popovich/Duncan era is the methodical nature of those teams. Whether up 15, down 15, or in the middle of a close game, they always seemed to be playing exactly the same way. Players become metronomes in high-tops, plugging away towards a common purpose rarely if ever abandoned. Obviously, like all teams, the Spurs will experience mental lapses. But rare are the games where I've seen San Antonio beat itself, and that's in part because, collectively and consistently, they're an exceptionally disciplined bunch.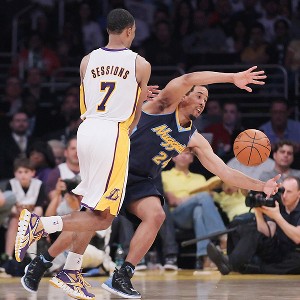 Jeff Gross/Getty Images
Sessions was part of an exceptionally disciplined approach on both sides of the ball.
On the flip side, this is my seventh season covering the Lakers, and even during the winning titles stretches, a disciplined approach has never been their calling card. This is a group with a penchant for inexplicably breaking away from what's working, typically because they'd rather settle for jumpers than make an extra pass to find a better shot. Impatience rears its ugly head on a regular basis. Short cuts will be taken in an attempt to knock out a team in the third quarter, rather than systematically build a lead through four. Minds will wander with a cushion, and that daydreaming allows an opponent to get back into a contest.
In broader terms, the issue would be labeled "inconsistency," but I've always felt the root of the problem is a lack of personal discipline.
Thus, it kind of blew my mind Sunday watching the Lakers play what was certainly their most disciplined game of the season, and perhaps the last few years. When you go down the checklist of matters requiring restraint against the Nuggets, the Lakers passed with flying colors.
- From start to finish, the Lakers controlled tempo through an insistence on forcing their pace and refusing to get sucked into Denver's running game. Shots were launched sensibly within the offense, which cut down on run-out opportunities against an unbalanced defense. They also took care of the ball, turning it over just 11 times against a squad capable of inducing turnovers. And on the occasions where Denver did shift into fifth gear, transition defense was in furious effect, the angles cut off and the lane protected. Even Matt Barnes, playing on a bad ankle, managed to track down Corey Brewer from behind and poke the ball away.
On the season, the Nuggets led the league in points in the paint (53.4) and fast break points (19.8), while ranking third in points off turnovers (19.7). On Sunday, they scored just 44 total in the paint, 19 fast break points and 12 points off turnovers. The Lakers can easily live with those results.
- Defensively, the Lakers were as alert, alive and active. Denvers shooters were rarely left wide open, even by bigs forced to challenge in space or along the perimeter. Rotations were crisp and purposeful. Bynum clearly turned the game upside down with his paint presence, but Pau Gasol and Jordan Hill also blocked a pair of shots. Denver shot a miserable 35.6 percent from the field and 28.6 percent from Downtown en route to a scant 88 points, all far below the seasonal averages of the NBA's most prolific team.
- On Friday, I wrote about the pressure facing Devin Ebanks, Hill and Ramon Sessions while making their postseason debuts. All three are young players, potentially prone to the magnitude of this moment. But rather than attempting to do too much or playing out of control, we saw a trio of composed performances. Unfortunately, Hill is now dealing with a potential distraction, but in theory, this was a nice sign for the less experienced Lakers moving forward.
Again, it was a triumph of discipline, the importance of which can't be overlooked.
"Discipline is always a key factor," agreed Gasol on Sunday after the win. "Limiting mistakes. Being active. Covering for each other. Communicating. Just being a unit. So that's something that's always important and makes a big difference for us. Now, the big key will be to do it consistently. Not get confident because we won Game 1. Now is Game 2 and that's the only game that matters."
Talking with some of the principals, you get an idea of the physical and (especially) mental challenge of playing such measured, focused basketball. Take, for example, upholding the Lakers' half court game plan. For most NBA players, the urge to run is as difficult to resist as a smoker's instinct to reach for the Marlboros. For a player like Sessions, imported to L.A. in large part because of his speed and ability to push pace, this is a particularly tough quandary.
"It's challenging, I will say," admitted Sessions. "It's one of those things that, getting those games once the trade deadline came, helped me out a lot. Knowing the pace, knowing how they want to play. It's easy when you see it on TV. You know they don't like to get up and down as much. But being up and down there with them, getting those games under my belt, kind of helped me control [the urge].
"Just watching a lot of film. Sometimes seeing myself run so fast. Just gotta slow it down for those guys."
Sometimes, the speed demon has to consciously remind himself to slow down over the course of games.
"It's something that I'm banging in my head a lot," said Sessions with a knowing smile. "Because I know the tempo is big for these guys. Less possessions is big for us, I think. So it's one of things where I try to control it as best as I can."
And then there's Bynum, who unloaded one of the most dominating defensive performances in recent playoff memory. That Bynum could take over in such fashion isn't surprising. Whether he'd be determined to do so, however, is another story. Drew, by his own admission, can be prone towards waning effort and focus, often the result of a slow offensive start. It was rather telling how Bynum challenged himself after Saturday's practice to play for 48 minutes in Game 1, and subsequently commendable how he surpassed even the most ambitious expectations.
"Defense is always just about heart," Bynum noted. "You can stop anybody if you really move your feet and really get down, but a lot of players don't want to do it on a consistent basis, or do it unless they have to."
Again, Bynum sometimes falls into that category of players unwilling, and I asked him just how tough it can be to maintain that mentality and will.
"It's just a mindset going into a game," said Bynum. "And really, actually, just taking a step back and letting the game come to you and playing hard. I think that's the big thing. Don't get too worked up over what you want to do versus what the game is giving you."
Again, it comes back to the exercising of self-control, maintaining blinders to outside forces and emotions. The way Kobe Bryant sees it, however, it's also a pragmatic matter.
"It's not very hard," shrugged Bryant. "We know if we want to win, that's how we're going to have to play. We were very prepared and knew exactly what we wanted to do. And we'll just stick to it."
On a macro-level, Bryant's exactly right. The issue isn't terribly complicated. You know what's necessary. Go out and do it.
On a micro-level, however, it's likely much easier said than done (even for The Mamba, who can at times be as undisciplined as any of his teammates). We'll see on Tuesday just how willing and determined the Lakers are to walk Kobe's talk.