With a 2-0 series lead, the Lakers couldn't ask for a better position as their opening round moves to Denver. On the other hand, while the Nuggets never controlled Game 2, they were able to make it far more competitive, and more importantly, they often dictated the style of basketball played. Can this development, along with a home crowd's energy, be converted into the first win of the series, or are the Nuggets simply overmatched against the Lakers' size and a certain 2-guard?
To preview what Game 3 may have in store, I had an IM exchange with Jeremy Wagner of the True Hoop Network's Roundball Mining Company. Below is the transcript.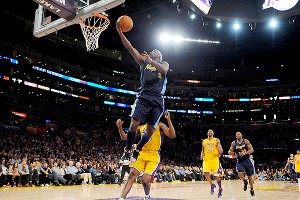 Noah Graham/Getty Images
The Nuggets got to the rim in Game 2, but their outside shooting was ice cold.
Andy Kamenetzky: Denver lost Game 2, but how much encouragement did you take from the way the Nuggets managed to push pace, attack the paint and generally play their game?
Jeremy Wagner: The Nuggets can bring some confidence into Game 3. They always knew they could run on the Lakers, but running alone does not equal winning. It just means they have a chance to keep the game close in the final few minutes. Their ability to continually fight back and control certain portions of the game is encouraging, but that feeling only goes so far.
But I do think Game 3 will be very competitive. Denver knows a loss will be the final nail in the coffin. If Denver wins Game 3, Game 4 should be a fantastic battle. If they lose, Game 4 might be much like Game 6 in 2009.
AK: Beyond continuing to run the break, what can Denver realistically do to finish Friday at 2-1?
JW: Denver must hit some 3s. The Nuggets are a very poor 3-point shooting team, but they do have capable 3-point shooters. If they had made a couple more in Game 2, things would have been interesting. The Nuggets are doing a great job on the offensive boards and running. If they can add one other positive characteristic, they will be in good shape.
The big discussion among Nuggets fans is whether to go with bigger lineups to try to beat L.A. at their own game, or go even smaller and risk completely sacrificing the paint? From a Lakers perspective, what lineup would be more concerning? Ty Lawson, Arron Afflalo, Corey Brewer, Danilo Gallinari and Al Harrington (small and fast), or Lawson, Gallo, Kenneth Faried, JaVale McGee and Timofey Mozgov (big and still fast)?
AK: It depends on how successfully the Nuggets pushed tempo, whether by getting the Lakers to take the bait or just fall apart defending in transition. Were that the case, I'd probably use the smaller lineup, since that feels like the group best at forcing the issue. But if the Lakers stay disciplined, you might need to hedge your bets with the bigger group to avoid being comically overwhelmed. However, I'd be concerned about how little McGee (lobs aside) and Moz would force the Lakers' bigs to defend. That's not exactly a frontcourt you run an offense through.
Speaking of McGee, do you think there's any chance George Karl starts him Friday? Koufos has done very little, and JaVale made his presence felt defensively and on the glass, if nothing else.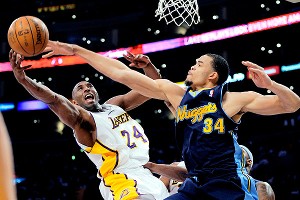 AP Photo/Mark J. Terrill
McGee is a reliable shot-blocker, but can he be a reliable basketball player?
JW: The consensus is Koufos should not be starting and possibly not even playing. I have maintained that Mozgov is by far the best defensive option for guarding Bynum, and I think he should start. I don't think Karl trusts McGee, since he's just as likely to make horrible mistakes as take advantage of his length and athleticism. It will be interesting to see what Karl does. The way the Nuggets' starters have been outplayed in the first two games suggests he needs to do something to mix things up. Removing Koufos for Mozgov, who was the starter until he got hurt early in the season, makes the most sense.
With the location shifting to Denver, how confident are you in the ability of supporting guys like Devin Ebanks and Jordan Hill to continue their solid play?
AK: Ebanks just stays in his lane and plays within himself. I've always believed in what he could do if given a chance, and I complained a lot this season about him not getting minutes. Hill's consistency has been more surprising, in that I lacked the sample size to create an informed opinion, and steady young players usually don't end up on three teams in three years. (He did often play well against the Lakers, ironically enough.) But guys often improve as the players around them follow suit, and this is easily the best team he has ever played on. At any rate, he's grabbed double-digit rebounds three times in three games off the bench since entering the rotation. Hard to get more consistent than that.
Do you expect Karl to keep playing Kobe in single coverage?
JW: I think so. Afflalo really did a solid job on Kobe in both games. Kobe made some incredibly difficult shots in Game 2 which made Afflalo look very bad, but his point total was not wholly representative of the job Afflalo did. The only time Kobe can really overwhelm Afflalo is posting him up. If Kobe is on the block, it's easier for Denver to double and still recover to Bynum and/or Gasol. The interesting thing will be to see if Karl has someone with more length like Gallinari try to cover Kobe. I do not think that would be a very good idea, but if Kobe is killing Afflalo and Brewer, they might try to mix things up.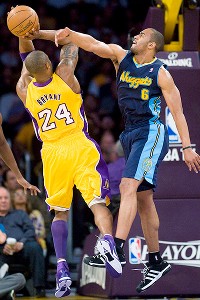 Win McNamee/Getty Images
Afflalo has had his hands full with Kobe.
Speaking of Kobe, how important to his performance in the playoffs was the time off late in the season?
AK: It's hard to prove a negative, but I think there was value in getting him rest. Kobe hadn't been shooting particularly well in the two previous months leading up to the injury, and even admitted fatigue was a factor at times. Recharging for nearly two weeks, plus the 66th game he sat out, was a valuable luxury. Maybe he'd play the same either way, but it's hard not to regard the events as correlated. Considering how poorly Kobe shot against Denver leading up to this series, it feels even less coincidental.
So who wins?
JW: As mentioned above, I believe Game 3 will be close in the final couple of minutes. In the back of the Lakers' minds, there has to be the knowledge that if they let Denver push them to six games, they'll get Metta World Peace back for the first game of the semifinals. Because of that the Lakers will subconsciously relax and Denver will put out a win in Game 3.
AK: I doubt they'll play with fire that way. (By definition, any plan of calculated risk involving MWP qualifies as such.) But I agree with Denver winning. I expected a split in L.A., and one upcoming in Denver. Friday is when it could happen. Either way, it'll be another very close game.