On one hand, nobody with grounded expectations should have expected the Lakers to sweep their way into the second round of the playoffs. In that respect, seeing them drop Game 3 to the Nuggets isn't necessarily alarming. On the other hand, the Nuggets have steadily improved with each game, while the Lakers have moved in the opposite direction since an absolutely devastating Game 1 victory. I wouldn't say the scales of control have tipped in Denver's favor, and the purple and gold remain the better team in my estimation. But the Nuggets are absolutely capable of forcing a tough series, which means the Lakers need to step their collective effort and efficiency back up a notch.
For more perspective on the first three games and what may lie ahead for Sunday, I conducted my IM exchange with Kalen Deremo of the TrueHoop network's Roundball Mining Company. Below is the transcript.
Andy Kamenetzky: The Nuggets have gotten steadily better in each game. Why is this happening and how sustainable is it?
Kalen Deremo: It's probably just experience and their comfort level adjusting. For many Nuggets, this is their first playoff experience. The more time goes by, the more relaxed they will likely become. And going back home to Denver definitely helped as well.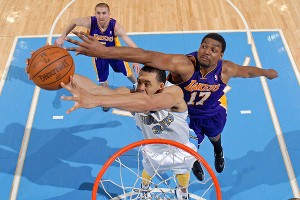 Garrett W. Ellwood/NBAE/Getty Images
Andrew Bynum may be the better player, but JaVale McGee was able to cause fits for the All-Star.
AK: In particular, Denver has controlled the offensive glass to create second-chance points. Is that a staple of their game?
KD: Not really. Kenneth Faried is an excellent offensive rebounder. JaVale McGee certainly helps out, too. When he's rebounding, the Nuggets just become a more dominant team on the glass in general. But outside of them, the Nuggets aren't particularly strong in this sense and I don't know if they can contend with the Lakers' bigs for an entire series.
AK: Maybe they can if Andrew Bynum isn't "ready" for any of Games 4-7, as was the case in Game 3.
KD: Yeah, that's interesting. The Lakers' bigs, like all superheros, have their Kryptonite as well. Bynum just seems like a guy who's easily irritated and not always 100 percent prepared mentally. Is this true, and how much could you see it affecting the outcome of this series?
AK: It's an absolutely accurate assessment, and the potential effect is devastating. No Laker controls this team's prospects for a deep playoff run more than Bynum. His ability to change games defensively, on the glass and (to a lesser but still sizable degree) as a low-post scoring threat is the difference between the Lakers controlling games and merely surviving/actually losing them. Unfortunately, the mental lapses and admittedly inconsistent engagement are recurrent issues. Drew must force himself to be dialed in from start to finish.
KD: What about McGee, though? I could see him perhaps giving Bynum problems. He's a superior athlete and could prevent Bynum from doing whatever he pleases offensively.
AK: There's no question McGee's presence has increasingly become a factor. Even before blowing up statistically in Game 3 (16 points, 15 rebounds), his wingspan has been problematic. He's blocking shots and altering others. Players think twice with him in proximity. Whatever McGee can add offensively is gravy. I don't know how much scoring he can reliably provide, but it's sure fun to watch him try. Dude's got some of the weirdest physicality I've ever seen around the rim. He'll attempt that scoop shot -- apparently his one "move" besides a dunk -- from mindbogglingly bizarre angles.
KD: He's so lengthy. The way he moves around the rim, it kind of looks like old Wilt Chamberlain footage. And yes, I just compared JaVale McGee to Wilt Chamberlain -- blasphemy of the highest degree.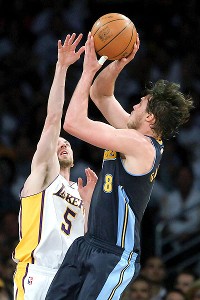 Jeff Gross/Getty Images
What's Italian for "Denver needs this guy to catch fire?"
AK: Are they really so different, Kalen? And speaking of wild cards, can Danilo Gallinari get going? He had a nice Game 1, but hasn't done much since. He seems pretty critical to the Nuggets' pulling an upset.
KD: Good question. He's SO critical to this Nuggets team. When he and Ty Lawson are on, it just adds a whole different dimension: Two guys who can easily score 25. Gallo hasn't been the same since he came back from his injury, though. He's reverted back to being passive and isn't attacking like in the beginning of the season. A lot of the Nuggets' fortunes moving forward will depend on whether he steps up.
AK: On the flip side, Kobe may be attacking, but his miserable shooting in Denver this season continued in Game 3, and even his makes have come off consistently tough shots all series. It's pretty impressive, when you consider the single coverage he's mostly seeing.
KD: Yeah, Gallo and Arron Afflalo are both good defenders, and you have Corey Brewer as well. That's a tough bunch for Kobe to get past on a consistent basis. My question is, who's winning this series for L.A.? Is it Kobe, Pau Gasol or Bynum? Kind of weird to think Bynum, at this juncture already, is more critical to the Lakers.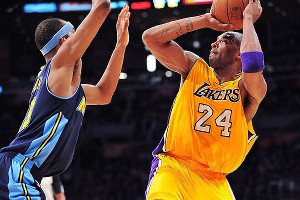 Gary A. Vasquez/US Presswire
Make or miss, Kobe hasn't seen many easy looks.
AK: You're right that it's weird, but true is true, for all the reasons mentioned earlier. Obviously, everything can't be placed on Drew's shoulders. Kobe and Pau are obviously Kobe and Pau, and their contributions remain critical. A lot is expected of Ramon Sessions. And the supporting players need to play better on the road. But ultimately, the key is Drew, and there's no way around this reality.
KD: Against the Nuggets, who make a living out of attacking the paint, Bynum is a more threatening force.
AK: Indeed. He can make or break both teams, really. So are we heading back to L.A. with a split series or with the Lakers up 3-1?
KD: Man, that's a tough one. The last thing I expected was the Nuggets to win in such convincing fashion after two pretty bad outings in L.A. That's certainly an encouraging sign. Though I still like L.A. to win the series, I'll take Denver in Game 4 by a very slim margin. What do you think?
AK: It's tough to predict. The Lakers controlled Game 2, but the Nuggets showed improvement, and have steadily headed in that direction. The Lakers, on the other hand, have gotten worse each game (although the incredibly high bar set by Game 1 left almost no direction but south). Still, they know what's at stake, and would love the chance to end matters in L.A. on Tuesday. I'm gonna say that prospect rallies the Lakers to a very close win in Denver.
Then again, I predicted "Lakers in 7," so a split won't surprise me in the slightest.