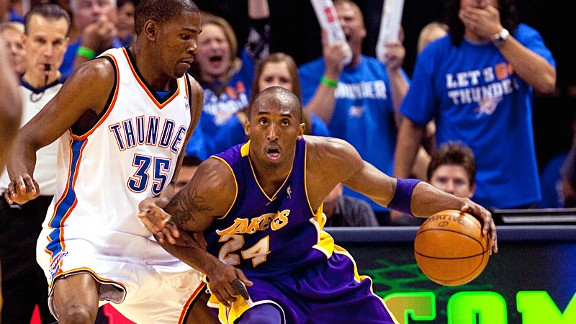 Dilip Vishwanat/Getty Images
High on the list of intriguing storylines in this series will be the battle between the NBA's two leading scorers.
The prospect of facing the Oklahoma City Thunder in the postseason has for most of the season conjured incredibly pessimistic images for Lakers fans. As the regular season wound down you could practically hear Adrian's pre-Drago speech to Rocky ringing throughout the city as most prayed the Lakers would leap through whatever logistical hoops required to avoid the Thunder until the Western Conference finals. But steadily the Lakers built momentum, solving some of their road woes and finding some actual support in the supporting cast.
Two games into their first-round matchup against Denver, things looked even better. Four games after that, they seemed much, much worse. Saturday, a strong performance pushed the Lakers through Game 7, finally earning a date with those very Thunder, starting Monday night in Oklahoma City. Nobody, save those viewing the world entirely through purple-and-gold-colored glasses, will make them a favorite -- nor should they. But despite the inconsistent effort vs. Denver, it's not out of the question the Lakers, through strong post play, attention to detail defensively, the intensity shown eliminating the Nuggets, and perhaps a healthy dose of ultra-rustic Siberian training can give OKC a genuine test.
Maybe even pull the upset?
The series features serious star power, with each team trotting out a high-end big three. Oklahoma City's combo of Kevin Durant, Russell Westbrook and James Harden brings, among other things, scoring punch and athleticism, while the Lakers counter with the length, experience and skill of Kobe Bryant, Pau Gasol and Andrew Bynum. Lovers of subplots and intrigue will have a field day, too, starting with the NBA's two leading scorers facing off in a battle of old vs. new guard. Metta World Peace and Harden will share the floor for the first time since this happened. Bynum and Gasol each have narratives to repair.
And, of course, the Lakers face a motivated Derek Fisher in a playoff series. The citizenry fears getting .4'd.
With all that in mind, here's a first look at the matchup ...
SEASON SERIES -- Oklahoma City 2-1
1. Thunder 100, Lakers 85 (Feb. 23, Chesapeake Energy Arena): The Lakers finished the first quarter up 23-19, but were outscored by 19 the rest of the way. Bryant finished 7-of-24 from the field, while Durant popped for 33.
2. Thunder 102, Lakers 93 (March 29, Staples Center): Again, L.A. got up early but was thoroughly outclassed after the first quarter. Durant and Harden were relatively quiet, but Westbrook went off for 36. Again, Kobe struggled (7-of-25).
3. Lakers 114, Thunder 106, 2 OT (April 22, Staples Center): The Lakers limited OKC to 14 fourth-quarter points, erasing an 18-point deficit and pushing the game to OT. Kobe again struggled overall (9-of-26), but hit huge shots late and ate up Westbrook (3-of-22) defensively. Big games for Gasol and the Lakers' bench.
SEASON STATS
Offensive efficiency: Lakers 103.3 (10th), Thunder 107.1 (2nd)
Defensive efficiency: Lakers 101.7 (13th), Thunder 100.0 (9th)
Pace (possessions per game) : 92.9 (20th), 95.7 (5th)
Rebound rate (percentage of shots a team rebounds) : Lakers 53 (second), Thunder 51.4 (fifth)
Turnover rate (turnovers per 100 plays) : Lakers 24.9 (19th), Thunder 26.5 (30th)
5 REASONS THE THUNDER POSE A PROBLEM FOR THE LAKERS
1. Transition offense. "It feels great to be out of this frying pan. Ooh, let's jump into that fire!" The quality of L.A.'s transition coverage ran the gamut against the Nuggets, the runnin'-est, gunnin'-est team in the NBA and third-best team in transition on a points-per-play basis. Now they get to try their hands against the league's sixth-most productive transition team, at 1.173 points per play. Durant is a terror on the run, as is Harden, and while Westbrook is turnover prone and less efficient than those two, he's certainly capable of wrecking havoc, as he did in the second meeting of the season. The Thunder are young, with a ton of athleticism they'll try to utilize on both sides of the ball.
2. Defensively, the Thunder have done well against the Lakers. OKC didn't grade out as an elite defensive team, but through the season series they did a number on the Lakers, shaving 4.9 points off L.A.'s season scoring average, holding the Lakers to 39.6 shooting (vs. 45.7 overall), and 17.8 assists (vs. 22.2). Inside the restricted area, the Lakers shot 9 percent worse against OKC than the rest of the league, 5 percent worse in the paint, and 11 percent worse from midrange. Kobe shot 30.7 percent, Bynum 44.4.
Against Bryant, Thunder coach Scott Brooks won't be dependent on any single defender, and can throw a wide variety of looks at him. Thabo Sefolosha's length and mobility has caused Bryant problems, and this season Harden has done outstanding work against him. Durant is an improving defender whose go-go-Gadget arms and defensive awareness -- he allowed a rock-solid .778 points per defensive play -- have periodically frustrated Bryant.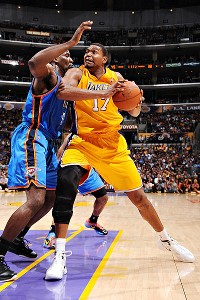 Andrew D. Bernstein/NBAE/Getty Images
Kendrick Perkins has defended Andrew Bynum well this season.
In the half court, Synergy rates OKC the fifth-best team in the league keeping points off the board. Where they suffer is in transition (15th), but only one team in the league (New Orleans) had fewer transition possessions than the Lakers, who aren't built to consistently exploit the weakness. Assuming he's healthy enough to play, Kendrick Perkins gives the Thunder a significant defensive presence in the post, and has had good success this season against Bynum. As a team, OKC was ranked third across the league defending post-ups, and fourth on isolations.
In short, they're tough in the half court, where the Lakers tend to live.
3. What to do with Westbrook? In two of the three games, the Lakers managed to put a lid on OKC's All-Star PG, but overall the matchup isn't a good one. Judging by regular-season returns, the best defender the Lakers can stick on him is Bryant. No question, Kobe is still capable of cranking things up on that side of the floor, but asking him to do for a series what he did against Westbrook in the third regular-season meeting is, to put it mildly, suboptimal.
There are also potential matchup problems with Harden, depending on what lineups Brooks deploys. If he leaves Durant on the floor with Westbrook, Harden and Fisher, who takes KD? Who checks Harden? Who plays Westbrook? The Lakers could find themselves in a few uncomfortable spots, without natural solutions.
4. At full strength, the Thunder have consistently been the better team. I was as inspired as anyone by L.A.'s massive fourth-quarter comeback on April 22. Still, it's hard to believe the Lakers would have won had Harden been available. Without him on the floor, OKC becomes a totally different, and lesser, team. Westbrook may be the PG, but Harden is the guy who facilitates the offense late in games, and as the Mavericks will attest, can score as well. The regular-season series isn't always a perfect indication of what will happen in the playoffs, but it still delivers signals and all of them point to the Thunder as a superior crew.
As for the regular season as a whole, the Thunder were dominant at home (26-7) and on the road (21-12), had a much higher scoring margin (plus-6.1 vs. plus-1.4 for L.A.), and were four games better against teams over .500 (27-15 vs. 23-19).
5. They are very, very well rested. OKC will have had nine days between games, and while that might lead to some rust in Game 1, over the course of the series the layoff likely becomes an advantage. Any dings and dents potentially slowing the Thunder will have healed. They're already faster than L.A., and having rest helps ensure they won't slow down much during the series. Games 3 and 4 at Staples will be back-to-back, something that won't bother Oklahoma City in the slightest.
5 REASONS THE LAKERS POSE A PROBLEM FOR THE THUNDER
1. Their defense limited OKC as well. Yes, the Thunder held down the Lakers, but the converse is also true. In three games against L.A., the Thunder's offensive efficiency dropped from a season average 107.1 to 103.1, their field-goal percentage from 47.1 to 42.8, and free throws attempted from 26.2 to 21.8. Durant averaged only 42.3 percent from the field, and Westbrook 33 percent.
2. Metta is a handy fellow in this series. The Lakers missed him in Round 1. Against the Thunder, his role will be massive. Offensively, the Lakers will need him to take and make open jumpers, and look for coach Mike Brown to try to find him post touches, both to add a healthy dose of physicality to the series and also try to alter the personnel Brooks throws on the floor in response. It's worth noting he was playing very effectively in the third matchup against OKC before getting tossed. As always, though, MWP's primary value comes on the other end, where his physicality has at times caused problems for Durant, and he's capable of picking up other guys for significant possessions if need be. His quick hands are an asset against any team, but particularly one as turnover prone as the Thunder.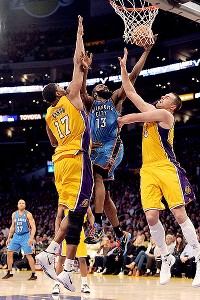 Harry How/Getty Images
Controlling James Harden will be a key for the Lakers.
A fine segue into ...
3. The Thunder turn the ball over a ton. More than any team in the league, actually. A helpful thing for the Lakers, who had the NBA's lowest opponents' turnover percentage during the regular season. Oklahoma City was much better with the ball against Dallas, with a TO percentage ranking sixth among 16 playoff teams. Still, if the Thunder revert to earlier form, it's easy to picture excessive generosity with the ball playing the Lakers into a game, maybe even allowing them to steal one they otherwise wouldn't.
4. The Lakers need some redemption after an up-and-down series, and will be motivated to beat the young pups. In the only game matching this incarnation of the Lakers -- with a productive MWP, Hill in the rotation, a comfortable Ramon Sessions, and so on -- the Lakers managed a win. One difficult to reproduce (banking on massive fourth-quarter comebacks against the Thunder is a poor idea) and coming with legitimate caveats, but a win nonetheless, and one they can build on. Bynum and Gasol both need a redemptive series. Moreover, the Lakers understand the future is not guaranteed, and financial/CBA considerations make some form of an offseason roster shakeup a real possibility. Kobe knows opportunities to snare a sixth ring may not get much better than they are this year. Gasol knows he may not be around next season. And so on.
There is motivation to make it work now.
5. There's always pressure on the Lakers ... but there will be much less against OKC. There's a freedom coming with being the underdog in a playoff series, one the Lakers don't get to experience all that often. Given their problems against Denver, expectations likely drop, especially taking into consideration the Thunder's sweep over Dallas. L.A. will get to play the always handy "nobody respects us, nobody gives us a chance" card, and play with a little more freedom. Not sure if you've noticed, but they've not been the loosie-goosiest of squads. This can't hurt.
EARLY PREDICTION
The Lakers have a chance. I wouldn't put my money on them, but they have a chance. They'll need sustained runs of quality play similar to Game 1 against Denver, their first game against San Antonio, or that remarkable fourth quarter/overtimes in the final matchup against the Thunder, but they have a chance. Better than these odds, too. With a break here and there, who knows?
Still, my gut has me choosing between OKC in five or six. I could be giving the Thunder too much credit, or the Lakers too little. I'll go with six, but the onus will be on the Lakers early to prove the series will have legs, particularly given how taxing the first round was on theirs.