That the Lakers failed to close out Denver on Tuesday wasn't horrible in and of itself, but the reason for failure certainly was. It's one thing to get outplayed, especially by a quality team desperate to stay alive. Getting outworked, however, is another story. The Lakers' inability to match the Nuggets' energy, intensity and desire was inexcusable, and as Brian noted, costly on a practical level. Still, what's done is done, and now is the time to make lemonade from lemons. The Lakers get two more cracks to wrap this up, but success on the first try equals that much less energy expended before battling the Thunder. The task won't be easy, especially in Denver. But it's doable, assuming the Lakers are willing to focus, execute and work enough.
For more thoughts on Game 6 (Thursday, 7:30 p.m. PT), I had an IM exchange with Kalen Deremo from the True Hoop network's Roundball Mining Company. Below is the transcript.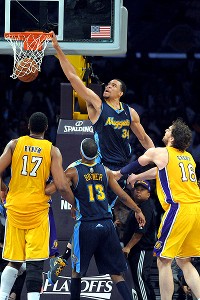 Kirby Lee/US Presswire
Please, Javale! Don't hurt 'em!
Andy Kamenetzky: Heading into Game 5, you weren't sure how this inconsistent Nuggets team would react to an elimination scenario. What did you make of the way they played?
Kalen Deremo: Shocked. Well, maybe not shocked, but thoroughly (and pleasantly!) surprised. For years, this team has exited the playoffs in embarrassing fashion. Tuesday, they played with heart, soul and passion. For once it looked like they actually cared about showing pride in the playoffs. What was your reaction?
AK: In the meantime, Denver continues to improve as the series progresses, certainly more than the Lakers.
KD: That performance was probably the Nuggets' best in the playoffs since 2009, when they reached the Western Conference finals. I think no matter what team they were playing, the Nuggets were gonna give it their all. What I want to know is what happened to Pau Gasol? Andrew Bynum and Kobe Bryant have showed up for the most part, but Pau just seems invisible.
AK: In fairness to Pau, he's been asked to facilitate more than score, and his passing has been very effective. Nuggets coach George Karl has even cited Gasol as a weapon hurting them in this respect. However, his rebounding numbers are down a bit from the regular season, problematic in a series where Denver's control of the glass makes or breaks L.A. His defense around the rim has also been erratic. And like Bynum, he was pretty MIA for most of Game 5.
In the meantime, JaVale McGee! Have you ever seen a player improve more over a series?
Kalen: McGee, man, I don't even know what to say. Seeing a 7-footer operate like a champ in the post, seeing his pure physical attributes dominate his counterpart, is a sight to behold. The Nuggets haven't had that type of center since Dikembe Mutombo, although Marcus Camby was nice defensively. Wow, I'm just getting way ahead of myself. Yeah, McGee was just unreal. It's so nice to see his maturation with the Nuggets. The guy has so much talent and potential. Seeing him discover it during a time like this is beautiful for Nuggets fans.
Do you think he could even end up outplaying Bynum two games in a row?
AK: It's certainly not impossible. McGee is swelling with confidence going back to Denver, and by Bynum's own admission, he doesn't always keep himself fully engaged. Granted, Drew also tends to follow subpar performances with good ones, particularly while under the spotlight. After his "I wasn't ready" comments following Game 3, Drew, to his credit, played well in Game 4. Thus, a good showing could be on the horizon. But if McGee also plays well, we could be in for a stalemate down low, plus a very fun battle.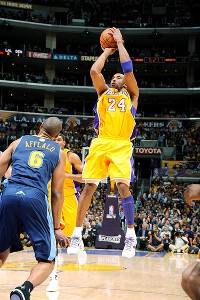 Andrew D. Bernstein/Getty Images
Looks this clean have been rare for Kobe.
KD: What's your take on the job Arron Afflalo has done on Kobe?
AK: Afflalo has done a really good job, but that's also expected. He has an established track record of making Kobe work hard for his points, which is all anybody can ask. What truly amazes me is how other Nuggets are successfully forcing Kobe into tough shots: Corey Brewer, Danilo Gallinari, Andre Miller, often in solo coverage. Kobe certainly gets his (like the 3-pointer barrage in Game 5, which was ridiculous). But he rarely does so easily, and that's huge for Denver.
Of course, as Kobe said Tuesday, the more pressing issue is the supporting cast stepping up to hit outside shots. Denver is daring guys like Ramon Sessions, Steve Blake and especially Matt Barnes to take wide-open looks. They're not falling consistently, which makes the extra coverage on Pau, Kobe and especially Bynum way easier to pull off.
I also think this series has been a testament to the power of depth. No Nugget has been a consistent force in all five games, but enough guys have stepped up each night to offset that. And when the Lakers' erratic supporting cast does show up, they're close to unstoppable. When they don't, the Lakers become vulnerable. The Lakers' wild cards, as George Karl labeled them, need to come through.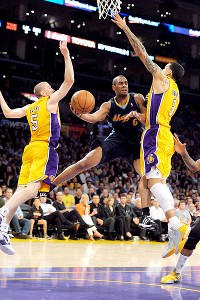 Kirby Lee/US Presswire
"Wild cards" Blake and Barnes need to step up.
KD: At the beginning of this series, I said the Nuggets' depth had to come up big if they wanted to win some games. It took a while to get going, but now that it has, perhaps it will stay that way. The other crazy thing about an already-crazy series is that Al Harrington has been atrocious. Dude's got a broken nose and torn meniscus, so you gotta tip your hat. But at the same time, you have to wonder if he should even be logging minutes at this point. If he was healthy, too, the Nuggets' bench would be that much better.
Particularly with MWP out, a healthy Harrington could really have tipped the scales further in Denver's favor. Well, here's the $1 million question. Does the series go back to L.A.?
KD: Yes, I think it does. The Nuggets showed so much heart in Game 5. People were stepping up left and right. They played like taking the series back to Denver meant the world to them, so it's hard for me to see them coming down from the high of achieving that feat.
AK: I hate to say it, but I also think we're looking at a Game 7. The Nuggets have no reason to tighten up while trying to stave off elimination, considering they've beaten the Lakers twice now, once in L.A. The Pepsi Center vibe will be insane and a team like the Nuggets will feed off that. I'd like to think the Lakers will respond properly, and this is a team with a Big Three that has closed series on the road. But it just feels like the Nuggets are getting hot at the right time, and I don't see them slowing down. Either way, I'll predict yet another tight game.