Because, you know, a 29-point drubbing by definition means you can never tweak too many things. Yesterday, Brian offered several areas in need of drastic improvement. I thought I'd add my two cents with four more suggestions. (Sadly, we likely still didn't cover everything. But hey, we only had 48 hours between Games 1 and 2, and both needed to sleep a bit.)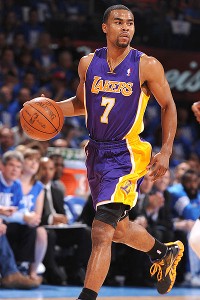 Andrew D. Bernstein/NBAE/Getty Images
Despite Sessions' presence, sets still take forever to initiate.
1) Get the ball up the court faster to initiate the offense earlier
During the era of "Derek Fisher and Lamar Odom bringing the ball up so Kobe doesn't have to do everything," a turtle with a decent handle might have taken the place of either without anybody noticing. Whether because the directive to slow tempo was taken too literally, or because Fisher's declining speed and LO's generally laid back style, it felt like the court was covered in molasses. Eight second violations were regularly flirted with, and precious time was frittered away over the entire 24 seconds. As a result, someone was often forced to take a bad shot.
Mike Brown arrived in L.A. with the stated goal of getting into sets faster, and with Ramon Sessions eventually in the fold, that objective should have become even easier. However, slow migration end-to-end remains a habit, particularly Monday in Game 1, and it's a habit in need of immediate breaking. I'm not calling for a radically pushed tempo. The Lakers don't have the personnel to live in transition, and getting into a foot race with the Thunder is a losing proposition. This is simply a matter of milking possessions for their maximum opportunities. Any early deep position gained by Andrew Bynum or Pau Gasol gets negated if they're watching the ball handler meander upcourt for 3 seconds while a defender pushes them off a spot. The Thunder's defense is being far too much time to set in general. And should any of Game 1's offensive confusion bleed into Wednesday's proceedings, an extra four or five seconds to sort through the mess could go a long way towards salvaging possessions.
2) Play physical defense without fouling
In the regular season, the Thunder were second in the league for free throws averaged per game (26.4). During the postseason, they've "fallen" to 25 per contest. In the meantime, the Lakers led the league during the regular season in preventing trips to the line (18.4 per game). Theoretically, something needed to give during Game 1. Well, considering the Thunder took 29 free throws in Game 1 -- 25 alone through three quarters -- this one should be chalked up as "Advantage: OKC." That OKC also shoots a league-leading 84 percent during the postseason at the stripe only accentuates the importance of not sending various Thunderians there. Excessive fouling could do the Lakers in.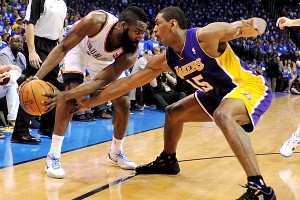 Mark D. Smith/US Presswire
Add some muscle to the hustle, Metta.
On the other hand, Russell Westbrook said after the game he expected the Lakers to play them more physically, and his prediction needs to become a reality. Too often throughout the game, the Durant-Westbrook-Harden reached their desired spots with alarming ease. Away from the ball, there needs to be more bumping and ball denial to disrupt rhythm, and on-ball, OKC players need to be bodied up more effectively and crowded into discomfort. I realize there's a tightrope walk at play here, but referees also tend to allow more contact in the playoffs, and Kobe Bryant and Metta World Peace are both defenders who've earned respect and leeway from the officials. They need to cash in on that goodwill, and everyone else needs to crank matters up a notch.
3) Turnovers must be forced
The Lakers ranked an NBA-30th ("last," for those keeping score) in steals during the regular season and haven't been any more prolific during the playoffs. Brown isn't a coach who drools over steals, stressing instead solid defense over ball-hawking and gambling for swipes. And it's a philosophy not without merits. However, there's value in disruption, especially against an exceptionally prolific offense. Durant, Westbrook and Harden are talented enough scorers to drain legitimately challenged shots on a regular basis. Possessions need to be taken away from the Thunder altogether, meaning the Lakers need to do better than Monday's four turnovers.
4) The bench has to show up on the road
Save Sixth Man of the Year-caliber types, bench players generally struggle outside of their own arena. Reserves often feed off the energy of their fan base, so a hostile crowd can suck the life right out of them. And in the case of the Lakers, we're talking about a crew whose production is fairly unreliable to begin with. One doesn't expect Steve Blake, Matt Barnes or Jordan Hill to necessarily morph into "Harden 2.0." However, the Bearded One can't outscored all three 17-12 in under 25 minutes of run. All eight of Barnes' points came in the third quarter and beyond, when the game was already well out of hand. Blake was a zero-point no-show. And Hill offset his four points and relentless energy with some bone-headed sequences.
That kind of collective showing might hurt the Lakers in L.A. In Oklahoma City, it's guaranteed to leave a mark.
The Lakers' cause would be helped tremendously if all three showed up to play, but at the very least, two need to make their presences felt. One or zero puts a huge burden on a starting five already dealing with a full plate.