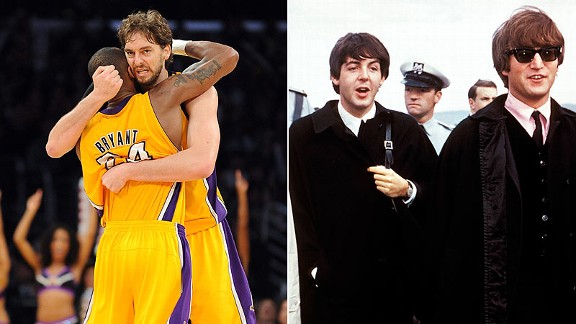 Getty Images
Kobe and Pau haven't created the same basketball "music" this season.
"Pau's got to be more assertive. He's the guy out there that we need. When he's getting the ball he's looking to pass. He's got to be aggressive. He's got to shoot the ball. He's got to drive the ball to the basket and he will in the next game ... He's just looking to swing the ball too much, he's just got to shoot it. We played pretty much the same way the entire game. The second half what they did was front Andrew (Bynum), so when they front Andrew and in the fourth quarter they crowd me, the other guys have to be more aggressive, simple as that." - Kobe Bryant
"It's hard to say. Obviously we want the ball in Kobe's hands, but it doesn't necessarily need to be so early in the shot clock. I think it should get there later in the shot clock when the ball has moved and changed sides of the floor. Instead of being there from the beginning and then they kind of collapse and everybody's kind of sitting and it makes it hard for us, sometimes." - Pau Gasol
Above are two very different thoughts expressed by the Lakers' stars when asked about the stagnant fourth quarter offense that, along with simultaneously porous defense, eventually resulted in a blown lead and 3-1 deficit heading to Oklahoma City. Upon hearing these remarks, fans and media are typically inclined to debate "who's right" in an effort to determine which Laker was most "at fault" for the loss. But for me, what was most compelling about these comments was the stark reality exposed.
Kobe and Pau aren't on the same page. At all.
And this shouldn't be terribly surprising, since it feels these days like they barely share the same court. As this season progressed, the once-electric chemistry and byplay between Bryant and Gasol has increasingly gone the way of the Dodo Bird. They don't work off each other with nearly the same frequency as the previous four seasons. This is in part a byproduct of Andrew Bynum's increased prominence, which means more possessions beginning (and often ending) on the low left block. And the addition of Ramon Sessions, a ball-dominant guard while playing to his strengths. Plus, Gasol's 2012 role, which either parks him in the high post as a general offensive conduit or an anchor for the reserves while Kobe rests.
All of these factors have emerged to practically transform Kobe and Pau into strangers. They'll occasionally run pick-and-roll together -- ironically, often as a means to ultimately to create lobs for Drew -- but it's just as likely, if not more, to see that action between Sessions and Pau or even Pau and Bynum. Bryant and Gasol barely feel like they complement each other any more. They're no longer killing opponents with beautifully meshed skill sets. They're arguably the best guard/big man duo since Kobe and Shaq, but you'd never know based on their current usage. This separation of stars is a huge reason, even beyond the inherent roster flaws, the Lakers haven't been able to consistently maximize their assets this season. Even if you think Bynum has become a better player than Gasol, it's nonetheless impossible to argue Kobe and Bynum play better together than Kobe and Gasol. And that ultimately leaves the Lakers wanting for more.
In the meantime, Kobe's grown more publicly exasperated with Pau, further fueling the "Black swan-white swan/Gasoft" story lines that, beyond annoying Gasol to no end, illustrate in neon lights their stark differences in personality.
Their polar opposite natures, however, isn't a problem. Truth be told, it's actually a huge reason they've been able to flourish. To be blunt, Kobe ain't the easiest dude to play with. He's exceptionally demanding, doesn't give a hoot about your feelings, and his presence can steamroll. That's not to say he's a bad teammate or leader. But those playing alongside Bryant adjust to him, not the other way around. And most All-Star caliber players aren't big on adapting, even for one of the all-time greats. Gasol, however, will subvert his ego. (He actually does have one, by the way.) And Kobe is smart enough to recognize the rare asset he has in Pau. There may be nobody better suited to play Robin to his Batman. (Alfred? Not so much, unfortunately.)
In exchange, Kobe's made Pau a better, tougher player by holding him to high standards. And frankly, Pau's made Kobe better as well while serving as a highly skilled, highly intelligent safety valve.
The two have always reminded me of the basketball version of John Lennon and Paul McCartney. Like Lennon, Kobe possesses the more openly dark side, doesn't suffer gladly those he considers fools, and has a very specific vision of his craft. Gasol is very "Paul," with the sunnier persona, inherent "likability" and by (relative) comparison, is considered more lightweight. It's often quite easy to tell whose hand was heavier while co-writing a particular Beatles song. But those differences were offset beautifully to create some of the best music ever recorded. Kobe and Pau may not have quite matched those heights together, but they were undoubtedly pretty impressive.
At their best, Bryant and Gasol played basketball like a couple who've been together so long, they can finish each other's sentences. Watching them play was pure joy, and as a basketball fan (not to mention, a Laker fan), it's gone terribly missed this season. For me, that's the most disappointing element to this season and its inevitable conclusion.