The fourth quarter of Saturday's Game 4 loss to the Thunder was filled with mistakes by multiple Lakers, but one play in particular -- the shot opportunity passed on by Pau Gasol for the pass he made instead, picked off by Kevin Durant -- became almost instantly infamous. Durant turned the turnover, coming with 33 seconds remaining and the score tied at 98, into a triple. Oklahoma City held on for the win, and now has a chance to close things out Monday night on their floor.
Gasol should have taken the shot, and said so after the game.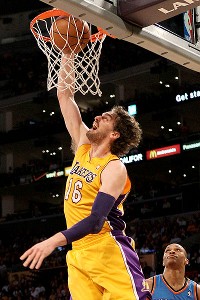 Stephen Dunn/Getty Images
More aggression from Pau Gasol would have served the Lakers well in Game 4.
The giveaway, along with an underwhelming stat line (10 points, five rebounds, two assists, three blocks), landed Gasol directly in the next-day crosshairs, and appropriately so. In many ways, too, Gasol's mistake almost perfectly reflected a season shifting under his feet from the moment it started, when he was shipped off to Houston in the Chris Paul trade, then shipped right back after the NBA nixed the deal.
Mike Brown has spoken frequently about Gasol's versatility, and his belief Pau's expansive skill set allows him to be used in a variety of ways around the floor. In reality, only selected areas of Gasol's game have been effectively mined, reflecting shortcomings in the roster and an evolution in personnel. A lack of perimeter playmakers and reliable shooting pulled him away from the basket to facilitate and also spread the floor. This while ceding to a rising Andrew Bynum post touches he once had himself in an offense where he's often marginalized. (And in a nifty bit of irony, Pau is often the one making the feed to Bynum on the block.) Meanwhile, his chemistry with Kobe Bryant isn't as good, either.
No question, Gasol has been a pro. The transformation of his role isn't something every NBA player would accept, and as he told ESPNLA's Ramona Shelburne following Game 4, Gasol believes he's done it to the best of his ability even while wishing for more scoring opportunities. Unfortunately, while in the end his numbers this year were solid and at times the results were very positive, ultimately the facilitate-first role also reinforces, even codifies, Gasol's weakest tendencies as a player. Too frequently (though not nearly as much as some suggest), he blends into the wallpaper, his natural unselfishness tilting too far towards passivity.
As Gasol put it after the game, "I am unselfish. Sometimes it plays against me." He was referencing the turnover in the micro, while in the macro understanding how it reflects his wiring as a player.
Critics call him soft, defenders (like me) a multi-faceted, team-first talent with remarkable skill for a 7-footer. Regardless, one thing is clear:
This -- meaning the place he now occupies on the Lakers -- doesn't work. Not for Gasol, not for the Lakers.
The model so stunningly effective for both parties during the Finals runs included the versatile Lamar Odom, whose presence freed Gasol to spend more time on the block, a less important Bynum, and an offense perfectly fitting Gasol's skill set. Clearly the fit now isn't as good, and unless the Lakers can again create the kind of roster restoring Pau's ability to most effectively use his full range of skills or alter the on-floor dynamics of their Big Three -- both difficult propositions -- another year won't make it better, and could tarnish him in ways he doesn't deserve. Financially, the NBA's post CBA world order with its massive luxury tax penalties looming, means L.A. can't afford to pay Gasol the $38 million-plus he's owed over the next two seasons to be the player he is for them now.
That change is coming to the Lakers isn't a secret, and leaving the locker room after Saturday's loss, it definitely felt like the end of an era. It's nobody's fault, really, but a reflection of realities in professional sports.
I've long thought save some miraculous title run for the Lakers, Gasol would again be shipped out this offseason, whether he played well in the playoffs or not. (He's done both.) Trading him is the most straightforward path towards some combination of payroll reduction and adding badly needed depth. It's not something I've looked forward to, given my well-documented respect for Gasol on and off the floor. When it happens, on a personal level I'll be disappointed.
Nonetheless, from a basketball standpoint, this time around a trade of Gasol wouldn't just benefit the Lakers' bottom line and reconstruction efforts, it would also benefit Gasol.