Click below the jump for full video coverage of Bynum's exit interview.
At this point, the concerns about Andrew Bynum are well documented. The NBA, like all professional sports, places a premium on predictability, particularly for superstars.
Bynum, a superstar talent in his ability to change games on both sides of the ball, failed the predictability test in significant ways during the 2011-12. Not necessarily in his statistical output -- the numbers were very strong -- but more often in his effort and engagement. There were too many nights Bynum didn't clock in, or decided to clock out early whether figuratively (allowing his defense to be dictated by his offense) or literally (two silly ejections).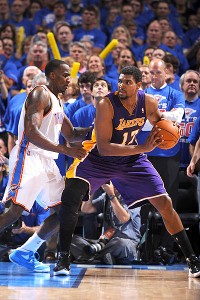 Garrett W. Ellwood/Getty Images
A controversial year came to a disappointing end in Game 5 for Andrew Bynum. What does next season hold for him?
And since on any given day what comes out of his mouth could easily be any combination of insightful, candid, or cartoonish, like you I was very curious to see what Bynum would say to the media after an extended exit interview with Mitch Kupchak and Mike Brown this afternoon in El Segundo.
Which Bynum would we get?
The candid and self-aware one, as it turns out. Bynum's answers weren't the sort of self-flagellation/mea culpa more self-righteous corners of sports media love demanding, but without getting too specific he certainly acknowledged shortcomings and noted skills away from the court requiring development. "I definitely need to mature and get the locker room to follow me," he said. "Have a presence, have an aura that demands my teammates' respect. That's something I can definitely work on."
That, and consistent energy and investment during every game, more a mental than physical challenge. "It's hard for anybody, I think, to focus at all times. That's what makes people get to that superstar status when they're able to do that four out of five games. That's the difference. That's the next step for me," he said.
Like many, at this point I have taken a "show, don't tell" approach with Drew, and in Mitch Kupchak's shoes certainly would be nervous about giving Bynum the keys to the kingdom. He's a smart guy, and there's time for him to grow out of the immaturity plaguing him this year. Kupchak reiterated today faith he would and the team's plan to pick up Bynum's $16.1 million option for next season.
We'll find out in a few months if today's words translate eventually into change next season.
Among other highlights:
Bynum reiterated a desire to stay with the Lakers, if possible. "I take every day I'm in L.A. as a good one," he said. "I don't want to go anywhere, and hopefully if I keep elevating my play I won't have to." As for his contract, Bynum said he's open to an extension, but "I'm not seeking it. I'm not reaching out."

He plans on traveling to Germany in the fall to undergo Orthokine therapy -- the same procedure Kobe Bryant had last offseason -- on one or perhaps both knees..

Adjusting to life as a player with tremendous influence on the team's fortunes: "You have to realize you're kind of so important to the game that what you do kind of can deflate the locker room or inflate the locker room. That's really the biggest change from last year to this year, or any other year for that matter. Knowing that now, you're going to approach the game in a different way ... The next step is making your teammates better. When you can do that, then you can really have success anywhere. At times [this season] I was great [with that], at times I was poor. I think it was up and down, and could be more consistent."

The importance of having stayed healthy all year, for the first time since playing 82 games in his second season.

His relationship with Kobe and Mike Brown, thoughts on Pau Gasol, and what went wrong against Oklahoma City.
MORE EXIT INTERVIEWS: