It was an interesting season for Metta World Peace. (Is there any other kind?) The campaign began with a visibly/admittedly overweight MWP tapped to pick up where his close friend Lamar Odom left off: The bench Kahuna. Having watched Metta spend two triangular seasons doing little more than spot up and wait, I enthusiastically endorsed Mike Brown's plan for more responsibilities. With the ball in his hands more often, I was reasonably confident Metta would emerge more consistently engaged and perhaps even an effective scoring and play-making source. For a brief period, that vision seemed doable.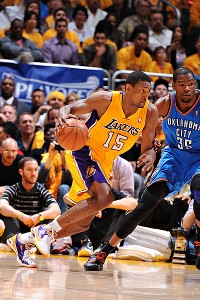 Andrew D. Bernstein/Getty Images
Driving the lane, MWP experienced early success. Further out, not so much.
In his first seven games, MWP notched 10+ points three times, 3+ assists four times and drew fouls as a point-forward/post-presence. Defensively, he was typically a step (or three) slow and his 3-point shot was staggeringly absent -- through January, 14 percent success, rounding up -- but Metta still brought something to the table as an imperfect option. However, as time marched on, so did MWP's distance from the basket. For reasons I never could get explained by Brown or Metta, those post opportunities steadily declined, making MWP once again a lonely man there on the corner. Banished from the lane and lagging defensively, MWP's ineffectiveness reached the point where unless a return to the block was orchestrated, I questioned the logic of even playing him.
Shortly after an unusually strong effort against the Clips, MWP joined the first five, but consistent production still eluded him. For every game his defense or a timely 3-pointer made a difference, in several others Metta played like a shell of himself. Nobody would reasonably expect a Xerox of "Indiana" Ron-Ron, but something better than this version certainly was fair to request.
Desperately needed signs of life first came in March. Five double-digit showings. His 3-point shot began to fall semi-regularly. LeBron James and Paul Pierce were forced to work hard for points during Lakers victories. MWP looked more comfortable, and spoke freely about improved health and confidence. Still, his impact wasn't pronounced enough for MWP nor fans to hang their proverbial hat on.
April, however, proved a veritable hat rack.
On both sides of the ball, Metta performed not just like the dude from his debut season in L.A., but better. When a shin injury shelved Kobe Bryant for seven games, MWP picked up a big piece of the slack, averaging 16.3 points and reaching double-figures six times. A season-high nine assists against Golden State, was indicative of MWP's hand in shaping wins. Obviously, these numbers were to some degree a byproduct of The Mamba's absence, but 23 points (on a tidy 13 shots) against Houston came with Kobe in uniform. A sustainable high gear had been discovered, and for an underdog team looking to make a deep run, MWP became the roundball equivalent of found money.
Then came bankruptcy in the form of an elbow to the head of James Harden.
MWP's seven-game suspension proved costly in the playoffs. While it's obviously impossible to prove a negative, I don't think it's unreasonable to suspect his presence could have prevented, at the very least, Lakers-Nuggets going the distance. (Put it this way: Could less reliance on the increasingly ineffective Matt Barnes/Devin Ebanks tandem or the problematic Steve Blake-Ramon Sessions backcourt have created even one win? If so, you agree with my premise.) Extra time to rest and prepare for OKC was critical to any prayer of an upset, and the Lakers missed out, perhaps in part because of MWP's infraction. To his credit, MWP helped eliminate Denver with a terrific Game 7, and worked his butt off in a brutal assignment covering Kevin Durant. However, that matchup was one-sided in the scoring champ's favor, and the extended break seemed to adversely affect Metta's shot. (Not to mention his shot selection.)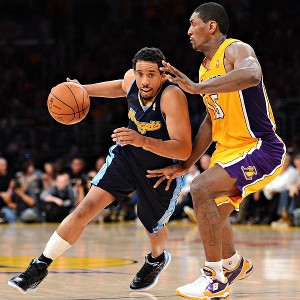 Harry How/Getty Image
Metta's D made an immediate difference in Game 7, but the long term damage was already done.
MWP was among precious few Lakers who produced in Game 5 against OKC, and he made some nice plays in the Game 4 loss. But all in all, Metta's postseason was a massive disappointment, between the time missed and the optimism swirling around him pre-elbow.
Statistics
64 games, 26.9 minutes, 7.7 ppg, 2.2 apg, 3.4 rpg, 1.1 spg, .394 FG, .296 3pt
Highlights
A move to the bench was accepted with outward enthusiasm. April didn't just offer great numbers, but also quality leadership. With Kobe out, MWP took the leadership reins and went out of his way to lend an instructive voice to huddles. And MWP deserves props for successfully working his way back into shape after the lockout prevented him from addressing with Gary Vitti and company a lingering nerve issue in his back. (Opting not to disclose the ailment, rather than create the vibe of excuses, was admirable in its own right as well.)
Lowlights
MWP's January and February splits likely constitute the worst numbers of his professional career, and on the heels of a 2011 campaign far below his standards. (I mean, 27.5 percent from the field in January? Not from Downtown. The field!) MWP has never been automatic at the line, but 61.7 percent on the regular season is just inexcusable. His "stats guy" critique of Brown served up a zinger comeback on a silver platter for his coach, not exactly famous for barbed commentary.
And, yeah, that elbow.
Prospects for 2012-13 (contract, likelihood of being on the team)
More than anything, dollars will dictate MWP's future in purple and gold. The Lakers are in cost-cutting mode, and Metta's contract isn't one easily shed for relief. Thus, he could be an amnesty provision candidate, should the front office opt to use it. Basketball-wise, MWP proved his worth, even in slow burn fashion. Plus, with Ebanks unproven, Christian Eyenga's credentials making Ebanks look like LeBron James, Barnes no lock to return and the Lakers low on ways to add quality pieces, MWP could even be viewed as a necessity.
However, when money matters, roundball doesn't always break every tie. MWP is due $15 million over the next two seasons and that's pricey for a near-33-year-old (next November) who's been suspended in consecutive postseasons. If the Lakers can somehow find a reasonably priced and credible alternative, MWP might be on the outside looking in.
Grade
C
Previous 2011-12 report cards: