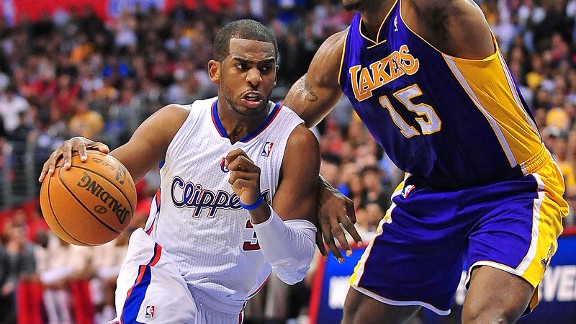 Gary A. Vasquez/US Presswire
When Chris Paul ended up in the wrong Staples Center locker room, the Lakers' plans for the 2011-12 season hit a major snag.
At this point one year ago, the Lakers were well into their offseason, having been swept out of the second round by the (eventual champion) Dallas Mavericks. At that point, we outlined five major areas of need heading into the 2011-12 season.
12 months later, after again bowing out (or being bowed, more accurately) in the second round, again in lopsided fashion this time by Oklahoma City, it's worth looking back at those five problem areas to see how well they were addressed. The answers aren't instructive simply in terms of giving the front office crew of Mitch Kupchak and Jim Buss a grade (though that's been the theme over the last 10 days or so), but also showing the challenges they face going forward.
How many items were effectively crossed off last offseason's to-do list?
Among the many ugly, indelible memories of the 4-0 pasting against the Mavs in 2011 was watching the Lakers clang shot after shot from beyond the arc. 15-of-76 overall, for a go-ahead-and-try-this-at-home-because-you-wouldn't-be-any-worse 19.7 percent. The spectacularly poor marksmanship left fans pining for the salad days of the regular season, when the Lakers' 35.2 3-point percentage merely made them below average (tied for 17th).
This season, the Lakers again fell short from the perimeter in the playoffs, hitting only 28.2 percent of their 3-pointers against the Thunder.Disappointing, but unfortunately not far off their 32.6 regular season mark, meaning nothing about the way L.A. shot against OKC was fluky. Throughout the year the Lakers had little floor stretching capability, limiting space inside for their high end post game or lanes for dribble penetration. Help defenders could collapse on the ball whenever it entered the paint, comfortable nobody on the perimeter would make them pay.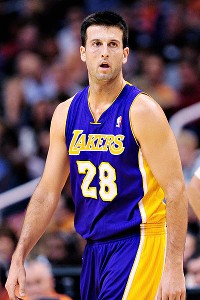 Jennifer Stewart/US Presswire
Yeah, so this didn't work out.
The Lakers hoped to improve their shooting in a few ways, starting internally. Steve Blake's 37.8 mark in 2010-11 was below the bar he'd set in the three seasons previous, for example. From there, they signed Jason Kapono and Troy Murphy to veteran's minimum contracts. How'd it go? Blake's percentage actually dropped this year, to 33.5 percent. In extremely limited run, Kapono went for 29.6 percent, then was tossed into the deadline day deal with Cleveland bringing in Ramon Sessions. Murphy actually hit a respectable 41.8 percent, but didn't play enough to make an impact.
One bright light, at least until the playoffs, was Sessions, who hit 48.6 percent of his 3's in 23 games post trade. Overall, though, the guys taking the most triples game to game (Kobe Bryant, Metta World Peace, and Blake particularly) were wildly inefficient. The Lakers clearly didn't fix the problem, meaning perimeter shooting -- genuine leave open at your own risk perimeter shooting -- remains a screaming neon need this summer.
In 2010-11, Lakers point guards (Blake and Derek Fisher) scored less than any other combo in the league, at 10.9 points a game, and only generated 4.9 assists.
That had to change, particularly after shifting away from the triangle towards a more traditional point guard driven, pick-and-roll offense under Mike Brown. This season there was some improvement, as the Lakers PG's boosted their output to 14.9 points and 6.5 assists. Still their efficiency differential was again just off the bottom of the barrel.
But while the final numbers weren't ideal, the front office hardly ignored the issue.
The first attempt to address it came with the preseason, three-team deal with Houston and New Orleans putting Chris Paul in purple and gold. When point guard is a major problem, it's hard to find a better solution than CP3. Of course, about an hour later for (ahem, cough) "basketball reasons" the deal was off -- as noted periodically throughout the year, it's almost impossible to overstate how bad this debacle jacked up the Lakers -- the plan didn't work, leaving L.A. scrambling for a Plan B. Deadline day brought Sessions, at a cost of a couple first round picks and veteran leadership in Fisher.
Do they still need a point guard? Depends. His poor postseason notwithstanding, Sessions has the ability to be above average at the position, not an elite level All-Star but an asset nonetheless. Depending on the composition of the team around him, Sessions could be plenty adequate. On the other hand, there's definitely space for an upgrade should the Lakers decide to plug in a true star at the position.
As the old saying goes, "Sometimes Theo Ratliff isn't enough." Such was the case last season, when the lack of decent depth at center depth combined with Bynum's recovery from offseason knee surgery put enormous pressure on Gasol's legs.
This year, the Lakers added a couple bodies in Murphy and Josh McRoberts, then later in the year with Jordan Hill. All three had some degree of utility, but because the Lakers sent away their main source of frontcourt depth (Lamar Odom) away without replacing him, once again Gasol piled up major minutes. Only OKC's Kevin Durant logged more than Pau's 2,430. Had Bynum not remained healthy all year, it would have been worse for Gasol and the Lakers. Like his frontcourt partner, Bynum was given plenty of burn, averaging 35.2 minutes a game, third among centers.
Hill was a nice boost at the end of the year and going forward could be part of a good frontcourt rotation, but isn't guaranteed to return. McRoberts, under contract for next year, in many ways is Hill-lite, better finishing along the wing but not as good on the glass inside.
If the Lakers ultimately bring both Bynum and Gasol back, once again they'll need to mind who is put behind them, both to keep minutes more manageable and also to provide Brown more and better options. Then again, both Bynum and Gasol could be gone come fall, leaving management to reconstruct the entire frontcourt, not just the backups.
The 2010-11 season, and certainly the 2012 playoffs, made it clear the Lakers needed more guys capable of creating their own shots. This was before they let Odom and Shannon Brown walk.
(I'm aware Brown isn't exactly money off the dribble, but compared to, say, Kapono, he's Michael Jordan.)
If there was an area of need the front office completely failed to address, this is it. None of their free agent acquisitions qualified as guys who even like to dribble, let alone create shots. Combined with Odom's departure, the Lakers had a gaping hole in the collective skill set. Until the deadline, Kobe Bryant was the only guy who could put the ball on the floor to get his own look, or effectively penetrate to set up someone else. This added to his already-too-large workload, and was a big reason Gasol was forced higher up the floor to facilitate. The Lakers needed help getting the ball around the floor.
Given his ability to reach the rack, the Sessions trade obviously changed this equation. Still, there were periodic tugs-of-war as the rest of the team, Kobe particularly, internalized the implications of having a classic point guard most effective with the ball in his hands. Creating more continuity, whether with Sessions or a different (perhaps higher level) 1, is a Brown problem. But whether Sessions stays or the Lakers upgrade, they still need more shot creating capability. As currently constructed, the bench is totally without such a player.
They also lack a credible backup for Bryant -- a huge problem throughout the year -- meaning a reserve 2-guard who can make some noise would be a stellar addition this offseason.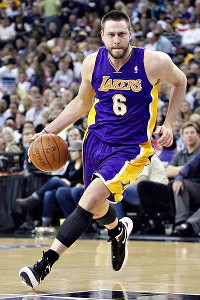 Kelly L. Cox/US Presswire
Josh McRoberts didn't have the impact management hoped when he signed a two-year deal before last season.
Again, they needed it in '10-'11 with Odom and Brown in the fold, and while adding McRoberts boosted their athleticism, the gains were erased by signing Kapono and Murphy. Meaning it was another area of obvious need the Lakers weren't able to satisfy last summer, and by letting Odom and Brown go without replacing them, actually took a step backward early in the year.
The trade deadline brought a big boost in Sessions and Hill, but even if both are retained, additional help in this department would still be nice*, particularly on the wings. Speed and athleticism don't guarantee things like good fast break opportunities or high quality defense, but they make them easier. When players are expected to make multiple helps and multiple contests on every defensive possession, as they are in Brown's scheme, defensive instincts and fundamentals only take them so far. There are physical demands, as well.
Conclusion.
That we're talking about so many of the same issues this summer as last obviously means the front office wasn't able to solve many of the team's structural problems. The big money signing -- and I use that term very loosely given we're talking about a two-year, $6 million contract -- of McRoberts made a lot of sense and was a reasonable allocation of funds. Still, he didn't work out as hoped, and certainly on a statistical basis the upward trajectory McRoberts had been riding over the two previous seasons came to a halt. Kapono didn't make it through the season, Murphy became less a factor as the year went on.
The two draft picks, Andrew Goudelock and Darius Morris, both showed potential, but neither was selected with the idea they'd contribute in their rookie seasons.
The most successful move the Lakers made this year was the one nobody ever had a chance to see play out. The failed CP3 deal was a major coup, not just because it landed Paul but in that it saved the Lakers a ton of money as well. Without knowing how the Lakers would have filled out the rest of the roster, it's impossible to say if the trade would have pushed the Lakers into more serious title contention. It certainly could have. Either way, in the giant game of NBA Chutes and Ladders, David Stern sent the Lakers down one of those big slides.
Every evaluation of Kupchak and Buss' work from the end of the 2010-11 season to now has to be viewed through that prism.
Setting CP3 aside, the most successful moves the Lakers made this year came at the deadline with the acquisitions of Sessions and Hill, two players actually ticking some boxes on the checklist of needs. Neither was perfect, and neither is guaranteed yet to return, but at least they were part of the solution (at least until the playoffs in the case of Sessions).
More than anything, though, looking back on the last year of transactions only accentuates difficulty of L.A.'s situation. The Lakers did great work in a blockbuster deal, but struggled adding impact players by any other means. That's a tough way to operate. This offseason, once again the Lakers have a couple big chips to dangle in Bynum and Gasol -- keep in mind moving either potentially creates another hole in the roster -- but short of a major trade, the Lakers had and still have only the tiniest margins to add quality to the roster.
Well over the luxury tax threshold, the new CBA leaves them with only a mini-mid level -- not something capable of attracting more sought after players (short maybe of veterans looking for one last title shot) -- and no other exceptions. Once the MML is gone, the Lakers are relegated to minimum salary players.**
Moreover, the Lakers are now short draft picks, having traded two first rounders (theirs and the one acquired in the Odom-to-Dallas deal) at the trade deadline. They still have the trade exception created in the Odom deal, but will they use it? Sessions could be a decent mid-range chip, but if he enters free agency it would require a sign-and-trade, which gets more complicated. Their young players (Goudelock, Morris, Devin Ebanks) have little trade value on their own, nor do they make enough money to become useful financial chips in a larger deal.
As I wrote just after the season ended, getting the Lakers back to a title-quality place is a very difficult proposition. Meaning the odds favor a similar post to this one coming next summer, because the roster has more holes than avenues to fill them.
*It's important not to confuse speed and athleticism as a call for youth. The two aren't necessarily the same. Obviously younger can be faster and more athletic and the Lakers need more young prospects, but even for those who are it doesn't automatically translate to results on the floor. Sessions is a great example. Quicker/faster/younger than any PG the Lakers have had in years, he was still a lousy defender. The Lakers need good players, not necessarily young ones.
**Should the Lakers once again need to scrape the minimum salary barrel, they might be better served focusing less on "established veteran" types and more on hungrier, lesser known quantities, whether from the D-League or overseas. Take a chance on less proven players who could have a bigger upside. Take for example Murphy and Kapono- Had they decided to instead go to the D-League and find the best stretch 4 and perimeter gunner, would those guys have performed worse? I doubt it.