The list of players under contract with the Lakers is a little smaller. As ESPNLA's Dave McMenamin reports, point guard Ramon Sessions , has declined to exercise his player option for next season, worth $4.55 million, and will instead become an unrestricted free agent.
The decision isn't unexpected. Before the playoffs, reports (later denied by Sessions at his exit interview) indicated an inclination to hit the market, and given how he played in the first few weeks after arriving in L.A. it seemed like a good idea. A disappointing postseason in which he shot 37.7 percent from the floor and 16 percent from downtown injected a little uncertainty into the mix, but Sessions clearly believes his market value wasn't badly damaged and that opportunities for a good long term contract are still out there.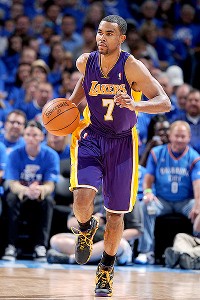 Garrett W. Ellwood/NBAE/Getty Images
Ramon Sessions will become a free agent, but that doesn't mean his Lakers career is over.
Including one from the Lakers. While he no longer has any contractual ties to the purple and gold, today's news definitely doesn't close the book on Sessions in Los Angeles. Mitch Kupchak repeatedly, including at his exit interview, said the Lakers acquired Sessions with the idea of keeping him, knowing full well he might end up on the open market this summer. Sessions said he wants to come back, too, and because the Lakers have Bird rights on him, they can re-sign Sessions despite being well over the salary cap threshold.
Whether Sessions is a Laker next year seems largely dependent on two big factors:
Price. The bottom line is, not surprisingly, the bottom line. They want him back, but the Lakers aren't going to open the vault for Sessions, overpaying by millions just to keep him around. If another franchise decides they badly want into the Ramon Sessions business and is willing to back it up with a big, big check, the Lakers won't stand in their way.

Trades. The need for Sessions lessens (rhyme!) if the Lakers trade either Pau Gasol or Andrew Bynum for a superior point guard, whether at the elite level (think Deron Williams) or a tick below (a Kyle Lowry type). On the other hand, should the Lakers be unable/unwilling to swing such a deal or decide to address other needs in a swap, the need to retain Sessions increases substantially. Steve Blake is now the only point guard under contract. Darius Morris is a restricted free agent and the Lakers are expected to bring him back, but he's not someone they can count on for big minutes next season. While some fans are definitely down on Sessions, there's no way they can afford anyone as good with a mini mid-level exception. If he goes, the Lakers could once again have a massive hole at point guard, but with fewer assets available to fill it than a year ago.
Not good. The Lakers essentially gave up two first round draft picks plus Derek Fisher, no small consideration for a team short on trade chips, meaning unless they swing a trade making Sessions more an afterthought, there will be significant motivation to find common ground with Team Sessions in the weeks to come.
From the Lakers' perspective, it would have been much more convenient had Sessions decided to exercise his option. They'd have a credible enough player starting at the point, someone still with potential to grow into the role, and therefore more choices available this summer to improve the team. At 26 years old on an expiring deal, Sessions would also have had value in a trade, as well, whether this summer or closer to next season's trade deadline.
A sign-and-trade is still a possibility, but those are always much tougher to engineer.
Bottom line: Ultimately, there's a very good chance Sessions returns next season. While the possibility a team might offer him more than the Lakers would pay is out there, his poor postseason combined with other concerns about his game -- defense, for one -- more likely keeps the market for him pretty reasonable. Assuming that's the case, the Lakers will do what they can to bring him back. They gave up a lot to get him, and just as important don't have any clear path to a better player, short of a major trade.
But no question, Kupchak's already burly to-do list just got burlier.