Even for fans harking back to the days of West, Baylor and Wilt, it's probably hard to think about the Lakers without Kobe Bryant. Next season will be his 17th with the franchise, the longest any player has donned a Lakers uniform. During this time, he has been synonymous with championships. The five he has won. Two additional trips to the Finals. Even his arrival came with banners and parades in mind. Even with the Shaq deal in the works, trading a center like Vlade Divac for a high school kid's draft rights was unheard of in 1996. You don't make that move without picturing Bryant as a primary piece of a championship squad reasonably soon. It was a marriage of player and franchise bonded by a mutual obsession with winning. Both sides consider championships not just a goal but the standard. Anything less, as Kobe said after his 2011 exit interview, would be "a wasted year of my life."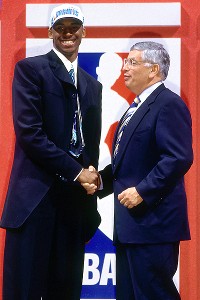 Nathaniel S. Butler/NBAE/Getty Images
Thankfully, Kobe didn't wear that Hornets hat very long.
However, there is the mission statement, and there is reality.
In reality, no team wins it all every year.
In reality, the new CBA will make it near impossible to win the "Lakers way," which has largely involved a willingness to spend. Obviously, success doesn't come purely by shelling out bucks like a drunken sailor. You have to spend wisely, and the players have to make good on that investment. The Knicks have proved beyond any shadow of a doubt that you can't just purchase titles. But there's no question that money had a hand in that success, and life as a luxury-tax-paying team will soon become exceptionally punitive.
And in reality, the Lakers as currently constructed aren't legitimate contenders, despite (knowingly false) claims from vice president of player personnel Jim Buss or general manager Mitch Kupchak. What's more, any fix will be difficult. They have a mini midlevel and veteran's minimum money available for free agents. Pau Gasol, Andrew Bynum and a theoretically signed-and-traded Ramon Sessions are the only assets of any discernible value, and it's debatable how much they'd fetch in return. (There's also the Lamar Odom trade exception, but who knows whether they'd actually use it.) Derrick Williams as a potential centerpiece for Gasol doesn't necessarily make the Lakers much better, at least for now. Josh Smith and Andre Iguodala pop up in rumors, but the talk doesn't seem to be gaining much traction. And players like Steve Nash, Dwight Howard and Deron Williams seemingly have no interest in donning purple and gold (which in and of itself feels like a paradigm shift).
Plus, if we're being honest with ourselves, Kobe's mammoth contract does the Lakers no favors. Whether you think he's ridiculously overpaid, criminally underpaid or paid accordingly, Bryant's salary made team-building difficult under the old CBA, much less the new one. Bryant also remains a high-end player, but his age is showing, whether judged by athleticism, burst or increased propensity for injury. He's no longer able to regularly take over games, particularly down the stretch, in an effective, efficient manner. (That's not to say he's incapable, but would you bet big money on a favorable result?) Yes, German wunder-science helped his legs, and I expect similarly springy results to begin this season after this summer's scheduled procedure. But I also expect the grind to catch up with Kobe, just as it did in 2011-12. Bottom line, he'll be 34 in his 17th season, and with playoff games included, Kobe has logged nearly the equivalent mileage of a 20-year veteran. A cyborg wouldn't be impervious to that much pounding, much less a mamba.
Like it or not, it's fair to wonder whether a team with Bryant as the clear focal point still can win a title. Or whether actively continuing to build around Kobe, no questions asked, is still best for the Lakers as a franchise moving forward.
Since 2008 and Gasol's arrival, the organization has gone for broke attempting to maximize Kobe's prime years. Gasol was given an extension lucrative enough to become currently problematic. Odom and Derek Fisher were resigned after tense negotiations, the latter receiving a deal easily argued as above market value. Metta World Peace received a five-year deal despite his baggage. Even smaller moves like adding Steve Blake was part of a win-now approach. Youth was deemed less important than experience, and first-round picks have been included in deals or sold off. (True, that was also about saving money around the margins, but it nonetheless reflected a commitment to the present.) Time was of the essence, and the Lakers identified a window of attack.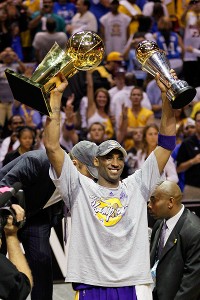 AP Photo/David J. Phillip
Bryant's run with the Lakers has included many a trophy raised.
Perhaps they overestimated how long it would remain open. Perhaps the rest of the league just caught up to them. But without an 11th-hour reprieve, this plan of attack may have exhausted its possibilities. I'll be the first to admit that I thought this core had one more year left. I've since decided I was wrong, and considering the front office actually attempted to dismantle it, I doubt it disagrees in its heart of hearts. Moving forward, "taking a shot" could become too expensive without a legitimate foundation in place. Even if that doesn't equal a full-blown rebuild ASAP, moves that even moderately risk throwing good money after bad might be avoided.
Which likely means no titles anytime in the foreseeable future. And perhaps the beginning of a relatively low period in franchise history.
Ultimately, that's OK. At some point, the Lakers and their fans alike have to accept the idea of being mediocre or even bad for a period to become a true contender again. That's how the Thunder became who they are today. Ditto the Bulls. And while the Celtics and Heat formed their big threes in one offseason, Boston spent several mediocre seasons stockpiling young players and draft picks to make possible the acquisitions of Kevin Garnett and Ray Allen, and Miami's transformation required extraordinary circumstances and timing. Obviously, there are exceptions to the rule. The Spurs never seem to fade away, and the turnaround between Shaq's exit and Kobe sizing his finger for a fourth ring was pretty quick. But that's generally not how the world works, particularly not in the future.
As Kupchak noted after Thursday's draft, "It's an adjustment period for the league, and I think people recognize that drafting, cap management and use of your cap space moving forward is probably real, real important."
So how would Kobe react, given his hypercompetitive nature, understandable concern over his legacy and recent history with the radio tour, trade demands, etc.? Actually, I imagine everything will be fine. I certainly don't picture him asking out. (And that's fortunate, since Kobe's unquestionably the NBA's most complicated player to move, between a no-trade clause, salary and likely small list of teams he'd join.) He's smart enough to realize that his unique career would gain more mystique as a lifetime Laker (arguably the greatest in franchise history) with five rings than carpet-bagging his way to a sixth. It's also one thing to demand a trade when your prime years appear handcuffed to the likes of Smush Parker and Kwame Brown. It's another to ask out again at nearly 34 after the front office met your demands with back-to-back championship rosters. Kobe would adopt the persona of a dude who bails whenever things aren't perfect, undercutting every bit of goodwill he has built as a leader. That's a bad look for a first-ballot Hall of Famer.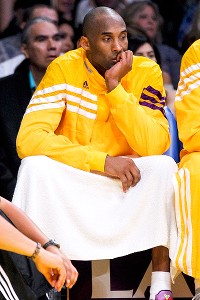 Layne Murdoch/NBAE/Getty Images
Kobe's last two playoff runs have ended on sour notes.
Privately, Bryant certainly could be disappointed by underwhelming 2013 and 2014 seasons. Frankly, I'd be disappointed if he weren't. But unless the team just liquidates itself of all talent, and Kobe's being transparently used like a circus attraction to sell tickets, my guess is he'll be a good soldier. If the Lakers can at least remain competitive, I don't anticipate any problems.
And who knows, maybe it won't come to this so quickly. Kobe has maintained his confidence in the front office and a franchise with a remarkable ability to land on its feet. Perhaps there's one more rabbit to be pulled from the proverbial hat during Bryant's tenure. But any Lakers fan (and I certainly count myself among them) may best served preparing for a paradigm shift, even with fingers crossed for a pleasant surprise.