Asked how the Lakers will perform following their trade for Steve Nash Wednesday afternoon, the first thing out of virtually everyone's mouth, mine included, was something like this:
"Well, it will be interesting to see, because Kobe Bryant has never played with a point guard like Nash." We all said basically the same thing when the Lakers acquired Ramon Sessions at last year's trade deadline. And while I like Ramon Sessions, there are some rungs on the ladder between him and Nash.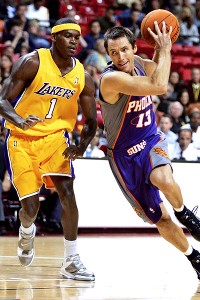 Ethan Martin/Getty Images
"Ummmmm, I'll take the one on the right. Sincerely, Kobe Bryant"
Thing is, it's not a cliched talking point. Using Basketball-Reference as a guide, I compiled a list of every PG Bryant has shared time with on a roster, if only for a few games, from more "true" points to stretch-the-definition-played-it-in-a-pinch types*:
Actual-to-quasi point guards:
Derek Fisher
Rumeal Robinson
Nick Van Exel
Derek Harper
Tyronn Lue
Ron Harper
John Celestand
Brian Shaw
Mike Penberthy
Joe Crispin
Lindsey Hunter
Jannero Pargo
Gary Payton
Chucky Atkins
Tierre Brown
Aaron McKie
Sasha Vujacic
Smush Parker
Jordan Farmar
Shammond Williams
Javaris Crittenton
Coby Karl
Sun Yue
Steve Blake
Trey Johnson
Darius Morris
Andrew Goudelock
Ramon Sessions
Largely because he spent so much time in a system de-emphasizing traditional point guard play, mitigating the need for an elite one, in terms of "classic" point guards Bryant basically goes from Van Exel at the start of his career to a few weeks of Sessions at the end, with little in between. (I now expect an angry email from Farmar, for what it's worth.)
So it really will be new ground for Bryant. Nash as well. He's played with plenty of talented teammates, though never a backcourt partner of Kobe's caliber. But assuming everyone is on board and willing to give (including Mike Brown, who will have to loosen up the offense) -- and there's absolutely no reason to believe otherwise -- the Lakers should be able to work through any natural growing pains and produce some killer offensive basketball.
*Just for fun, here are the rest of the guards with whom Kobe has played:
Eddie Jones
Jon Barry
Byron Scott
Shea Seals
Isaiah Rider
Mitch Richmond
Kareem Rush
Maurice Carter
Tony Bobbitt
Devin Green
Jim Jackson
Von Wafer
Shannon Brown