New Lakers point guard Steve Nash -- it's still very much fun to write that -- spoke at length with Max Kellerman and Mychal Thompson on 710 ESPN in Los Angeles this morning. They covered a lot of ground, including the process leading him to Los Angeles from Phoenix and Kobe Bryant's involvement in it, how he thinks he'll mesh with Bryant, Pau Gasol and Andrew Bynum, what it would mean to win a title, Dwight Howard, Grant Hill, and more.
Click here to listen to the interview in its entirety, click here to read the story I wrote off the interview, or read below for the full transcript of their conversation.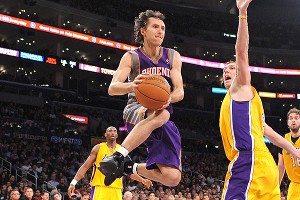 Noah Graham/NBAE/Getty Images
Steve Nash reached out to Kobe Bryant before agreeing to join the Lakers.
Q: Were you surprised at how this developed?
"It was a surprise, for sure. I think it was about 10 days ago I said it would be hard for me to put on a Lakers uniform, so I think for everyone including myself it's a surprise. Things happen. First and foremost, when the Suns decided to go in a new direction I was obviously looking for new home. Then the opportunity to be close to my kids was so exciting to me and I think you guys would agree basketball-wise it makes a lot of sense."
Q: How did it happen?
"Mitch [Kupchak] called my agent shortly after midnight on the first, and I'm guessing, but I think the first thing he said was, "I know we've had some battles in the playoffs and I hear Steve wouldn't want to play for the Lakers." My agent, being an agent, said, "No, that's not true. That's all media speculation." Frankly, the idea to be close to my son and my daughters who will be in Phoenix was the No. 1 priority. Don't get me wrong, it's fantastic that I think I'm a good fit for the team, and they have a great team and we're a contender -- that's all incredible, too. But as far as getting over the hump and being able to be a Laker after being a Sun and trying to beat the Lakers in the playoffs all those years, the reality was it was too good an opportunity to pass up as far as my children were concerned. Fortunate for me, it's a great basketball situation."
Q: It has been widely reported Kobe called to recruit you -- what happened?
"He did. We spoke, I think he was at his basketball camp in Santa Barbara, and gave me a call. For me, it was important to speak to him and make sure he was completely on board, and that he could kind of visualize this as being a good fit, and being excited about it. So I spoke to him, I spoke to coach Brown. They were excited. Kobe, he was great. He was excited, and explained to me how he thought it would help, and why he thought it would be great, and I think a lot of the reasons he had were ones I could already envision before speaking to him."
Q: What were they?
"I think for one, having someone who could handle the ball and lead. I think he also thought that we're complimentary leaders. I'm more on the positive side, he's more, as he said it, cracks the whip. That was complimentary. I think pick and roll, adding that to the offense and being able to space the floor for the big guys inside. I think it's a good fit. He was excited, and that was important for me. And coach Brown the same. So it's gonna be fun to work it all out and try to create some cohesion and chemistry on the floor, and make all these pieces work."
Q: You're used to a more free-flowing offense in Phoenix. We know Kobe is a ball-dominator. When the ball goes to him, it goes through him a lot. How are you guys going to make that adjustment?
"Kobe is still one of the all-time great players in this game. I hope he does have the ball in his hands a lot. But at the same time, I think it takes pressure off him as someone else can handle the ball, and get him the ball in spots. Maybe get him a few more easy baskets and at the same time maybe create offense for other guys so he's not stuck so often having to take on one or two defenders. Perhaps we can all make each other better because of our different skills. Maybe I can space the floor for those big guys, maybe they'll create opportunities for me on pick and rolls because of their length and ability to finish at the rim, and that combination will hopefully make it a little easier for Kobe as well. [There is] a lot of work to do. Right now, we can only speculate and envision, but there's a lot of work to do and that's going to be the key to any success."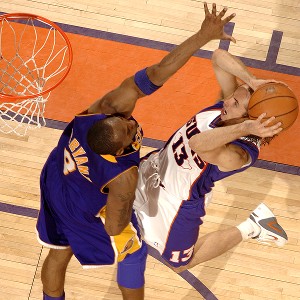 Andrew D. Bernstein/NBAE/Getty Images
Nash has no concerns about how he'll mesh with Kobe Bryant.
Q: At 38 years of age, what's the ideal amount of minutes for you to be most effective
"That's a good question. I think in Phoenix one of the big reasons Alvin was sensitive to minutes was because of how much I handled the ball. Our offense was predicated on me creating opportunities for my teammates and myself off pick and rolls, and for eight years that was predominantly our offense. That can take its toll. He didn't want to wear me out and he tried to be careful in that respect. But I feel like I'm in great shape. I know a lot about my body, and I think I've learned a lot over the years to preserve, hopefully, the level of play I'm at now. I'm not worried about minutes. That's something I can get through, and I'm not really that concerned with."
Q: You mentioned chasing a championship. Suns are rebuilding, you've been a good soldier. LeBron goes to Miami to get one. Everyone is chasing a championship. At this point in your career, what would it mean to win a championship? Can you describe that?
"I don't know if I can. I think there's no question that's why I work hard. I want to be the best player I can so that I can help my team win as many games as I can, and if you were part of a team that won the last game of the season, that's an indescribable feeling. But I try to get stuck into the day to day, and try to train as hard as I can every day, and be thoughtful in my preparation and in ways to prevent injury and be in the best shape I can be, and hopefully improve on my skill set. I think I want to stick to that. I just want to work every day so that I can be ready, and in the best possible place skill wise and fitness wise for when camp starts, so I can help the team as best I can. If we grow every day as a team and we work and get better and more cohesive, we're going to have a chance to win a championship.
I don't want to get too far ahead, and right now I just want to get my training in the right place so when I come in I'll be in the best possible place to help the team go as far as we can, and I think if you look at the pieces, if we can really find a way to come together, everyone stays healthy, and we play to the best of our abilities, I think we should be in the running."
Q: We see so many guys through history who have never won a title. How fueled are you by the idea you could be one of those guys? Can you talk to that?
"Believe it or not -- I don't want to diminish what a championship would mean to me -- but believe it or not, that doesn't haunt me at all. I don't care what other people say. I fight every day to be the best player I can. When I played for the Suns or the Mavericks and now the Lakers, I'm going to fight and give everything I can like it's the only thing that matters. But when I step away from the court, I realize that's not going to define me. I battle, I compete, I'm a great teammate. Having said that, I'm dying to win one. I want to win one for me, I want to win one for my teammates, whoever they may be, and I'm going to battle every day to do so. But I try not to get caught up in what other people are saying or what people will think when I'm long gone.
If it's a deterrent, that stuff is out of my hands. What's in my hands is being in great shape and fighting to be in great shape every day for my team. It's so all consuming, the championship-or-nothing mentality that everyone has, and especially the media, it's valid to ask and it's valid for people to get caught up in that, but I try to shed away a lot that extra baggage and just try to worry about training…. I want to win, I want to win bad. But if I retired today, I wouldn't be haunted by the fact I never won. I gave it a heck of a shot."
Q: Mike Brown likes to call a lot of plays. Will you talk to Mike about that?
"First of all, he's the coach and I want to do what he asks. But I spoke to him and I think he'll be open to ideas and thoughts, and working together. That's the great part about the job, is that we all get to work together and find a way to make each other better and find a way to put each other in position to succeed. There's going to be a balance there, I'm sure. I look forward to it. I think he's got a reputation as a terrific defensive coach. I look forward to that. I also look forward to working with him with the offense, and seeing how I can hopefully help the offense run more efficiently and help those guys maybe get a little more space on the floor, maybe get a few more opportunities to get easy baskets and put pressure on the defense."
Q: Who has the best point guard in L.A. right now? The Clippers or Lakers?
"I love Chris Paul. I think he's, if not the best, top two point guards in the game. Now with Russell and Derrick Rose, they're like super guards. I'm not sure you can categorize them as point guards. There was a time when I could have made an argument for myself as the best point guard in the game, but I can leave that to some of the other guys now. I still know I can do it at an extremely high level, and I'm still extremely competitive. Let's hope the Lakers are the best team in L.A., and I won't worry about who is the best point guard in L.A."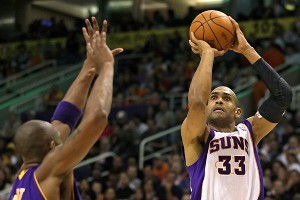 Christian Peterson/Getty Images
Nash would welcome Grant Hill in Los Angeles.
Q: There has been much speculation in town about Dwight Howard. What would be your recruiting pitch to him? What are your thoughts on recruiting him to L.A.?
"He's a special player, a special talent for sure. So I can understand why the Lakers may be recruiting him. But all I know is that for me to get an opportunity to play with Pau Gasol and Andrew Bynum, that's amazing. So that would be a pleasure to play with those two players. Frankly, that's a lot for me to think of right there. I'm not even going to speculate on what could happen with Dwight. As far as basketball goes, it would be thrilling for any point guard to get a chance to play with the two big men that the Lakers have."
Q: If Dwight called you, what would you tell him?
"As far as recruiting him for the Lakers? Why don't we wait until I sign my contract and get acquainted to the city and the situation before I start making trades and recruiting players. Like I said, I'm thrilled to play with the players with the ability of Pau and Andrew, and that's thrilling to me outright. I look forward to making it official, hopefully on the 11th or whenever that day is."
Q: Wilt wore No. 13, so that's gone. Retired with the Lakers. What number are you going to wear?
"With all the Lakers jerseys retired, I don't know what's left. We'll figure it out."
Q: I know you're saying you'll let things go as far as the makeup of the team, but you can talk to Grant Hill. You may be trying to talk him into coming here?
"Grant's an amazing person. He's a very intelligent, kind, thoughtful person, and he's still a terrific basketball player. A great athlete, still terrific skill level, and basketball IQ, and just a great teammate. Anyone who gets Grant is going to be way, way in the good for that. It would be great if we get him, and I'll do anything I can, if the Lakers are open to that, to make it a reality. He makes every team better, he makes everyone around him better, he makes any organization better. He's a class act, and still a heck of a competitor and player."
Q: The Western Conference is extremely deep. But the defending conference champs are the Thunder. They're young and favored to repeat. What are your thoughts on the Thunder, and with your addition to the Lakers how you match up with Oklahoma City?
"They're a terrific team and they rightfully are the favorites to repeat in the West. We definitely have our work cut out for us if we're going to be able to compete with them and beat them. But I think there's a lot of potential in our roster, and I think hopefully I'll be able to make some, hopefully some positive adjustments to the efficiency and effectiveness of all our guys offensively. Who knows? They're younger, that's for sure. I'm looking forward to the challenge. I think that we can find a way to make each other better and improve on the Lakers series with them this past season."
Q: How are Suns fans taking this news, that you're now going to be a Laker?
"I've had an outpouring of text messages and emails, responses from people thanking me for my eight years here, but there's no doubt there's going to be some Suns fans that are devastated and are angry at me, and I understand that. What I want to say about that is I gave everything I had for the Suns, and when the Suns rightfully moved in a different direction that I wasn't a part of -- that's a great move, a strong move to cut ties and to be bold and try to bring in fresh, new talent and start the rebuilding process, or retooling process -- I respect that. Robert Sarver really did something fantastic for me and my family to allow me to go to what's Phoenix's biggest rival. I'll always be grateful for that to him, to Suns fans for the incredible support over the eight years, and a lot of success.
The bottom line is, I hate to upset people but my little boy and my two girls mean everything to me, and the opportunity to be able to see them three or four times a month instead of three or four times a season is incredible and priceless. I'm sorry for those that I upset, but my kids come first."