The Lakers released the roster for their 2012 Summer League squad in Vegas this afternoon, and it doesn't contain all that many surprises. The headliners (as it were) are the freshly re-signed Devin Ebanks and Darius Morris, along with Andrew Goudelock and Christian Eyenga. From there, eyes will be on this year's draftees, guard Darius Johnson-Odom and center Robert Sacre.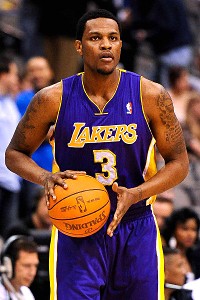 Jerome Miron/US Presswire
Devin Ebanks may or may not get more burn in 2012-13, but he'll play a lot in Summer League.
The roster also sports two names Lakers fans might remember in Chinemelu Elonu and Ater Majok, former second rounders (Elonu in '09, Majok in '11) whose rights are still owned by the Lakers. UCLA devotees might enjoy watching controversial former Bruins forward Reeves Nelson get a little run with the quasi-Lakers, as well.
Other members of the team -- i.e. people who, aren't going to be Lakers in the fall, and in reality are playing as much for a shot at an NBA training camp or gigs overseas or in the D-League -- include guards Gary Flowers, Toure Murry, and Kevin Palmer, along with forward Lawrence Hill, and center Julian Khazzouh. The group will be coached by Chuck Person, assisted by Darvin Ham and Phil Handy.
Ebanks, who could be in line for bigger minutes this year, should put up some numbers. I'd bet on Goudelock having at least a couple of big scoring games. Morris will have an opportunity to run point and show his skills without being completely overmatched, as he (understandably) was in limited run last year. Because the Lakers paid half a million dollars to acquire Johnson-Odom with the 55th pick, he's a strong candidate to make the team next year. Sacre is, until free agency changes things at least, in line for a reserve role in the frontcourt. He can certainly help his chances of making the big team with a strong showing, particularly defensively. (Sacre was the West Coast Conference's DPOY last year.) Very limited playing time in three NBA seasons combined with phenomenal athleticism and very raw skills makes Eyenga a curiosity, but given how thin the Lakers are at small forward, any signs of potential are welcome.
It's always great to see players who could/will be on the roster blow up in Vegas, but Summer League play can be incredibly sloppy and the quality of players on the floor varies widely from game to game, and even quarter to quarter. One reason a great truism says not to give the games much stock, at least on the upside. Great performances aren't generally a harbinger of things to come, only something to whet the appetite a little. (Bad play, however, tends to be more revealing.)
One key is for these guys to use the time wisely, working to add elements in full speed game play they may have been developing in workouts. Watch to see, for example, if Goudelock can finish with a couple lefty floaters, something he was working on last season and hoped to develop going forward. Coaches aren't necessarily looking for raw numbers.
The Lakers open their Summer League season Friday at 5 pm against the (sort of) Golden State Warriors, and play four more times over the following week.