Steve Nash's introductory press conference Wednesday in El Segundo featured plenty of sentiment along the lines of "I never expected this to happen." Nash, who'd previously stated his apprehension to join a heated rival, described this chapter of his career as "surreal." Mitch Kupchak, who smiled while describing the point guard as "a thorn in the Lakers' side for most of this decade," still seemed to be wrapping his head around Nash sharing a backcourt with Kobe Bryant. And really, who can blame anyone pinching themselves during this meet-and-greet? Absolutely nobody, including the Lakers' brass, anticipated this turn of events, as Kupchak explained while recounting the courtship of the two-time MVP.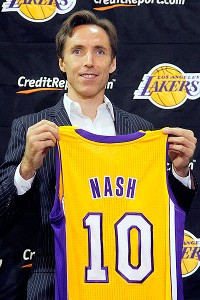 AP Photo/Reed Saxon
Who'da thunk it?
"We always like to call our players that are free agents first," recalled Kupchak. "Ramon Sessions and Jordan Hill. Players that were on our roster. So we did that. Coincidentally, Steve Nash is also represented by Jordan Hill's representative [Bill Duffy]. Steve was on the top of our list, in terms of point guards, but it never occurred to me that he would be available. All we had was the (mini mid-level), which is a $3 million exception. Jim Buss kept on saying, "Mitch, don't forget to call. Don't forget to call." Of course, he's at the top of the list. I said, 'Jim, I'm not sure this is something that can even begin to work out, but you never know until you try.'
"So when I spoke to Bill Duffy, we talked about Jordan Hill and I talked about Steve Nash. And his first comment was, 'Mitch, would you like to speak to him?' I said, 'Of course.' And then 10 seconds later, he was on the phone. He was with Steve Nash when I called at 12:01. I think they were together in New York. So that doesn't happen very often. Maybe looking back on it, it was a sign, if you believe in those things. Didn't hear much for a day or two, and then we got a call from Bill Duffy saying Steve's thought about the conversation we had and he'd like to make this work. So that started the whole thing with Phoenix in motion."
But as I thought about the general manager's words, I realized "motion" actually began much earlier, even if we didn't know it at the time. Looking backward, here's everything required to happen before Nash eventually ended up a Laker.
-- The Chris Paul deal must get scuttled, which eventually led to Lamar Odom asking out, which created the trade exception allowing the Lakers to absorb Nash in a sign-and-trade deal. Not that anyone would necessarily be complaining with CP3 around, of course, but the core would now be thinner, and despite any money saved by moving Odom and Pau Gasol, financial flexibility to build a supporting cast wouldn't necessarily have been gained. One could argue, at least in the short run, the team is better off as currently constructed. Either way, Nash certainly wouldn't be a Laker with Paul on board.
-- Hill must become the incoming player from Houston in the Derek Fisher deal. Otherwise, Kupchak might not call Duffy at 12:01 (regarding Hill), preventing him from talking directly with Nash so early in the process. Not that Kupchak couldn't have successfully gotten the ball rolling later, but given Nash's reluctance to become a Laker, the longer he stewed in that mindset, the dicier the prospect of changing his outlook could grow. Plus, as ESPN.com's Marc Stein noted in this must-read feature, the Raptors and Knicks pulled out ALL the stops pitching Nash, so having the Lakers on his brain from minute one was a bonus.
-- Sessions must opt out of the final year of his deal, creating a void at the starting point guard. Had Sessions opted in, the front office might have been content to see how the young player developed in a full year as the team's starter. And with Sessions off the books, absorbing Nash's salary perhaps becomes more palatable for the cost-conscious bean counters.
-- Kupchak must decide to let Kobe talk with Nash first early in the process rather than later, "a risk" given The Mamba's unpredictable nature. (Kupchak's words, not mine, so don't kill the messenger.) As it turned out, Bryant's salesmanship played a big role in persuading the point guard to join forces.
-- And finally, Suns owner Robert Sarver, despite whatever bitter taste it could leave in the mouths of Phoenix's fan base (not to mention his own), must agree to help a fierce divisional rival become a more legitimate contender by trading them arguably the franchise's most iconic player.
Safe to say, a lot of unrelated situations were required to pile up to reach an endgame involving the Lakers' best point guard since Magic Johnson. Was some luck involved? No question. But at the same time, every successful franchise benefits from lady luck occasionally smiling on them. Plus, some of these events (CP3, LO's departure, Sessions becoming a free agent) weren't necessarily regarded as positives from the outset. In fact, they actually left many (myself included) to periodically wonder if the Lakers were stuck between a rock and a hard place. But in the end, these obstacles, through happy coincidences, patience, and savvy were eventually converted into a productive conclusion.
As the saying goes, you make your own luck.