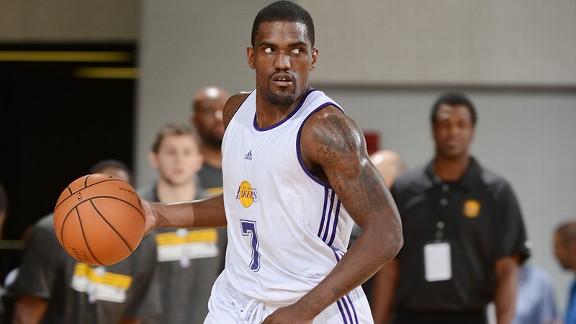 Garrett W. Ellwood/NBAE/Getty Images
LAS VEGAS -- It's not often a team takes one of the NBA's most powerful team-building tools and turns it into a procession of seat-fillers.
But that's exactly what the amateur player draft has become for the Lakers.
In the past five years, the Lakers have taken just one player in the first round: Toney Douglas, in 2009. He was promptly shipped off to New York on draft night.
Feeling the salary-cap crunch ever since bringing Pau Gasol aboard at the 2008 trade deadline and having dealt their first-rounders for more immediate aid, the Lakers have instead focused their draft-day efforts on Round 2.
And the returns, thus far, have been minimal.
Devin Ebanks, Andrew Goudelock and Darius Morris all contributed last season, with the former pulling 12 starts in between D-League stints, but none really provided much of a boost. Ebanks could be in line for more minutes next season after signing a one-year deal this offseason, but he, like Goudelock and Morris, remains an unknown.
The Lakers' bottom line hasn't felt it much -- they appeared in three straight NBA Finals and two Western Conference semifinals in that span. But the quality of fill-ins around their veteran core of Kobe Bryant, Andrew Bynum, Gasol and now Steve Nash has deteriorated to the point where it proved to be a recurring nuisance in their attempts to atone for 2010-11's falters.
Which is what makes the recent selection of Darius Johnson-Odom at No. 55 overall, a pick the team bought back from the Dallas Mavericks, so much more important than the average second-round move.
With only the mini-midlevel exception that their disposal -- and so far, the club has shown a reluctance to use it -- the Lakers don't really have many options for filling out their shallow bench, outside of veteran's-minimum contracts. And with two firsts (in 2013 and 2015) and two seconds (2013, 2014) headed to the Suns, there may not any draft help for at least another year.
So the door is wide open for the diminutive former Marquette guard. Especially since his two biggest strengths, shooting and defense, are currently needs.
It's a unique opportunity he's hoping to make good on.
"You just got to play," Johnson-Odom said after the Lakers' 90-50 loss to the Golden State Warriors in their Las Vegas Summer League opener. "I think I have the talent to be a Laker. That's where I want to play. I just got to show them and keep improving."
His first display wasn't exactly convincing.
Johnson-Odom, who shot 45 percent from the floor and 39 percent from 3 for the Golden Eagles this past season, couldn't get anything going offensively. In 21 minutes off the bench against a Warriors team loaded with young talent, Johnson-Odom missed all eight of his shots and finished with three points, three rebounds and one assist.
"Everybody on our team, even the guys that were with the Lakers last year, were a little nervous," he said. "We were all trying to find our way in the system and how we can be at our best for the Lakers. I think you'll see different things from us [Saturday].
"I'm glad to get this one out of the way. But we've got four more games left, and I think the guys can kind of see what we did wrong and how it will help us the next game."
Johnson-Odom had better luck at the other end of the floor. Although short for his position, the combo guard is sturdily built, his 215 pounds almost crammed into his boxy, 6-foot-2 frame like the 12-character surname on the back of his jersey. The extra bulk helped him hold his ground against Warriors' tall, deft-shooting wing players, and quick foot speed, particularly laterally, helped keep ballhandlers from blowing by him.
"Obviously, he's undersized. So he has to bring some toughness to the game," said Chuck Person, a Lakers assistant and summer league head coach. "It was baptism by fire tonight. He had a chance to play against one of the better young 2-guards in the league in Klay Thompson. Then we put him some on Harrison Barnes just to see if he could roll his sleeves up and play against a bigger guy and I thought he competed well."
Despite mixed results in Johnson-Odom's professional debut, Person said he may start him Saturday against the Sacramento Kings.
"I'm a rookie. I'm gonna find my niche sometime soon," he said. "I just don't know when it's gonna be. But for me, I just have to stay focused on what I'm trying to do, and that's trying to help the team become better."