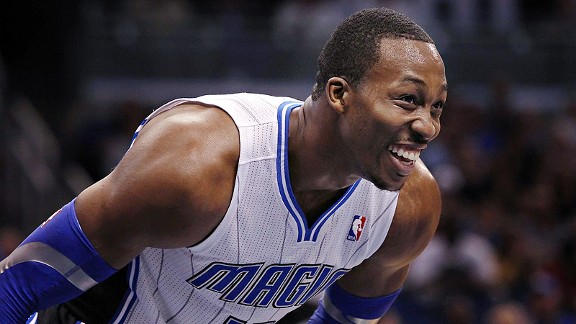 Kim Klement/US Presswire
Earlier in the summer, momentum behind a Dwight Howard deal seemed strong, whether to the Los Angeles Lakers, Brooklyn Nets or Houston Rockets. Fans salivated at the potential impact on their teams. Writers began pre-writing reaction stories to expedite post-trade analysis. You know, just in case. (Not that I'm bitter.) Since, the action has slowed considerably as the Orlando Magic have at least publicly dug in its heels, saying it won't move its superstar without an appropriate return.
Last week, Mitch Kupchak indicated the Lakers haven't closed the door on a potential deal for Howard, despite the delays.
Looking at our Twitter feeds and the comments section of the blog, plenty of fans wish they would. Many believe it's time for the Lakers to move on, to concentrate on going forward with Andrew Bynum (not exactly a horrible consolation prize) as the center. Get him his extension, because it's not worth waiting around for Orlando to decide Howard's fate.
I get the frustration -- Dwightmare Fatigue was just added to the list of acceptable clinical diagnoses by the American Medical Association -- but it's a flawed argument.
First, because he can earn an extra year on his contract by becoming a free agent as opposed to extending his deal now, there's a very strong chance Bynum won't re-up now anyway. Short of a catastrophic injury this season, Bynum is going to get max offers as a free agent. He's too talented and too rare a commodity, health questions notwithstanding. So from that perspective, regarding the incumbent center, the Lakers aren't really "putting off" anything. Nor are other summer plans impacted substantively by keeping open Howard conversations. They've signed Antawn Jamison and brought back Jordan Hill. They're looking for one more backcourt player. Certainly nothing they might do on the margins of free agency outweighs the potential impact of acquiring Howard.
Second, and more important, Howard is simply the better player. By a fair margin, despite Bynum's great ability and improving production. More than anything, talent makes it worthwhile for the Lakers to play this one out, particularly now that Howard has indicated a willingness to re-sign with L.A. should he land here.
What the Lakers are getting:
1. Defense.
Defense, defense, defense.
Howard has led the NBA in defensive rating (an estimate of points allowed per 100 possessions) in four of the past five seasons, and in the fifth -- 2011-12 -- he was third. In defensive win shares (an estimate of wins contributed by a player due to defense) Howard has topped the league in five of the past six seasons. The worst figure he has posted in defensive rebounding percentage (the percentage of available DRB's grabbed while on the floor) since 2007-08 is 29.5, and twice he has led the league. Last season, according to 82Games.com, the Magic were a hair under seven points worse on their own end without him on the floor. Despite 2011-12 ranking as perhaps his least impactful defensively over the past four or five, according to Synergy Howard still finished in the 88th percentile in points per possession against. In previous seasons, he'd been up around 95 percent.
It's not that Bynum was bad in these areas, because he wasn't. But he's not Howard. With him on board, concerns about the Lakers' defense would still exist, but not nearly to the same degree.
2. A better fit with Steve Nash.
Again looking at Synergy stats, last season Howard generated 1.384 points per play as the roll man on pick-and-roll, third in the NBA and first among players with 35 or more possessions. In 2010-11, he was even better at 1.441, again tops in the league among players with enough such plays to be statistically significant. File under "highly relevant" now that the Lakers have acquired among the greatest pick-and-roll point guards the league has ever seen. As a cutter, Howard managed 1.435 points per possession, better than 88 percent of the league. In '10-11, he was more efficient than 97 percent of his peers, excelling particularly in basket cuts. Point is he moves well without the ball and is a devastating finisher. In L.A., he'd be surrounded by better and more versatile offensive talent, making Howard a tougher cover. Given the way in which Nash probes with the dribble, Howard's superior mobility would be beneficial, allowing him to play effectively without clogging lanes for his point guard.
Again, Bynum isn't bad in these areas, he's just not as good as Howard.
3. Still solid post play at center.
Meanwhile, while Drew is definitely the more polished product in the post, Howard gets the job done on the block, as well. Two seasons ago, he posted a solid .928 points per possession in post ups, and .88 last season, ranked 67th in the NBA (thanks, once again, to Synergy). Bynum, by comparison, scored .897 points per possession, good for 60th, but in '09-10 Howard was actually ranked much higher than Bynum. So while aesthetically the gap between Bynum and Howard in traditional post play might be fairly large, in practical terms it doesn't amount to much. Compare their career numbers per 36 minutes: Howard has consistently put more points on the board than Bynum, despite about the same number of shots far less proficiency at the free-throw line.
Ultimately, production is what matters. Basketball isn't a beauty contest.
4. A top-five player in the NBA, and a potential franchise pillar for the post-Kobe era.
Place a healthy Howard anywhere you'd like on the list of elite players in the NBA, but anything lower than five strains credibility. There are (by definition) only so many of these guys to go around, and now the Lakers have one they can try to keep in seasons to come. Bynum, coming off his best season, has an elite-level ceiling. Howard is already there. While many fans are still understandably intrigued by Bynum's prodigious talent and classic post game, ask yourself this: Suppose Bynum realizes every ounce of his potential on both ends of the floor, how much better will he be than Howard is now? How likely is Bynum to do it? And if he does and the Lakers are left with Howard, is that really a major loss?
If I have to choose between the guy who might grow into a franchise cornerstone and the guy I already know fits the bill, give me the known quantity, especially when they're both still young.
Still, there are considerations the other way. ...
What the Lakers are risking:
1. Howard could walk.
He says now he's willing to stay, but until pen meets paper on a new contract the risk of Howard going somewhere else exists. It wouldn't necessarily mean the Lakers would be left holding the bag -- they can organize a trade during or after the season -- but opens them up to less-than-ideal results. First, an in-season trade would be very disruptive, and second whether the Lakers traded Howard during or after the season, there's a legitimate chance they wouldn't recoup assets of Bynum's quality.
Granted, the same arguments can be made for Bynum himself, assuming he's not willing to sign an extension before becoming a free agent.
2. Howard is human.
Back problems can debilitate even the strongest among us. For the first seven seasons of his career Howard was a robot, missing a total of seven games, almost exclusively because of suspension or tummy trouble. In the eighth, he became human again. Obviously Bynum comes with his own health risks -- one season does not erase the rest of his career -- but a major point in Howard's favor in this grand debate was his unassailable record, physically. Now that's gone, and in fact at this moment Bynum is the healthier player. Howard might not be ready when the season starts, so what happens if "start of the season" bleeds into the middle or even later?
Questions about Howard's back have always felt more pressing than those about his contract. If he's sound (or on the path toward it), and obviously the Lakers feel he is, this is a risk worth taking. But you'll pardon Lakers fans for chewing on their cuticles a little until they see evidence that post-surgery Howard and the pre-op version are equally spry.
3. What if he doesn't get along?
Bynum, for all his natural and totally justifiable inclination to spread his wings and fly, spent his formative years as a player in Kobe Bryant World. Howard is used to being el jefe. Will he be willing to cede space in the sandbox not just to Bryant, but another headliner in Nash as well as another very skilled scorer in Pau Gasol? While there's an unquestionable upgrade in talent in a Bynum-for-Howard swap, there isn't necessarily an upgrade in chemistry and cohesion.
4. What if the Lakers poison their relationship with Bynum by chasing Howard?
Certainly it's a possibility, though Bynum's agent, David Lee, indicated last week nothing to that effect has yet happened. This is one thing Drew -- who has been "traded" at one point or another for Kevin Garnett, Jason Kidd, Jermaine O'Neal, Carmelo Anthony, Rajon Rondo and Howard -- is used to. I don't believe it bothers him all that much, and if a half decade of trade rumors hasn't pushed Bynum past the point of no return with the Lakers, there's no reason to believe this round would.
The only potential problem comes if Bynum makes it clear he wants an extension -- not necessarily just that he might consider signing if offered, but wants one -- and the Lakers just aren't willing. I'd cross that bridge when they get there, but it's hardly a problem. Give it to him, comfortable in the understanding Bynum would be getting less guaranteed money than he will next summer.
5. Controversy!
Howard has averaged seven 3-pointers over the last three seasons.
I kid.
To me, the math is pretty clear, and while it might frustrate fans who want a conclusion to the Howard drama, from a basketball standpoint it doesn't make much sense to close the door on a trade if there's a chance to make it happen. Certainly not for some arbitrary mark on a calendar by which it's time to "move on."