There's no question the circumstances Mike Brown encountered during his first season in L.A. weren't easy. No offseason communication with players. A shortened, chaotic training camp filled with drama surrounding Chris Paul, Pau Gasol and Lamar Odom. Precious little practice to install and teach a new system. An imperfect roster of players slow to warm to his game plan and presence. Being charged with implementing Ramon Sessions halfway through the season. Even as someone who has questioned whether Brown possesses the offensive creativity and natural gravitas to coach the Lakers, I've never denied the hand he got dealt was pretty lousy. (Having said that, I also thought Brown made life tougher for himself than need be at times -- particularly when it came to solidifying his rotation -- and needed to assert more authority, even as "the new guy.")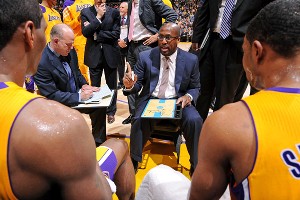 Andrew D. Bernstein/NBAE/Getty Images
Brown's job should be easier the second time around.
But that's now history in the rear-view mirror. The 2012-2013 season will be conducted under normal circumstances, and with a pretty solid new point guard to boot. While appearing today on ESPNLA 710's Max and Marcellus -- the entire interview can be heard here -- Brown was asked what he expected to see during a calmer setting:
"I think the one thing you will see is a little bit more consistency than what we had last year. Everything was kind of done on the fly and for us, I thought the biggest adjustment was losing Lamar. You come into the season and you know you have three veteran bigs that you can rotate. And when Lamar's not there, now you've got to try to figure out how to fit a younger guy into his spot, that was a blow for us that obviously with the lockout and everything that was happening, we weren't really expecting.
"But our guys did a great job of coming together at the right time and finding ways to get wins. You know, we had a chance against Oklahoma City a couple of times down the stretch of a couple of games, and we blew it. But we can sit here and say, 'Could have, should have, would have, things might have been different.' But Oklahoma City is a very good team. You've got to give them credit and I think we'll be ready this coming year."
In addition to operating under more (relatively) tranquil circumstances, Brown is now more seasoned to deal with the absurd amount of media attention the Lakers receive. As he joked, Josh McRoberts or Troy Murphy -- much less Kobe Bryant -- can become front page news at the drop of a hat. That microscope, along with the time required to address questions, admittedly threw him for a loop. Now he knows what to expect, and he'll be negotiating that glare while armed with Steve Nash, a future Hall of Famer whose intelligence Brown couldn't stop raving about. Plus, a legitimate bench scorer in Antawn Jamison hardly hurts matters.
All in all, there's no question Brown's job becomes easier next season. That's not to say it won't remain a challenge -- few coaching gigs in sports are inherently tougher -- but at least it shouldn't feel like he's fighting with one arm tied behind his back.
However, as the saying goes, there's no such thing as a free lunch. The irony of a setting more conducive to success is that fans expect ... well ... success. And in this neck of the woods, that's judged with titles as the baseline. Brown will no longer receive benefits of the doubt or qualifiers when fans, media, players and the organization evaluate him as a coach. Like Yoda said, "Do or do not do. There is no try." Brown will be expected to helm a championship-caliber team where the parts all fit, players are utilized to strengths and defense is played. And unless factors legitimately beyond his control (injury, for example) damage the Lakers' chances, he'll be afforded little patience.
That's the trade off, and it's one I imagine the coach will gladly accept in exchange for more favorable parameters. Still, it'll be interesting to see how the perception of Brown evolves next season. Based on reader and listener feedback last season, it was pretty obvious fans were lukewarm to this hire, and as a whole didn't gain confidence as the season continued. But many skeptics about Brown would nonetheless acknowledge the obstacles he faced. The second time around, little quarter will be given.