The news, first reported by Real GM's Jerrod Rudolph and confirmed by ESPN The Magazine's Chris Broussard, certainly represents a new turn in the Everlasting Gobstopper that is the Dwight Howard trade saga. If traded to the Lakers, sources say Howard is open to signing a long-term extension following the 2012-13 season. (Thanks to provisions in the new CBA, doing it at the time the trade is executed costs him tens of millions, so nothing would be inked until next summer.)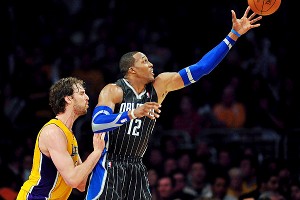 Gary A. Vasquez/US Presswire
Dwight Howard is apparently willing to stay in L.A. if traded to the Lakers, but that doesn't necessarily make a deal easier to facilitate.
It's a great headline, but what does it mean for the prospects of actually bringing Howard to town?
Not all that much, really. Signaling a willingness to stick around long term obviously removes one potential spot of worry from the Lakers' end and allows them to move forward with more confidence, except it wasn't that concern holding up a deal. The Lakers have been willing to pull the trigger even without such assurances from Howard, confident they could keep him through a combination of championship culture, fringe benefits to living in Los Angeles, and the extra money they'd be able to offer by holding his Bird rights. So while it's nice for Howard to point to L.A. as a preferred (or at least acceptable) destination, as the Nets can attest, Dwight doesn't always get what Dwight wants. If Orlando isn't interested in Andrew Bynum as a return for Howard, the Lakers and Magic still need to find another team, maybe more than one, to build a package of young talent, draft picks, and cap space attractive enough for the Magic to accept.
Maybe that team is Cleveland or Houston, or perhaps the Lakers can draw another squad into the talks, but for the time being, at least, the Magic seem willing to be picky. Would the newest incarnation of a trade, sending Bynum to Cleveland and a package of picks and Anderson Varejao to Orlando be enough? Probably not considering what the Magic have already turned down. In the short term, constructing a deal might even get harder, because while the Lakers aren't desperate in their Howard chase -- they would be perfectly willing to enter the season with Bynum as their center -- teams might demand a little more to help facilitate a trade if they believe the pressure is on L.A. in the wake of Howard's new outlook.
The news seems to give Bynum a lot more leverage, as well. He could in theory kill a deal by sending signals he'd be unlikely to re-sign in his new city once the season is over. (Like Howard, Bynum costs himself too much money in an extend-and-trade to sign early with his new team.)
Point being, there's a lot of work left to do.
So while last night's development is certainly significant and definitely increases the likelihood of a successful post-trade relationship between Howard and the Lakers in which he becomes the franchise's post-Kobe Bryant cornerstone, from a practical standpoint it doesn't actually change much. The Lakers are still positioned very well to get Howard and can still afford to be relatively patient, but also still have to construct a trade with which the Magic are, if not comfortable, at least willing to take.