The Lakers have agreed to terms with free agent PF/C Jordan Hill on a deal that will keep him in Los Angeles.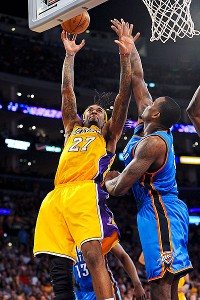 Noah Graham/NBAE via Getty Images
Jordan Hill gives the Lakers athleticism and energy off the bench.
Hill gets two years, and just under $8 million. The Lakers keep a badly needed member of their bench rotation, someone providing athleticism, energy, and shot blocking lacking outside the starting lineup. Had Hill gone elsewhere -- Minnesota was reportedly an aggressive suitor -- replacing him with a comparable player would have been nearly impossible for the Lakers, given the constraints placed on them in the free-agent market. They might have instead been forced to rely either on a totally unproven player or a retread like Jermaine O'Neal working as a second center. The latter in particular would have had disaster written all over it, because whether entering the season with Andrew Bynum or Dwight Howard, the Lakers absolutely need a viable, reliable player in that role. Hill can provide relief for Pau Gasol at the 4 as well, and particularly with Antawn Jamison in the fold provides Mike Brown with more lineup flexibility on both sides of the ball.
Meanwhile, the Lakers were able to secure Hill's services at a reasonable price and a contract length keeping in line with their long-term plans. Only Steve Nash has a deal guaranteed beyond the 2013-14 season.
When the Lakers brought him over from Houston at the deadline in the Derek Fisher trade (considered by management as Part II of the Ramon Sessions acquisition), Hill was little more than a throw in. His primary value wasn't rebounding or hustle, but a contract coming off the books at the end of the season. Hill spent the first chapters of his Lakers career on the bench, recuperating from an MCL sprain in his right knee looking as if he'd amount to little more than a footnote in the story of Fisher's final day as a Laker. Then in the final home game of the regular season, Brown dusted him off, sent him out for important minutes, and Hill responded with 14 points and 15 boards in a double-OT win over Oklahoma City.
Hill stayed in the rotation during the playoffs, producing some solid games particularly in the first-round series against Denver, where three times he posted double-digit rebounding totals. Overall, he averaged 4.8 points and 6.3 rebounds in 12 postseason games.
He's not a perfect player. Hill isn't terribly skilled in the post, nor does he have a lot of range on the jumper. Nobody will confuse him for Gasol as a passer, either. But in those moments Hill plays with Nash he should (like everyone who plays with Nash) thrive, whether running the floor or cutting to the rack for passes or offensive rebounds. Given all the skill the Lakers have, opposing defenses likely won't give him much attention.
One more potential negative, of course, is the matter of Hill's continuing legal issues.
He faces third-degree assault charges stemming from an alleged incident last February involving his ex-girlfriend, while still a member of the Rockets. Hill's attorney Rusty Hardin, whose clientele includes Roger Clemens and Adrian Peterson, is scheduled to appear in a Houston courtroom next week on Hill's behalf.
I won't venture a guess on where that proceeding ends up, but from a basketball standpoint, this is a major victory for the Lakers and another solid day in what has been a very productive offseason. The Lakers have remade their Big Three into a Big Four, and now have solidified the bench with Jamison and Hill's return. They can still use some help in the backcourt, but overall the Lakers have without question thrust themselves back into the championship conversation.