I got a chance Monday to watch a DVR playback of Thursday's Summer Pro League action between the Lakers and Clippers. The purple and gold took the game 75-69, their lone victory during an exceptionally unkind Vegas stay. (Losses by 40 and 50? Yeesh!) While watching, various observations surfaced. Darius Morris, for example, definitely looked the 217 muscular pounds Dave McMenamin recently reported, and despite a shaky jumper, extremely confident running the show. Robert "Mr. Irrelevant" Sacre's offensive game leaves much to be desired, but the seven-footer made good use of an NBA-ready body. And it was nice to see former Laker Adam Morrison, two years removed from an NBA job, continue his fantastic Summer League roll with 22 points on eight-of-13 shooting. (Beyond swishing baskets, the guy moved as well as I've seen since his rookie season featuring two good knees.)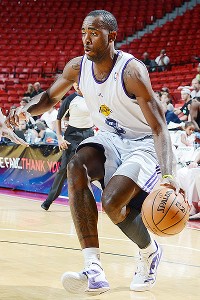 Garrett W. Ellwood/NBAE/ Getty Images
Hopefully, what happened most recently in Vegas doesn't stay in Vegas.
But the player who stood out most was Christian Eyenga, in part because of the numbers (22 points on 10-for-15 shooting, plus a pair of rebounds and steals), but also the way he played. For "projects" young, bouncy and commonly regarded as small forwards, expectations don't often extend much beyond dunks and athleticism. And Eyenga certainly delivered along those lines. A first half tomahawk was one-upped in the second half by a two-handed throw-down created off the dribble. He also stayed in front of Eric Bledsoe after the speedy Clippers point stole a terrible pass from Morris, then forced a jump ball. Again, everything expected from a ridiculous athlete.
However, Eyenga didn't just perform feats out of The Matrix. Jump shots were actually drained. From the elbow extended coming off a screen... A step-back between the circles... A catch-and-shoot with his foot on the three-point line... A self-created triple working (very) high pick-and-roll with Sacre. His handle was utilized while driving lefty across the lane, with a foul eventually drawn. No assist was recorded, but nice court vision was displayed while feeding Morris on the run for an eventual up-and-under layup. And while it's often tough to gauge what constitutes "set plays" during SPL, Eyenga appeared on several possessions to be helping initiate the offense.
In other words, he operated like an actual two-guard, rather than a two-guard-in-name-only starting alongside Morris.
Like all things SPL, this performance must be ingested with a grain of salt, and not simply because of the diluted competition. For example, Eyenga, who went a whopping 1-for-11 from deep over five games, shot above 31 percent overall in just two. I admittedly saw just scattered bits of the other four games, but if they featured the same emphasis on hitting shots from beyond point blank, it's safe to conclude his jumper isn't quite ready to be labeled "automatic." He also recorded just one assist in Vegas, meaning his play-making skills likely also need refinement.
Nonetheless, Eyenga got me thinking about the spot in the rotation behind Kobe Bryant, along with the last guy assigned that gig on a regular basis: Shannon Brown.
Brown arrived in L.A. more polished than Eyenga, but unquestionably still a work in progress. And like Eyenga, there were questions about how much the Michigan State product could contribute beyond freakish hops and athleticism. It wasn't even clear what position Brown was best suited to play. As Phil Jackson shared in my 2010 profile on Shannon, "I wouldn't have called him a guard a year ago at this time. I would've called him a small forward in a guard's body."
In other words, he wasn't truly "ready" to back up The Mamba.
But through a combination of opportunity, good coaching, Kobe's mentoring and (above all) an excellent work ethic, Brown developed into a credible shooting guard. Hardly perfect, of course, and Brown had a maddening pattern of first half improvement followed by a nosedive. However, as Joni Mitchell famously noted, "you don't know what you got 'til it's gone." Brown's flaws certainly beat last season's alternative, a revolving door of Jason Kapono, Andrew Goudelock, Devin Ebanks, and Matt Barnes. Mike Brown must settle on a firm solution behind Kobe next season. If forced to go with an option currently on the roster, Eyenga would certainly be considered a dark horse candidate for now. Again, this idea was inspired by one SPL outing. I mean, dude has just 51 actual NBA games and 1,049 actual NBA minutes under his belt. Were this 1989, Eyenga would be widely described as "raw like sushi."
Still, on a team with many smart players, plus a legitimate need for springy legs, that doesn't necessarily make playing time impossible. Eyenga must improve enough to avoid being a wholesale liability, and during separate in-game interviews Thursday, Brown and Jim Buss praised Eyenga as an El Segundo-based gym rat this offseason. Based on one game, the work is paying off. Should that path continue, perhaps Eyenga can help gum up a hole still in need of filling.