Before a "big three" became a requisite for NBA teams establishing credentials as serious contenders, it wasn't too long ago that a splashy big four graced the Association. It was assembled during the summer of 2003, when Kobe Bryant and Shaquille O'Neal were joined by free agents Karl Malone and Gary Payton to create a genuine super-team. And ever since Dwight Howard's arrival in Los Angeles last Friday, I've heard fans and media likening Kobe-Pau Gasol-Steve Nash-Howard to the 2004 Lakers, and more often than not, that's a negative. That 2004 foursome is remembered as the last hurrah for the Kobe-Shaq-Phil Jackson three-peat era, a modern-day dynasty that nonetheless left potential on the table because of in-fighting. Those Lakers, beaten by the Detroit Pistons in five games during the Finals, are remembered as a failed experiment, the cautionary tale for front offices utilizing the formula of "instant championship: just add superstars."
With the Lakers now boasting among the splashiest starting fives in league history, naysayers are quick to cite the 2004 Lakers as a worst-case scenario.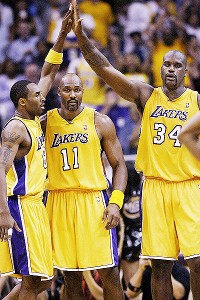 AP Photo/Kevork Djansezian
Three members of the last big four in L.A.
The comparison is inevitable, but also lazy. Yes, there are commonalities. Both teams featured four big names, each of which is a lock or near-lock for the Hall of Fame. Both teams were built by Mitch Kupchak and the Buss family with the blueprint of "championship or bust." But a deeper look makes it pretty obvious that there are massive differences. Most negatives surrounding the 2004 squad were part of a specific backstory, one not shared by the 2012 team. Below are four huge factors favoring the 2012 big four.
1. The coach and players are on better terms.
The discord between Kobe and Phil has been documented to death by now, most famously in "The Last Season," Jackson's diary of the tumultuous 2004 season. (Ironically, Phil was prompted to return in part to amend his largely negative portrayal of Kobe.) But the Mamba wasn't the only player failing to see eye to eye with The Zen Master. Payton sulked over his role in the triangle, and The Glove was often a tough customer when happy as a clam, never mind when he was surly. Those misgivings spilled onto the court and resulted in a watered-down version of Payton.
This year's incarnation, however, features no such conflicts. That's not to say everyone has bought into Mike Brown, no questions asked. Some prominent holdovers, notably Kobe, Gasol and Metta World Peace, expressed skepticism about their new coach throughout 2012, and I imagine Brown still hasn't truly proven himself. However, there's a difference between disenchantment and defiance, and the player who openly chafed most at Brown's authority -- Andrew Bynum -- is now the starting center in Philadelphia. Players and coach may still be feeling each other out, but outright hostility doesn't appear to be looming.
2. Kobe in a better frame of mind.
The entire 2004 season, for the Lakers and Kobe, played out against the backdrop of Kobe's legal situation in Colorado. A potential 20 years-to-life prison sentence was hanging over Kobe's head; the treatment he received on the road was often brutal and he sometimes hit the basketball court on the heels of a courtroom appearance. Nobody is mentally tough enough to not be affected by those circumstances. Despite playing exceptionally well given the circumstances, Bryant has admitted the setting drained him. It's hard to believe the entire team didn't feel the effects of his situation as well.
These days, Bryant is in a much healthier space. A once beleaguered image has been revamped. No. 24 jerseys fly off the shelves and Kobe is one of the most popular athletes on the planet. He even has evolved into an elder spokesman of sorts for the league. Yes, he can still spark debate, but Kobe is hardly the polarizing figure of 2004 anymore. Bryant also will never be the easiest teammate in the world. He'd be the first to admit it. But he's nonetheless more mature, and the days of wholesale alienation are largely behind him.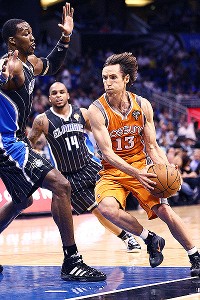 Douglas Jones/US Presswire
Nash and Howard don't equal Payton and Malone (or Shaq).
3. The contract status of players and coach is generally much better.
During the 2004 season, Kobe was in a contract year, and O'Neal, who Bryant had tired of playing with, was angling (rather loudly) for a contract extension. That in and of itself spelled trouble. Additionally, Phil's deal was ending, which didn't necessarily jibe with Kobe's wishes moving forward. On a smaller scale, Derek Fisher was willingly (if not necessarily happily) playing off the bench in a contract year to appease Payton.
That's a lot of uncertainty and conflict of interest and many reasons for resentment crammed into a 104-game campaign.
For the 2012-13 season, contractual waters are less choppy. Yes, Howard's impending free agency is the elephant in the room, but it's a pachyderm closer to cuddly Babar than that jerky elephant adopted by the Simpsons. There's no ambiguity regarding Howard on the organization's end. Negotiations will consist of conversations like, "Dwight, here is a contract for the maximum dollars and years allowable under the new collective bargaining agreement. Would you like to sign now or in a week, when we counter with the same offer?" And Howard seems happy to be in L.A. and, more importantly, aware that his reputation can't handle back-to-back soap operas. As oblivious as LeBron James appeared in the immediate aftermath of "The Decision," 2011-12 demonstrated he learned some lessons from the experience. I expect Howard will similarly look to avoid negative attention in 2013.
I'd be very surprised if Howard didn't re-sign, and another drawn-out saga would be pretty stunning.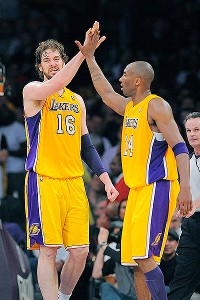 AP Photo/Mark J. Terrill
They're polar opposites, but a long way from combustibility.
As for Brown, he'll be on the hot seat if this bunch seriously underachieves, but for now he's under a multiyear contract and firmly entrenched in the franchise, making his situation radically different than Phil's in 2004.
4. The roster isn't sick of each other after years of building tension.
Forget Kobe, Shaq and Phil. By the time the 2004 Finals ended, I imagine guys such as Fish, Rick Fox, Devean George and even Horace Grant (having been a part of the hellaciously tense 2001 squad) were also tired of the bickering atmosphere. From the moment training camp opened, that season felt like the beginning of the end of a Lakers era.
This upcoming season doesn't figure to offer similar tension. I'm not saying recent days have been sunshine and lollipops. As I've noted several times, "fun" has been on short supply the past two seasons. Kobe and Pau, the longest-tenured Lakers, periodically snipe at each other, and their chemistry needs rediscovery. But a feud ain't brewin'. Kobe has a propensity for making Pau the occasional scapegoat, but also went to bat publicly for El Spaniard several times last season, and they were in regular contact during the London Olympics. Mutual appreciation remains.
In the meantime, between Nash, Howard, Antawn Jamison, Jodie Meeks and Jordan Hill, the rotation features plenty of new or relatively new faces, adding new energy to the mix.
So there are four reasons not to sweat matters. However, even if you're convinced star power, championship aspirations and the number "four" provide just too many coincidences to ignore, the bottom line is the 2004 Lakers made it to the Finals. Yeah, they came up short, but a championship isn't possible in the first place without a trip to the Finals. Had The Mailman not been playing on a bad leg that cost him 39 regular-season games and eventually forced him into street clothes for Game 5 -- with Grant already out -- the Lakers might have won the whole thing.
No, really. They might have.
Revisionist history has painted the 2004 season as a foolhardy attempt at latching onto two Hall of Famers whose careers were on life support. Well, Malone averaged nearly 21-8-5 during his previous season in Utah and put up 13-9-4 as the fourth option in L.A. Payton was coming off a 20-point, eight-dime campaign. Primes may have been in the rearview mirror, but these vets were hardly washed up. It just didn't work out, especially against a Pistons squad that played some of the most smothering defense in recent playoff memory. But the season wasn't a disaster, and fans should be mindful of the entire context.
If invoking this comparison means a Finals appearance as the baseline for "failure," I'll take my chances.