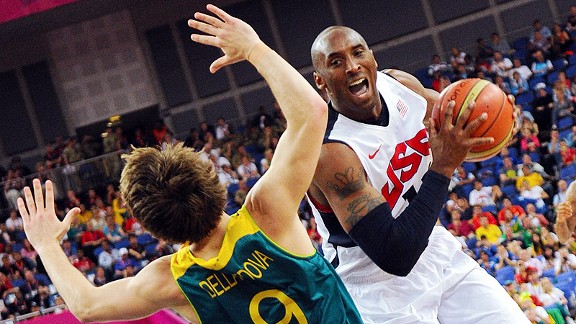 Mark Ralston/AFP/Getty Images
Once again, the United States has a gold medal in Olympic basketball, and the natural order of the roundball world remains intact.
When it was over, Kobe Bryant acknowledged Sunday's game against Spain was his Team USA swan song. "This is it for me," he said. "The other guys are good to go."
It's an exit for Bryant on the international stage (or at least the stage of international competition -- watching his reception in London shows Kobe's career as an international superstar isn't ending anytime soon), where he had a great deal of success. It also foreshadows what's coming, domestically. More than once this summer, Kobe has made reference to playing two or three more years, not necessarily beyond, meaning significant moments like one last gold-medal game are no longer on some distant horizon. His last All-Star Game, his last in the Garden, his last time in front of the home fans, his last playoff game, and so on.
They're all coming, likely sooner rather than later.
It's in that context the Lakers have completely resurrected their title chances with a stunningly effective offseason. Dwight Howard, Steve Nash, Antawn Jamison and Jodie Meeks are in, and Jordan Hill returns. Among real contributors to last season's team, only Andrew Bynum and Matt Barnes are out. Management didn't make these moves and push the payroll to $100 million just for Kobe -- they wanted to win before he got there, and will want to win when he's gone -- but no question, there's an awareness this chapter of Lakers history is ending, and if it is to be fully taken advantage of, it has to happen now.
The milestone of a final Olympics should also ease fears Bryant won't (or can't) cede enough space in the sandbox to his new high-end teammates. He will, because there isn't time for anything else. As much as he values gold medals and the chance to have represented his country, Bryant's primary goal is jewelry. He won't undercut the drive toward a sixth (and, he hopes, a seventh) ring just to prop up his own self-image, and the idea he would is antiquated. The template was on display last year. Bryant, like many of his teammates, had moments of frustration with Mike Brown but remained overwhelmingly supportive throughout the season, because blowing up the coach meant blowing up the season. It's time he couldn't afford, and one season later, the urgency is only magnified.
Not to say there won't be adjustments, or that they'll be easy. Kobe will be playing with the first elite, ball-dominant point guard of his career. He has in Howard a new center who has, unlike Bynum, been the focal point of his team throughout a distinguished NBA career. It'll all take getting used to, but if it doesn't work, Bryant's ego won't be the primary reason. Just as he was the ambassador for Team USA in London even while LeBron James and Kevin Durant did more heavy lifting on the floor, the Lakers will remain "Bryant's team" even if Kobe isn't the team's best player on a night-to-night basis. That'll be enough.
Kobe is smart enough to know if he wins a ring or two over the next couple of seasons, some will slap an asterisk next to them. He only did it because Howard was there. He needed Nash to lead the offense. The Lakers had to spend the GDP of a small nation to buy him the hardware. He knows what awaits if he's seen as the reason things went sour.
He's also smart enough to understand full control over his career narrative isn't an option -- if it were, there would be far fewer MJ comparisons -- but ultimately it's better to have the rings and let people argue their value than not have them at all. With so little time left on the clock, there's no space for politics, just wins.