In the wake of their team's roster overhaul, there are matchups around the association of great interest to Lakers fans. The precocious (and still improving) reigning Western Conference champion Oklahoma City Thunder, for one. San Antonio, which won more regular-season games than anyone in the conference last year, for another. Denver, among the "sub-elite-but-dangerous" teams.
Heck, I'm sure there are people die-hard enough to want analysis on how their Big 4 and improved bench change things against Sacramento.
Then there are matchups of interest to everyone who loves, or likes, or even thinks he might one day show some interest in basketball. Ten months or so out, it's easily the sexiest of potential 2013 Finals -- Los Angeles vs. Miami. L.A.'s foursome of Kobe Bryant, Dwight Howard, Pau Gasol, and Steve Nash vs. the current champion and its Big Three of LeBron James, Dwyane Wade, and Chris Bosh, with the newly added Ray Allen now tossing in 3-pointers from around the arc.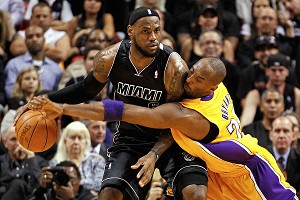 Mike Ehrmann/Getty Images
This year, Kobe Bryant will be reaching for more than the ball. With a juiced-up roster, a Finals matchup against LeBron James and the Heat is possible.
That the season series could be limited merely to a pair of regular-season games in January and February is a cryin' shame. But on the (not so) odd chance it isn't, we hit up ESPN.com's Tom Haberstroh, frequent contributor to the Heat Index, to break down how a series between the Lakers and Heat might look . . .
Brian Kamenetzky, Land O'Lakers: What was the reaction in Miami to the Howard trade?
Tom Haberstroh: I was talking to someone with the Heat staff this summer and they didn't think the Lakers saw eye-to-eye with the Heat, even with Nash. But that came with one qualification: "Unless they get Dwight."
Miami fans reacted like so: "Uh oh," but are still basking in the glory of the championship, so they aren't all that panicked. If the Heat DIDN'T win the title and the Lakers loaded up like this? I think they'd be calling for Erik Spoelstra's head first and then they'd be calling David Stern's cell phone "for basketball reasons."
BK: Given that Andrew Bynum was pretty good already, why would they be that much more concerned about Dwight? (I mean, beyond the obvious reason -- that he's a better player and is among the league's truly dominant forces, particularly defensively.)
What specifically about the matchup doesn't the staff like?
Haberstroh: Simple -- Steve Nash's pick-and-roll partner.
With a talent like Howard, you can't think of him as "just" an upgrade for Bynum. Baseball kind of works like that, but basketball doesn't. Because of the synergy between him and Nash, the Lakers' offense just got so much more dynamic. That is, if Kobe Bryant complies.
BK: I think he will -- I've said/written a few times that if this roster doesn't meet expectations, Kobe's ego won't be a primary factor -- but obviously the personalities we're talking about here are very strong, so there are no guarantees, even if everyone wants to row in the same direction.
Tom, when LBJ and Wade hooked up there was obviously an adjustment, but from your perspective how much of it was based on finding a rhythm, and how much was based in that idea of compliance? That both had to be willing to let it work?
Haberstroh: Put it this way: LeBron and Wade were best friends and STILL butted heads about who should get the ball last season. It took a DL stint for Wade to see LeBron is best when he's running the show and not thinking about shot attempts. I have zero insight on Kobe Bryant's relationship with Dwight Howard, but something tells me they aren't spending every waking moment together like Wade and LeBron did.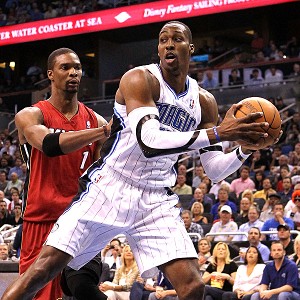 Sam Greenwood/Getty Images
Dwight Howard intimidates Miami's staff in ways Andrew Bynum didn't.
BK: Well, Derek Fisher, supposedly among Kobe's best friends in basketball, once told the media he'd never been to Bryant's house.
Haberstroh: Important point though: I think the close friendship also has its adverse affects. LeBron and Wade have said that they sometimes liked each other too much and didn't want to anger the other one with a complaint. So chumminess cuts both ways.
I often wondered if the Heat winning the title would make "the basketball experiment" of the Big Three less compelling afterward, but the Lakers stacking up on the front line? I'm legitimately geeked up to see small-ball vs. Pauward.
AK: LBJ on the court does so much to address the size issues, even as a help defender. And if he happens to find himself in occasional situations guarding Howard, he might be able to hold his own. I remember Kobe (who's also pretty strong himself) successfully guarding Dwight a couple times in 2009.
Don't forget Metta World Peace, as far as a dude with strength.
Haberstroh: If you type "LeBron Pau" into Getty Images search, 90 percent of them are LeBron fronting Pau in the post. LeBron loves that challenge, in small spurts. As you can imagine, LeBron learning to play big was a tough process. Spoelstra basically sat him down and said, "You're a big man. Deal with it." And that was that. I just don't think they can roll with that all season long, though. In the playoffs? Yeah, but running LeBron and Bosh at the 4 and 5 all season long can't be a good idea.
AK: It'll be interesting to see whether Spo goes small to force a lineup Mike Brown doesn't like while going small. Howard won't have to be removed like Bynum might have, but what happens if Pau has to because Brown doesn't like the matchup with LBJ defensively?
Maybe that's the trick to forcing advantages? Weaken the Lakers' offense as they match defensively?
Haberstroh: They couldn't be happier with the Ray Allen and Rashard Lewis acquisitions, but part of that is the idea that teams have to conform to THEM rather than the other way around. So much of the conversation over the last couple years with the Miami Heat centered on the idea that the Heat needed to match up with the rest of the league, with a strong C and quick PG. But the front office (Pat Riley) realized: "Hey, we have the Big 3 and you don't. Screw convention. We're not going to win conventionally."
AK: So what you're saying is Joel Anthony is not the key?
Haberstroh: Neither is Erick Dampier. Nor is Zydrunas Ilgauskas or Ronny Turiaf.
Or Eddy Curry. But you knew that.
AK: But the point raised earlier about conventionality actually leads into something Brian and I talked about in a recent podcast, in regards to Heat-Lakers.
Does it matter more having the best starting 5, or the best player?
Haberstroh: I think LeBron's Cavs teams taught us a lot about that.
BK: Well put.
Haberstroh: So I'm gonna say two words, type the first word that comes to Lakers fans' collective mind: "Dwight," "back" ...
BK: Fingerscrossed.
Yes, I cheated.
People are concerned, but at the same time the Lakers just traded away a guy with one healthy season in his last five, so it's all relative. I think Lakers fans will worry until he's on the court and looks like Dwight Howard, but at the same time assume the organization did its due diligence. Had there been major red flags, the assumption is they'd have walked away. For what it's worth, a couple people whose opinions I trust think he'll be OK.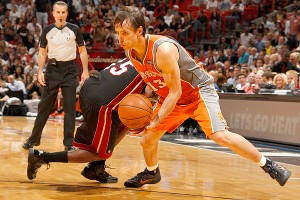 Isaac Baldizon/Getty Images
In the Big Three era, Miami has stifled L.A.'s post game by denying entry to the block. Steve Nash should change that.
Fortunately, because they kept Gasol, there's absolutely no reason to rush Howard back on the floor. A core of Nash/Kobe/Pau with Antawn Jamison as a supplementary scorer won't win a title, but it'll keep them afloat, should the need arise. It's one of many reasons why holding on to Gasol through this process was so incredibly important.
Haberstroh: Where are people on Gasol right now, especially coming off a vintage Gasol gold-medal game? Feels like his relationship with the Lakers' faithful has been a roller coaster.
BK: I don't think he'll ever be truly whole with those fans who lost faith in the Dallas series a couple of seasons ago and weren't thrilled with his performance last year, either. I thought he played pretty well overall in 2011-12. While not as consistent a force in the playoffs as they needed, during the regular year he had the best on/off stats on the team. He was the most efficient post scorer. He still was one of six guys in the league to average more than 17 points and 10 boards. All of this while being jerked around both as a trade commodity and with his role in the offense.
People just don't realize how good a player he is, even at something less than, say, his '09 level, and how much better he makes players around him. In a lot of ways, he's like a frontcourt version of Nash. When Brown learned he got Howard, he was excited. When he learned he got to keep Pau, too, he gave Mitch Kupchak and Jim Buss a hug.
As you can tell, I'm a fan.
So Tom, if you're the Heat with their suffocating perimeter D, how do you defend this Lakers team? And how would you attack them?
Haberstroh: I think they'll seriously consider sticking LeBron on Dwight, Bosh on Pau, Wade on Kobe, Ray on MWP and Mario Chalmers on Nash. Defensively, I think they'll have issues in the pick-and-roll where LeBron hasn't been asked to guard a screen-and-roller like Dwight. That's going to be very interesting. I've learned to not doubt LeBron's development in any basketball skill, but he doesn't have too much experience defending the pick-and-roll as the big defender.
AK: Again, if you have to play a "small" power forward on Dwight, LeBron's as good a choice as any.
Tom: People forget: they pretty much weigh the same.
BK: But your point about what he'd be asked to do is a great one. There's so much nuance to defending in the P-and-R, and in those sequences he'd be up against one of the best the game has ever seen in Nash, orchestrating with the league's best finisher in Howard.
Haberstroh: That's why I think you'll see Joel Anthony out there a lot in that series. Probably more than Spoelstra would like, given how much he leaves on the table offensively. But Joel in the pick-and-roll? Few are better.
Everything else? Few are worse.
AK: Maybe I'm giving LeBron too much credit, but I'm guessing he'll figure it out. He sees the court as well as anybody in the league and basically became a great defender almost overnight once he decided to really try.
Haberstroh: Hey, remember when he didn't have a post game?
BK: How about attacking L.A.?
Haberstroh: Miami's ideal lineup against the Lakers: Wade, Allen, LeBron, Shane Battier, Bosh. How much fun would that be to watch? I feel like they could make LAL-MIA games pay-per-view.
But to answer your question . . .
Again, along with that "you must game-plan to our personnel, not the other way around" mentality of the Heat staff, they are going to look to flank the Big Three with two 3-point shooters and pull Pau/Dwight outside the paint.
Playing Joel Anthony on offense ensures that Dwight will build a house in the paint. So it's going to be fascinating to see how Spoelstra plays it. Spoelstra wants to play two of the Battier/Lewis/Allen trio at all times to space the floor and allow the Big Three to penetrate the Howard/Gasol fort. Bosh would hang out at the elbow. LeBron would go to the post. Battier, Wade and Allen attack from the perimeter.
BK: I want to watch this series even more now. Between the talent on the floor and the contrasting rosters/styles, it would be epic for casual fans, stat honks, and X's-and-O's types all at once.
So last question for everyone -- seven-game series, neutral floor. Who are you picking?
Haberstroh: Heat in 7. I'm just not sold on the Lakers' offense meshing in time. Will Dwight Howard's indefinite return delay chemistry? Will Kobe be OK with not leading the league in FGA attempts? Will Nash's body hold up away from Phoenix' miracle-working training staff? Is this Princeton offense thing a real thing? Why couldn't Brown get the Lakers' offense better than the Jazz's? Lots of questions, not as many for Miami.
AK: What is the role of Darius Johnson-Odom?
Haberstroh: Better question: Who is Darius Johnson-Odom?
And I, of course, thought the Heat were done after Game 3 against Indiana. So, I'm clearly Nostradamus.
AK: Actually, Heat in 7 sounds reasonable to me, in part because of the unknowns. I do believe a lot in templates, and the Heat have established a very impressive blueprint. For the time being, I'm giving them the respect as champions. But sight unseen, I still think the gap between these teams isn't huge, and perhaps may not even exist.
I already believe this is the best team in the league outside of perhaps Miami.
BK: Tom, your answer is in many ways the other side of the coin from mine. I think over the last few days I've been so awed by what appear to be the endless possibilities of what the Lakers can run offensively -- pick and roll with Nash/Howard, Nash/Gasol, Kobe/Gasol, a 1-2 with Nash/Kobe, Gasol/Howard, etc., plus all the opportunities of a motion offense with the Princeton (which will happen in some form), versatility on the bench and floor spacing with Nash and Jodie Meeks, an improved defense with Dwight, etc. I've started to gloss over all the practical questions you raise. History says they're important and are likely to make a difference, but it's hard not to be dazzled by the possibilities with the re-made roster if everyone stays healthy.
Haberstroh: I'm still not willing to put them ahead of OKC, if only because of the age variable.
BK: I'm tasting the Kool-Aid for this team, for sure. Still giving Miami an edge because I don't know what all of this will actually look like, but I'm REALLY close to just saying, "Screw it, the Lakers are the best team in the NBA."
I have them a nose ahead of the Thunder. I think they've addressed the issues giving OKC the clear advantage, but that's a conversation for a different day.