The 2011-12 season was difficult for the Lakers. Whatever shred of opportunity to properly integrate new systems on both sides of the ball under coach Mike Brown in the wake of the lockout -- and it wasn't much -- evaporated in the fallout of the nixed Chris Paul deal and resulting trade of Lamar Odom. There were huge holes in the roster, from the lack of bench depth to secondary scoring in the backcourt. Ramon Sessions, acquired to shore up the point guard spot, flamed out in the playoffs.
Still, Brown looks back and believes they were capable of a title.
"There might be some people that had an understanding of some of the deficiencies that we (might) have had last year," Brown said in a phone conversation last week, "but I still think at the end of the day with the way we exited and throughout the year with some of the ups and downs we had, yeah (I) didn't think anything less than that."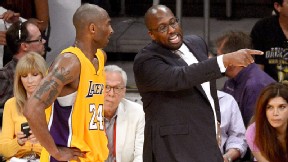 Kvork Djansezian/Getty Images
Year 2 of the Mike Brown/Kobe Bryant partnership should be more fruitful than Year 1. If not, conversations about Brown's job will intensify.
Believing your team can win a championship, and accepting no less, is basically woven into the job description of Lakers head coach, something Brown -- an optimistic guy not big on excuses -- fully accepts. Still, rough patches and criticism of his first year notwithstanding, looking back at 78 regular-season and playoff games it's difficult to believe the Lakers were good enough to win a title no matter who coached them, whether Brown or some amalgam of Phil, Pop, Riles, and Red. Neither the eyeball test nor statistics -- based on Basketball Reference's expected wins formula, the Lakers should have won 36 games, not 41 -- suggested otherwise.
Quantifying the impact of a head coach in the NBA has always been a tricky exercise. Good coaching choices pay off, and they fail. Bad ones sometimes prove inconsequential or even look smart based on the results. Quality players and luck can elevate mediocre work on the sidelines and on the practice floor, while poor talent undercuts even the best coaching performances. Coaches can look brilliant one season and incompetent the next as personnel and context changes around them. Last year, in relation to the Lakers' title chances, Brown's role was ultimately moot, because the team had too many holes coaching couldn't fill. In the NBA, talent is primary and the Lakers didn't have enough.
That was then.
The Lakers celebrated the 4th of July by importing Steve Nash from Phoenix, and since have added Dwight Howard, Antawn Jamison, and Jodie Meeks, while re-signing Jordan Hill and holding on to Pau Gasol. Debate if you'd like where the offseason leaves L.A. relative to other powerhouses, but one thing is apparent: The Lakers are again elite, and even if locating precisely that line where coaching can be the difference between a title run and disappointment is an impossible task, the Lakers have long crossed it. This team, assembled at great cost both financial (more than $99 million in payroll and counting) and strategic (picks and picks and picks out the door) is rightly expected to do big things.
Brown knows the scrutiny he faced last season is nothing in comparison to what awaits this year, and he's fine with it.
"Everybody says that -- expectations, expectations, pressure, pressure, pressure. Pressure to me occurs if you're not prepared, and we'll be prepared. Having said that, I'm telling you this: I don't think there was anybody last year that said it was ok that we got knocked out in the second round, or that we didn't win the West," he said. "Our expectation last year was to win a championship. Our expectation this year is to win a championship."
Being coach of the Lakers is a job where the seat is always hot, something Brown knew and accepted when he took the job. But if anything less than championships eventually gets him fired, Brown happily accepts the burden of expectations if it comes with a roster truly capable of delivering hardware.
"As a coach, I don't know why you would want to be put in any other situation, unless you're just happy getting a paycheck or being a coach in the NBA. I want to be put in a situation where year in, year out I have an opportunity to win. You know? In my opinion, that's my dream and should be the dream of anybody that's a competitor. This situation warrants that," he said.
Brown's biggest ally -- aside from all of the new talent -- is time, in the form of a real training camp with some semblance of roster stability, and a second season without Phil Jackson in the big chair. The context of this season will be completely different than last, something Brown believes can improve the connection to his players.
"Everything was so rushed [last year, because of the lockout], and not only was everything so rushed, you're talking about a culture that's been what it was for 10, 12 years. However long they've been going this way," Brown said. "For Phil to be here and to have the success that he had for as long as he had, for me to come in -- and obviously being myself because I can't be Phil -- that had to have been a culture shock to the players, too."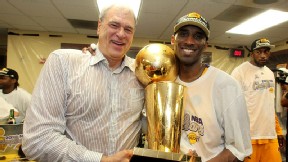 Kvork Djansezian/Getty Images
One more year of separation from Phil Jackson's shadow should benefit Brown.
Stepping into the void left by arguably the most successful coach in the history of modern team sports, it was impossible for Brown to replicate Jackson's gravitas. He was smart not to try, particularly given the difference in jewelry count, with Brown's ring as an assistant in San Antonio in 2003 weighed against the bling of his new team.
The Lakers weren't the young group Brown inherited in Cleveland but a fully formed team of veterans.
"We're a temperamental bunch that want to win, and want to win now. We're all very intelligent, which makes us very stubborn at the same time," Kobe Bryant said about Brown before the start of last year's first round series with Denver. "You have to make sure your ducks are all in a row. You have to make sure if you're going to make an argument for something or say something, you have to make sure you have a good reason for it and you explain it. You don't say "Jump!" and we say "How high?"
The push/pull between Brown and his players was constant and at times produced real tension, handled very well by Brown in some instances and less elegantly in others. Brown admits he didn't fully anticipate the media scrutiny surrounding the Lakers, and how seemingly minor things almost instantly become crises. Overall, 2011-12 was a constant process of learning and unlearning for both Brown and his players. In the aggregate, Brown performed pretty well, especially given the circumstances.
Brown believes the connection to his players improved throughout the year. It should improve more going forward. This year, the "new guy's" ways will be less new, and while Jackson's shadow is long and his influence remains -- Bryant can't/won't be de-Phil'd at this point of his career -- that the roster only sports three players spending more than one season under P.J. (Bryant, Pau Gasol, and Metta World Peace) can't hurt.
Time also allows adjustments. Last year, Brown gradually loosened the reigns on his offense, calling less from the sidelines and giving players more responsibility. This year he'll take it a step further, installing the Princeton offense. It's not the triangle, but the Princeton shares similar traits (ball movement, reading a defense and reacting accordingly, and an appreciation for skilled-passing bigs). Most importantly, it's a system.
For the Lakers, a veteran and high-IQ bunch with players like Bryant and Gasol who have thrived with similar structure in the offense, it's a smart move. "This team is built that way," Brown says, "and because they're built that way, because they're used to it, I think it will help them out at the end of the day."
So many questions still surround Brown, and whether he belongs in the conversation of truly top-shelf coaches. On the one hand, among active coaches only Tom Thibodeau (.757) and Gregg Popovich (.680) best Brown's regular-season winning percentage of .658. Still just 42 years old, Brown already has coached 83 playoff games and unless things go very wrong the next two years, will enter the top-20 all-time in that category. He's been to two conference finals and one Finals. He's plucked from the Popovich tree. The resume has strong points.
On the other, though people tend to cut Brown some slack for the wax job put on his Cavs in the '07 Finals -- the Spurs were that much better -- twice in Cleveland his teams ran up the league's highest win total and fell short of a Finals. His creativity and responsiveness to in-game situations has been criticized, along with his skill at formulating an offense. Many still wonder if Brown, as decent a person as you'll ever meet in sports, is a strong enough presence to command genuine respect among the league's elite. And for a guy with a great rep as a defensive coach, as last season progressed the Lakers slipped on their own end.
He's won a lot of games, boosters say. Of course he has, reply the critics. Look at whom he's coached. (In that, Brown has something in common with Jackson, who hears that knock frequently from those looking -- very ineffectively, in this case -- to undercut his 11 titles.)
Now with the obstacles of last season stripped away, everyone -- his players, his employers, fans, and media alike -- will get a truer picture of who Brown is as a coach and how capable he is of guiding a team of this quality and construction, with more talent than anything he had in Cleveland.
Rings have a way of changing narratives for players and coaches alike.
The book on Brown isn't fully written, but a big chunk of copy is coming this year, and could determine how many more chapters follow in Los Angeles.