It has been an outstanding summer for Lakers head coach Mike Brown, and not only because he was able to take his first real family vacation since taking the gig last year. With the lockout in the rearview mirror, Brown now can prepare for the season as a detail-oriented man like himself prefers, dotting i's, crossing t's and creating a season's blueprint for his roster.
And a fine roster it is, having added Dwight Howard, Steve Nash, Antawn Jamison and Jodie Meeks, with Jordan Hill re-signed.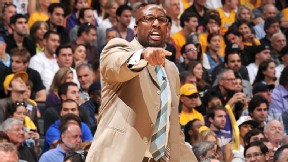 Andrew D. Bernstein/Getty Images
Despite additional pressure, Mike Brown is excited to start the 2012-13 season.
"You've got to give [vice president of player personnel] Dr. Buss, Jim Buss, and [general manager] Mitch Kupchak credit," Brown said in a phone conversation last week. "They always will, as you've seen in the past and as we see currently, they always will try to put a product on the floor that they think can compete for an NBA championship. The guys that they brought in, they're all professionals, they're all very good players, and they give us a chance."
Even pain has been wrapped in joy this offseason, evidenced by his reaction when Kupchak told him the Lakers had acquired Howard while keeping Pau Gasol.
"I got a little excited. I tried to jump up and down, but my mind was telling me to do something that my body wouldn't allow me to do. I almost pulled my hamstring sitting down. I don't know if that's ever happened to anybody, but I was so excited that my leg tensed up. I almost tore my hamstring. So I got up slowly and gave him and Jim Buss a hug," Brown said.
"That might be the first hug they've gotten from their coach, ever, when it comes to a trade happening."
Given the incredibly rapid and odds-bucking reversal of fortune for the Lakers this offseason, I'm sure Lakers fans would react the same way to seeing either Kupchak or Buss. Many of those fans will hold their hug for Brown until the end of the year. Brown understands the pressure facing him this year, one of the many things we covered in our phone interview. Below is a transcript of highlights from our conversation.
LO'L: In London [for the Olympics], Kobe Bryant spoke about the team installing the Princeton offense this year. Is that more or less the plan?
MB: "I like some of the things that we did last year, and we're going to keep some of those things in place. But in the same breath, I've always been infatuated with what Eddie [Jordan] did when he was in Washington. I think if you take away the individual players and how talented they are -- obviously if you have certain players it doesn't matter what you run as long as you run something to their strengths, you're going to have success offensively.
"So if you take away the individual players and their strengths and all that and just look at the purity of different offenses and how to defend them on a night in, night out basis, I always felt that the stuff [Jordan] did in Washington was difficult to defend. It was difficult to come up with a game plan because of the spacing and ball movement and stuff like that. It's a stress-free offense because of the counters that are built in and so on and so forth. So I started looking into that at the beginning of the summer a little bit and talked with a couple of guys that have done it on the collegiate level and on the professional level, and then I brought Eddie in for a while.
"I spent about a week or so with him, talking about it. So there's a good chance we're going to go down that road to incorporate some of that, or a lot of that, into what we did last year."
Note: Multiple outlets have reported Jordan's expected addition to the staff, something confirmed to me as well by a source familiar with the situation.
LO'L: Is the installation at least in part because you have guys who have been system players? Kobe, Pau et al? You know system basketball is something they're comfortable with?
MB: "Yes, that is part of it. This team is built that way, and because they're built that way, because they're used to it, I think it will help them out at the end of the day."
LO'L: How does the Princeton work with having someone like Nash? As is my understanding, it's not as much a heavy pick-and-roll offense, but more motion and ball movement.
MB: "The way that we'll put it together, Steve's going to have an opportunity -- he's going to quarterback the team -- and so he's going to have an opportunity to come down the floor every possession and in early offense play pick-and-roll if he wants to. It's up to him, based on where he decides to take the ball or a call that he makes or an action that he does, it's up to him to get us into some of the looks of the Princeton offense.
"So again, with him quarterbacking, or making that decision, he'll still have a chance to get the ball back after he moves or after bodies move. I don't want to completely give away what we're trying to do, but in a nutshell, he will have an opportunity to play pick-and-roll at the beginning of almost every play set coming down the floor in early offense. And if not, he can also choose to get to some of the looks out of the Princeton by making a pass or doing an action or doing a call or whatever."
LO'L: I know you're a defensive-minded coach, but when you think about the aesthetics of what the offense could look like, the amount of options available to you, I suspect it's been hard to stop smiling.
MB: "And that's what's exciting. The versatility that we do have it gives us the ability to do a lot of different things. We don't want to give too much, especially early on, and then in the same breath as the season goes along we're going to learn from them based on who they are individually and as a unit.
"I feel like I have a nice foundation, or a nice mix, in mind to give the team when you talk about combining some of the stuff that we did last year with some of the Princeton stuff that Eddie did in Washington, and then kind of going from there."
LO'L: Was last year enjoyable? Was it a fun year for you as a coach?
MB: "Yes, it was. It was enjoyable from the standpoint that I felt like, as the season went along, I felt like we grew and I felt like we were pretty good at the end. I thought going into the playoffs we were really good.
"I thought it hurt us not having Metta [World Peace] against Denver [in the first round of the Western Conference playoffs], because they were able to take advantage of some things on the perimeter that they wouldn't have been able to do if we had Metta. And even going into the Oklahoma [conference semifinals] series, after the first game I was good. I felt like we put together a plan after the first game as to where we could compete and possibly win the series. So I felt good about our performance and our chances and all that other stuff in that series.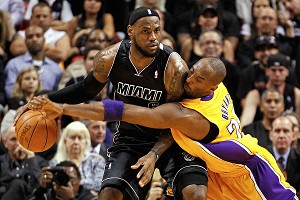 Andrew D. Bernstein/Getty Images
The presence of Steve Nash should boost the offense considerably and prevent the sort of point guard failures that damaged the team last season.
"Obviously, it was unfortunate that we didn't win and it was disappointing. But for the shortened season and all the other stuff, I thought we had a solid year."
LO'L: How hard was it to connect to your players and your staff, given the nature of last year?
MB: "It was tough in that regard. Everything was so rushed, and not only was everything so rushed, you're talking about a culture that's been what it was for 10, 12 years -- however long they've been going this way. I don't think there are any two guys that are the same out there. For Phil [Jackson] to be here and to have the success that he had for as long as he had, for me to come in -- and obviously being myself because I can't be Phil -- that had to have been a culture shock to the players, too.
"It took some time, but I thought that as the year went along, especially during the playoffs, we were pretty connected."
LO'L: When you look back at the work you did, where are those places you look at and think you could have done this, should have done "X" differently. Where you think you'll be better this year?
MB: "I thought I got better with the media as the year went along. Initially, that was a shock to me, in terms of understanding why and how everything can be such a big deal here. In Cleveland, I experienced it a little bit because LeBron [James] is a guy that drew the media's attention on a national level, but really the media was only concerned about him, and him only, [and only] sometimes if we won or lost.
"The media was not as big a deal for me when I was in Cleveland because they didn't cover, or they weren't as interested in the other guys like they are here. From 1-15. You could be the 14th player on the team, and if there's a small thing going on, on the court or off the court, it can turn into a media frenzy. So that was an adjustment that I had to make. Just understanding that, feeling that, accepting it, dealing with it, throughout the course of the year.
"In terms of what I can do?
"Shoot, I always look back and say I could have or should have tried this offensively. Defensively, yes, there are things that, yeah, I could have tried this defensively, but I think at the end of the day all of that is just about coaching. No matter where I am, whether it's here with the Lakers or Cleveland or anyplace else, that's how you get better. You second-guess yourself, you question the things that you did at times, and think through them again in order to have a better feel as to whether you should continue down a path or change it up.
"I don't think there's really anything with X's and O's-wise that I can sit here and say would be different, in terms of me questioning them if I was with another team."
LO'L: There were moments -- following a narrow 88-85 win over New Orleans at Staples on March 31, when the team looked awful, for example -- and we expected heavy criticism of them in your postgame press conference but didn't get it. You were complimentary instead. Were you reluctant to risk making yourself the news? Do you think going forward you'll have more leeway for public criticism or stronger talk when necessary?
MB: "I've never been a guy that looked to put myself in the headlines. I don't need to publicly bash this individual or these three guys, or even bash the team to get my point across. I'm not trying to get my point across to the media. I'm coaching the 15 guys in the locker room. I've always told those guys the truth. I told them the truth in front of their face, in the film room, whenever we did drills, or what not.
"For me, I'm not a guy that feels like I need to send a message to the team through the media. It's not my style. Looking back at it, I know there were a lot more headlines in the past but for me I think of our club more as being in a bunker. It's us, and us that has to stick together, and us that has to figure out our problems. I believe that the more that you include people outside of that bunker, the more problems you're going to have.
"Now it's going to be a lot of things you're going to have to answer throughout the course of the year that, in my opinion, I don't need to spend my time and energy on. Yeah, if the team doesn't play well -- we didn't defend, we didn't do this, we didn't do that -- I'm going to tell the truth, but for me to publicly bash the team to prove a point or try to get a message across or try to act bigger than what I am? That doesn't need to happen."
LO'L: So it's fair to say what you might have said to us after any given game or practice isn't necessarily what you told the team?
MB: "That is fair to say."
LO'L: Do you prefer your team be a front-runner? Would you prefer your team be thought of as a sleeper? Because obviously the expectations are going to be a lot higher this year.
"Everybody says that -- expectations, expectations, pressure, pressure, pressure. Pressure to me occurs if you're not prepared, and we'll be prepared.
"Having said that, yes, you understand people's thoughts and expectations, but I'm telling you this: I don't think there was anybody last year that expected us and said it was OK that we got knocked out in the second round, or that we didn't win the West. I don't think there's one person in L.A. that can honestly say they didn't expect more.
"You look at other teams, there's some other teams out there -- Stan Van Gundy isn't back for Orlando. You can figure some lesser teams, the coaches aren't there. This business is about winning. So the expectations when you talk about last year and this year, to me our expectation last year was to win a championship. Our expectation this year is to win a championship, and if I asked you or anybody else, I think you guys would have expected us to win last year, just like you expect us to win this year. That's no different.
"I understand why people say that, this year especially, with the addition of Nash and Howard, but at the end of the day the reality of it is we have to go through Oklahoma City. They won the West. We have to go through the Miami Heat, because they're the NBA champions. We don't have anything right now to say that we're the team to beat except we do have a nice team that Jim Buss and Mitch Kupchak put together on paper. Now we have to try to go get it, but we have to go through the teams that were the Western Conference champion and the NBA champion."
LO'L: So basically, given that you're going to be on the hot seat anyway, you might as well have a roster that makes it easier for you to get where you're expected to go?
MB: "Bingo, and that's what I like about this job. The level of expectations that we have as an organization doesn't sit with just making the playoffs. Every year, ownership and management want to compete for a championship. As a coach, I don't know why you would want to be put in any other situation, unless you're just happy getting a paycheck or being a coach in the NBA. I want to be put in a situation where year in, year out I have an opportunity to win. You know? In my opinion, that's my dream and should be the dream of anybody that's a competitor. This situation warrants that."
LO'L: Do you really think you should have won a title last year? You mentioned that you thought media had the expectation of a title. I know I didn't think you guys were good enough.
"I think at the end of the day, everybody, for the most part -- there might be some media people, there might be some people that had an understanding of some of the deficiencies that we [might] have had last year, but I still think at the end of the day with the way we exited and throughout the year with some of the ups and downs we had, yeah, [I] didn't think anything less than that.
"Again, I think it's just the nature of the culture that has been built around this team, when you talk about the city of Los Angeles."
LO'L: Given that if something really bad happens and you guys flame out, your job becomes something people will talk about in terms of security, given that, are you more excited about this year than last?
"If you think back to last year, there were plenty of people that talked about whether or not I should have a job coming into the season."
LO'L: That is true.
"And that's where I'm going with it. Whether I have this team or I have last year's team, or I'm in Cleveland and we won 60-something games two years in a row, people are always going to talk in my opinion -- not just me, but other coaches, too -- about whether or not a coach should be here the following year. I have no control over that, so I'm just excited that I'm able to be here in this organization and coaching this group of guys."