Hey Dwight:
How's it going? We haven't formally met, yet, but I'm Andy Kamenetzky. You'll be seeing a lot of me, as I cover the Lakers for ESPN LA and 710 ESPN. And I'm looking forward to you being part of the Lakers. Not only will your presence improve the defense, offense and collective psyche of a fan base newly electrified at the legitimate prospect of a title next season, but you also can improve the long-term health of the franchise as the guy slated to receive the baton from Kobe Bryant as the franchise's next face.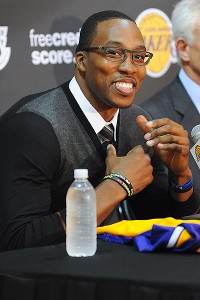 Noah Graham/NBAE/Getty Images
Nip it in the bud, Dwight.
Of course, "slated" isn't the same thing as "set," and therein lies the sum of all fears for Lakers fans. Let's be blunt, Dwight. Your exit from Orlando was steeped in chaos and drama, in no small part because Superman handled the situation rather poorly. Let's be honest, you waffled like a politician trying to win re-election, and the general consensus is you warmed to the prospect of purple and gold only after other options (namely playing alongside Deron Williams in Brooklyn) dried up. That's not to say you didn't seem genuinely happy at your introductory press conference, nor do I have any doubts about you remaining a Laker. Frankly, I'd be pretty surprised if you left.
However, the possibility of an exit will linger until an extension is signed, and it seems unlikely that you'll sign early, for a variety of reasons. Thus, we're left with fans not just worried about the possibility of you bolting, but also with the possibility of a three-ring circus in the process. You deflected this topic during that presser, but it will undoubtedly resurface the next time you step in front of a microphone. And then the next time. And the time after that. No doubt, this could become a tedious, consuming, never-ending storyline, unless you take control of the situation. And this is where I'd like to help!
Below is a prepared statement I've created for the first moment when one of us in the media asks about your future. These thoughts will help calm fans' nerves and diffuse a potentially messy situation. (And a word of advice: This may be a prepared statement, but the trick is making the words feel like they're coming naturally from the gut and heart. Therefore, you'll need to not only practice reciting the statement, but I'd even recommend memorization. It'll require extra work but will be worth the time.)
At any rate, here's what you'd say:
I'm actually glad you asked that question about my contract, because it allows me to address a big concern of mine heading into this season. I'm well aware my situation could easily take on a life bigger than the Lakers' season itself, and that's something I'd like to prevent. Therefore, I'd like to make the following point crystal clear, without any hesitation or qualifiers.
From this point forward until the end of this season, I will not answer any questions about my future with the Lakers. I will not answer any questions about free agency. I will not answer any questions about a contract extension. When we're on the road, I will not answer any questions about whether I could picture myself playing for "Team X" hosting the Lakers that particular night.
In a nutshell, I will not answer any questions even tangentially related to my future as a Laker.
Why? Because I don't want to say anything that might contribute to a season-long distraction as we make a serious run at a title.
Again, I understand the interest in this story. Whatever questions I'd be asked are completely legitimate. But, unfortunately, they're also questions I'm not prepared to answer. Not because I am apprehensive at the prospect of a long-term partnership with the Lakers. As I stated many times during my introductory press conference, I'm absolutely thrilled to be here. What's not to like? We have the best starting five in the league. We have a deep bench. Our general manager has a proven ability to build a top-shelf roster. Our owner is arguably the most successful in professional sports history and he's handing the keys to a son who has taken notes.
In other words, I couldn't have asked for a better franchise with which to begin the second chapter of my career.
However, I've also yet to actually experience firsthand what life holds here for me. By all indications, it's going to be terrific and there's absolutely no reason to believe otherwise. However, I nonetheless have nothing tangible to base my judgment on, which means signing an extension is the equivalent of flying blind. That's never a wise move, particularly when there's no reason for fast action.
Think of it this way: If you transferred jobs, but could wait a year before committing long-term to the new workplace, wouldn't you utilize that luxury? I imagine you would, for the same reasons I will. Professionally and personally, it makes no sense to sign a contract now. I have the opportunity to develop an informed decision regarding my future. Taking advantage of that opportunity feels most sensible and makes me most comfortable, so that's what I plan to do. It's really that simple.
Having said this, I feel a responsibility to make certain my situation doesn't bleed into the season. This is extremely important; an issue I don't take lightly. After the events that preceded my leaving Orlando, I know firsthand how damaging a high-profile player's impending free agency can be. And I know I made mistakes in how I handled that process the last time out. I can't go back in time and fix those mistakes, but I can prevent them from happening twice. And frankly, I must, as a teammate of Kobe, Pau and Metta, who have a limited window of time to win another championship. And as a teammate of Steve, Steve and Antawn, who have a limited window of time to win a first championship. And as an employee of the Lakers, who don't deserve distractions created on my behalf.
I realize that media being media, you'll continue to ask these questions anyway for a while, and I won't take it personally. That's just you doing your job. But I also hope you don't take it personally when I politely decline to respond.
And with that potential distraction eliminated, everyone can remain focused on what matters most, which is the Lakers winning their 17th championship.
Give a call if you have any questions, Dwight, and I'll see you around.
Andy