AMC has pumped out a bunch of hits over the last few years, including 'Mad Men,' 'Breaking Bad,' and 'The Walking Dead.' Among their newer original series is 'Hell On Wheels,' (Sundays, 9 pm PT) a twist on the classic western centered on the race to build the first transcontinental railroad following the Civil War. Now into its second season, it's an entertaining show featuring some excellent performances, including from star Anson Mount as Cullen Bohannon, a former Confederate soldier seeking revenge for horrible acts committed against his family.

We caught up with Mount in Calgary, during a break in his shooting schedule. Among the topics discussed...
-- Mount's unique upbringing in sports. Raised in a small town in Tennessee, his mother was a professional golfer, while his father was a prominent sports editor at Playboy, at a time when that magazine was a major voice particularly in college and pro football. Mount explains why his father, privy to enormous amounts of inside information in both NCAA and NFL football, never gambled on sports despite some criticism from colleagues (7:00).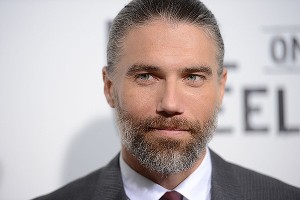 Jason Merritt/Getty Images
Anson Mount stars as Cullen Bohannon on AMC's 'Hell On Wheels,' now into its second season.
-- Every year when Playboy would name it's All-America team, they'd bring those players together for a group photo. Mount routinely attended with his dad, allowing him to rub elbows with some of that generation's greatest players including Hershel Walker and Bo Jackson. (14:00)
-- Mount explains in detail how the show's setting creates a spectacular framework for a dramatic series. The history of the transcontinental railroad naturally lends itself to complicated questions of ambition, race, and corruption. (21:35)
-- The role of race in the show, particularly in his character's relationship with Elam Ferguson, a former slave working on the railroad, played by Common. (23:30)
-- What is the moral core of Hell On Wheels, a show in which the lines between "good guys" and "bad guys" is blurry at best? (31:30)
Finally, did Robert De Niro actually convince Mount to take a role in the Britney Spears big screen epic 'Crossroads?' (34:00)