Aug. 23, otherwise known as "the day Kobe Bryant turned 34," recently came and went with NBA TV airing a slew of games featuring #24. Among those chosen was Lakers-Thunder, Game 4 of the 2012 Western Conference semifinals, the second of two games in that series marred by epic Lakers collapses down the stretch. (This odd way of celebrating The Mamba's birthday undoubtedly will serve to Kobe zealots as Example No. 1,374,810 of the world conspiring against him.)
This particular game saw the Lakers up nine points to begin the fourth quarter, 13 with 8:02 remaining, then back down to nine with half of the quarter to go. The bottom eventually fell out with a series of clumsy and/or empty possessions, capped by the mother of all unforced turnovers from Pau Gasol.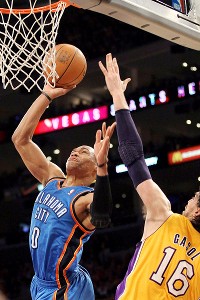 Stephen Dunn/Getty Images
Westbrook shredded the Lakers as they fell apart down the stretch.
I was able to DVR only the final seven minutes of the loss, but during that time noted plenty of occasions where Steve Nash, Dwight Howard, Antawn Jamison and even Jodie Meeks could have contributed to possibly prevent a loss. In a general sense, all four could have improved the collective scoring punch.
Nash and Howard are among the best pick-and-roll players in the league, which could have provided cohesion desperately missing during this stretch. Beyond his proven resume at getting buckets, Jamison can create his own shot, a skill set in short supply last season. And while the odds of Meeks on the floor down the stretch are dicier, there were a few occasions where a credible outside shooter was glaringly absent.
More specifically, here are some possessions where Nash and Howard especially seemed capable of making a difference.
6:31: Russell Westbrook uses a screen to reach the right elbow, is met with a hesitant challenge from Andrew Bynum, then drains a jumper before Steve Blake recovers. Nash might not have defended the possession any better, but Westbrook took over this game down the stretch, in part because less energy is sapped checking Blake or Ramon Sessions than Nash. Granted, Westbrook's elbow J is often deadly, but who knows how much gas would have been left in the tank after guarding Nash all game? (LAL 92, OKC 85)
6:03: This point above is ironically demonstrated as Blake (of all people) takes the ball to the rim for a layup. Blake was able to take Westbrook off the dribble because the Lakers point went completely ignored on a backdoor baseline cut, then Russ got caught on his heels in scramble mode. For that matter, Blake's game-winning 3-ball attempt in Game 2 came after Westbrook fell asleep guarding him. Call me crazy, but I don't think he'd treat Nash with the same ambivalence. (LAL 94, OKC 85)
5:09: The ball touches four sets of hands but never moves closer than roughly 20 feet to the hoop before Bryant misses a long two-pointer with less than five seconds on the clock. This is among many examples where Nash's ability to probe and penetrate would have come in handy. (LAL 94, OKC 87)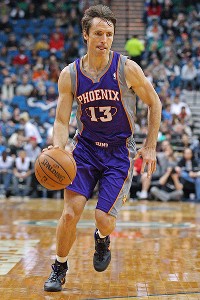 Jesse Johnson/US Presswire
Nash's presence can only create a smoother offense.
4:54: Westbrook earns an and-one after beating Kobe off the dribble, then drawing the reach foul from Gasol, who's caught from behind on a backscreen. In the meantime, a flat-footed Bynum makes no real attempt to prevent Westbrook's easy score after the foul. While obviously impossible to prove a negative, it's tempting to wonder whether Howard would have done better as the last line of defense. (LAL 94, OKC 89)
(4:28) With the clock at zeroes on the heels of a possession with three passes and no penetration, Kobe backs down James Harden, offers an ineffective pump-fake, then steps back to hoist a heavily contested rainbow over His Beardness. Money. An incredible shot, to be certain, but I vividly remember thinking, "If these are the baskets the Lakers are forced to make, they'll lose." And they did. I'd like to think Nash on hand could led to a better look for somebody. (LAL 96, OKC 90)
After a series of Blake-Kobe pick-and-rolls (shockingly!) don't free up Kobe from double coverage, the ball is eventually skipped around the arc (another shock!) and Metta World Peace is forced to huck a long two. The shot clangs, but Blake sneaks under the rack to secure the offensive board. And with this new sequence, the Lakers opt to...
... spread the floor with Kobe at the top of the arc, Pau in the corner and Blake setting yet another pick, this time against Durant! This does little to spring Kobe, who eventually drives inside for a miss at the rim. Durant then takes the ball coast to coast and draws a foul in transition. Bryant was upset at the no-call upon contact, but the bigger issue was the lack of imagination and/or options during this second-chance sequence. (Lakers 96, OKC 94)
1:34: Kobe and Pau run a high pick-and-roll at the top of arc, with Bryant pulling up long on a three-pointer. In a vacuum, the sequence was executed well, and I'll never complain too much upon seeing these guys actually work in tandem. But in this particular situation, given a choice between Kobe and Nash hoisting from deep, wouldn't you choose the career 42.8 percent 3-point shooter? (LAL 96, OKC 96)
1:15: Westbrook misses from the top of the key, but the Thunder take the lead after Kendrick Perkins puts back the offensive board. Bynum alertly boxed out the center for position, but got pushed off the spot from behind by Perk. Again, it's impossible to prove a negative, but might it have been tougher to push away Howard, the stronger player and better rebounder? (OKC 98, LAL 96)
9.0: Kobe and Pau run a high pick-and-roll, and Bryant's three is wide left. See 1:34. (OKC 101, LAL 98)
There were other possessions, of course, that crippled the Lakers in a way that doesn't specifically point to how the new guys might have helped. A rare Gasol-MWP two-man game demonstrated the reason such sequences happen so infrequently. And Gasol's turnover wasn't a matter of personnel, but rather a very good player making a very bad decision. But all in all, this trip down Bad Memory Lane drove home exactly what was missing for the Lakers against OKC (all season, really) and what might be at their fingertips come October.