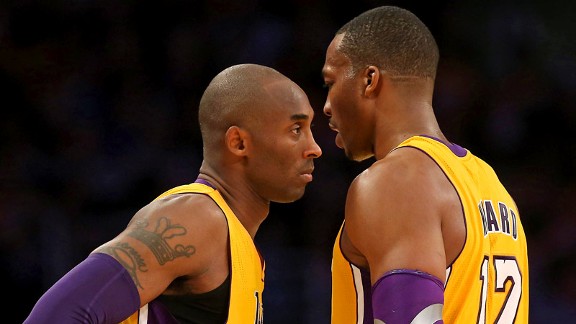 Stephen Dunn/Getty Images
Mike Brown and the Lakers have worked hard to manage expectations early. They might be reloaded with Dwight Howard and Steve Nash, but the implementation of a new Princeton-style offense means they also acquired some lag time for it to kick in.
Before Tuesday's 99-91 season-opening loss to the Dallas Mavericks, the coach used his pregame remarks to try to measure the media's presumptions of the All-Star-laden Lakers looking like a juggernaut from the start.
"I hope that come after Christmas sometime -- January, before All-Star break -- we're clicking a little bit, so now we go away for the All-Star break and come back and take another week or so to figure it out and then take off from there," Brown said. "I don't know, this is an intelligent team, it might happen sooner than later or it may not."
The Lakers have taken Brown's lead throughout training camp, echoing the same buzz words like "process," "journey" and "growth period" to describe the learning curve they're stuck in while trying to keep the critics at bay.
Save for Kobe Bryant's minor moment of pregame hubris Tuesday, when he announced to the crowd over the P.A. system that the Lakers were going to "try to bring another championship back home to where it belongs in Los Angeles" and then punctuated the statement by saying, "Let's get this party started, enjoy the show," the Lakers have publicly focused on the process of winning rather than the end goal.
Judging by their 0-8 record in the preseason and their disappointing start to the regular season against the Mavs, no one would argue they still have plenty to work on. But what exactly needs to be worked on and how long will it take to be worked out?
"We're spending a lot of time with it, but it's a big offense," Pau Gasol said after the game. "There's so many options. There's so many counters. There's so many automatics. There's a lot of stuff, and it's not like set plays, most of them."
Even though the Lakers looked better on offense than they did for most of the preseason (they shot 49.4 percent from the field as a team, assisted on 24 of 38 baskets and cut their turnovers down to a digestible 14), it still wasn't natural.
The Lakers' Princeton-style offense is predicated on all five players being able to read the defense and then determining as a group on the fly the best way to exploit that defense. At its best, it becomes so ingrained that players can simply read each other's body language -- the direction their hips are opening toward, the position of a teammate's lead foot in relation to a defender's foot to see who would have the advantage if a lob pass were thrown, the open space on the court a teammate with catch-and-shoot capabilities is likely to fill. When it's that inherent, the defense becomes less of an obstacle and more of just pieces to manipulate.
A lot of that falls on Nash, a two-time MVP playing point guard in a pick-and-roll style of play for most of his career where his decision-making was the engine that made all the other parts move. Now he's still responsible for initiating things, but he can just as easily be the one being set up by a teammate on a given possession as he can being the one doing the setting up.
"We're running, by NBA standards, a fairly untraditional set to a lot of guys in offense, so it's going to take us time … I think it's complex enough and takes cohesion and understanding that we just don't have yet," Nash said. "We've shown glimpses and we've bought in and we're working on it and it will get better."
Lakers coach Mike Brown said "Steve has the ability to do Steve" and fall back into the two-man game with Howard -- mimicking the sets he ran with Amare Stoudemire in Phoenix for years -- but Nash admitted he's still making a conscious effort not to over-rely on what he already knows in favor of using this time to cram in the new stuff.
Overall, the Lakers are still unsure of what they're doing. If one person makes a wrong read on a given possession, the team has two options: try to regroup with the shot clock ticking, or break away from the offense and rely on Bryant's one-on-one skills or Nash's pick-and-roll expertise.
"As the game went on and especially when we were down and Dallas could feel and or sense that we were tight, we didn't quite know what we were doing and the ball was sticking at times," Brown said, adding, "We have some key options within our offense that we didn't get to at all, and they're very easy options that all of our guys know and that are very good for us, but we just couldn't seem to figure it out in the flow."
Sometimes, just the slightest hesitation or doubt from one player can throw off a given possession.
"Just having everybody on the same page and executing the plays and understanding the options, the counters," Gasol said. "We have to get to our offense a little quicker. Which seems like we are jogging to it instead of running to it crisply."
Compounding things is that the offense is hurting the defense. The excessive amount of turnovers while things are falling into place is leading to run-out and transition opportunities for the opponents. Also, the Lakers are expending so much mental energy trying to get the offense clicking that when it goes wrong, they don't have clear heads on the defensive end.
"Sometimes I think we get a little too frustrated that offensively, things don't look as good or we're not very sharp right now, so that's affecting us and that's carrying over to the defensive end I think," Gasol said.
The locker room seemed to agree that while the Lakers get on board with the complicated offense, they need to simplify everything else.
"We have to be aggressive the whole game. We have to play hard the whole game," Howard said.
"We have to find ways to win in other areas and battle and get ourselves in condition to play defense and have an understanding for that end of the floor at least while we figure out the offense," Nash said.
The main thing these work-in-progress Lakers need to work on right now is figuring out how to win a game any way they can. Their ability to win games on the defensive end while they get up to speed on offense will be crucial to sustaining a positive team vibe necessary for this feel-and-flow offense to grow out of.
Dave McMenamin covers the Lakers for ESPNLosAngeles.com. Follow him on Twitter.