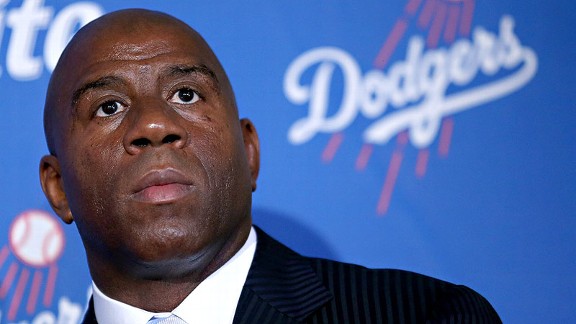 Stephen Dunn/Getty Images
Magic Johnson, who has been critical of recent moves by the Lakers, continued to speak his mind to a small group of reporters after a press conference to introduce new Dodgers pitcher, Hyun-jin Ryu, on Monday afternoon.
On whether there is still time for this year's Lakers team to turn things around:
"This team has time, now I'm not giving up on the season, we've got time to improve. We started off the same way in '90, not quite this bad, but we were there. So this team has time to turn it around, I think they're gonna have to look each other in the eye and say, 'Look man, I'm committed to whatever, but I'm gonna commit to the defensive end first.' And then whatever happens on the offensive end, let it happen, but they gotta commit to each other on the defensive end."
On whether Kobe Bryant needs to talk to Mike D'Antoni if things continue the way they've been going:
"If it keeps going the way it's going, and this road trip is going to say a lot about our team. Then yes, he has to talk to him."
On letting Mitch Kupchak make personnel decisions:
"You gotta rely on Mitch Kupchak's basketball knowledge, you gotta, you gotta reach out and let -- look, Dr. Buss let Jerry West make basketball decisions. He just came and said, 'Hey Dr. Buss, this is who I want to trade, this is the reason I want to trade them.' And Dr. Buss said, 'Ok.' You know make the move, if it's gonna help our team. Jim wants to make the move and then tell Mitch to do it. No, you don't have that basketball expertise. You gotta let Mitch Kupchak make those decisions and then we all live with that, whatever happens."
On his hope that D'Antoni's approach will work:
"I'm hopeful that it will work out because I love the Lakers, so let's see, but I still feel if he doesn't change his system to fit the talent that he has, it's never gonna work or you're gonna have to make some major trades -- one or the other."
On how the team handled a possible return of Phil Jackson as coach:
"If you weren't gonna consider him for real, then why talk to him? Cause you got all of us excited, I'm excited, all L.A., the whole country was like, 'Oh, Phil's coming back, maybe.' And then you turn around, not even negotiating or not knowing what he wanted and then you hire D'Antoni and again, you hire a coach who wants to run and you don't have a running team."
On the attitude he sees among the Lakers players right now:
"I don't see the guys happy, it's one thing to lose, but there's no spirit. There's no spirit, I hope they get back the hunt, where's the spirit? Where's the love of the game and love of playing with your teammates? Now that's another thing I don't see. It's gonna take us time to get that, but we gotta get the feeling good about playing with each other as well."
On comparisons with the "Showtime" era Lakers:
"They want to be the second coming of 'Show Time.' 'Show Time' played defense, 'Show Time' was committed to the defensive end first because one thing we knew, if we didn't stop anybody, we couldn't get into the fast break and so we were committed to the defense first, then we got out on fast break and ran."
On Kobe Bryant:
"I think right now Kobe is probably a little down and he's down because they're not winning. Kobe wants to win, you know? He's one of them guys, like me, you know, you go and you're upset, you're looking around. He's playing hard, but you get discouraged. I understand why Kobe's discouraged you know because he never thought in his wildest dreams that we would be under .500, what we're almost last in our division -- this is not Laker basketball."
On D'Antoni's system:
"His system is wrong for this team and if he doesn't change then he will be the wrong coach for this team because we don't have runners. Look at the roster. Now things will change a little bit, no question with Steve, on the offensive end they will change when Steve gets healthy, but that's not gonna help us in terms of we're still not playing defense, we gotta play defense first and then run our offense."
On how other teams in the league feel about the Lakers' current struggles:
"Every team right now is happy . . . the league is happy, see? Because so much we had the upper hand on everybody. So now they're coming in saying, 'Wait a minute, we got a shot to beat the Lakers now.' So we gotta rise up to that challenge and right now we're not, we're not. And we have to understand that right now seem like we don't understand that."
On his love for the Lakers:
"I love the Lakers so much, you know and I die every single game they lose. It's like, I get . . . I'm frustrated, because I love them so much and I don't like where we are because as I watch their faces, it's almost like they don't know what they're doing and how to do it, you know? The Lakers have never been in this type of situation."
On the team's problems on defense:
"Two things where we're having a problem: Our transition defense, which is terrible, every team is running on the Lakers right now, they know that they're faster, quicker and more athletic than the Lakers. So if that takes us to slow the game down, that's what we should do. You know what we want, we're speeding it up, we're putting ourselves in a tougher position so we gotta figure out, OK, what's a good shot? What's a bad shot? And then also do we really want to run with everybody when we really don't have runners?"
On importance of defense:
"You can see it. Right now they're not having fun, they're not playing together. We have got to get back to playing solid defense, that will make our offense. Kobe is never gonna have trouble scoring. Gasol, if we put him in the right position, won't have trouble scoring. Dwight can score, so we can score, but we can't outscore anybody. You have to play defense first, then you have to go down on the offensive end and score."
On his frustration with the team at this stage:
"It's frustrating to me because you have to utilize the talent that you have. You can't have a system and try to make it work with these guys because these guys don't fit that system, running up and down. You can't, it's just no way possible."