There was nothing terribly subtle about Andrew Bynum's comments following the Lakers' 101-96 loss to the Dallas Mavericks on Wednesday:
"It's hard to win when it's five against eight."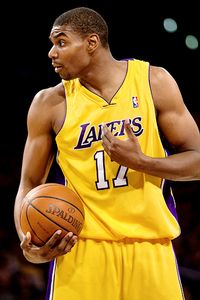 Icon SMI
Yep. They're fining you, Drew.
(For the benefit of the thick, basketball teams play five men at a time with three referees calling the game. We trust you can do the math from here.)
In turn, there was little subtlety about the league office's opinion of Bynum's comments. Drew was assessed a $25,000 fine, the NBA's typical response when players put officials on blast.
One has to imagine, in addition to the loss itself, Bynum was frustrated by his performance as well. After a quick start with eight points and seven rebounds in the first quarter alone, AB17 slowed down considerably, rounding out the stat line with just 10 and 11 respectively. He also turned the ball over five times, a couple coming on traveling calls. Drew confronted the referees about those whistles and received what he deemed less than satisfactory explanations.
Honestly, I don't think Bynum had much basis for griping. For starters, both teams were called for the same amount of fouls (20) and the discrepancy between free throw attempts (Dallas' 26 to L.A.'s 16) is neither huge nor totally difficult to explain. Three freebies alone came after Kobe Bryant fouled Jason Terry on a miss behind the arc. Another four came during the last 15 seconds on intentional fouls. Plus, Dallas was generally more aggressive than the Lakers, which will get you even more love than expected in your own house. Frankly, the Lakers had so many other issues (turnovers, poor rebounding, lack of focus, etc.), the refs may not have done them any favors, but they were hardly the "problem."
In my opinion, this wasn't the best example of a righteous battle in need of fighting.
Having said that, Drew's comments certainly weren't the most scathing I've ever heard. We've heard the "five against eight" line many times, so it's as much derivative than anything else. Really, what I find most telling about the situation is how it reflects Bynum's total lack of filter. Whether due to flightiness or just indifference, Bynum's always had a habit of just blurting out whatever's on his mind. Sometimes the words are innocuous. Sometimes they result in him scratching out a check. Either way, Brian and I have often joked about how Drew can leave the Lakers' Public Relations staff taking a deep, calming breath. This would be yet another example.
But I will give Drew credit. He at least waited until making "extension" money before making such comments. Veteran move on his part.