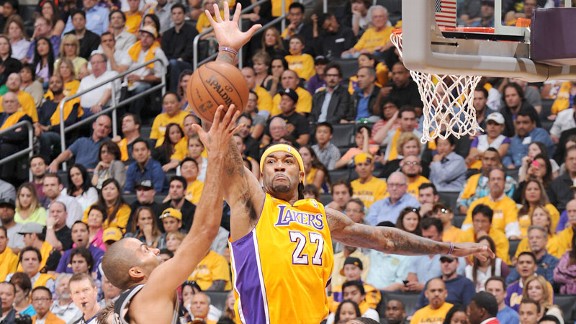 Andrew D. Bernstein/Getty Images
Like many of his teammates, Jordan Hill showed stretches of defensive ability, but was somewhat inconsistent.
Despite the Los Angeles Lakers' troubled offense this season -- and the failed gimmicks former head coach Mike Brown and current head coach Mike D'Antoni tried to implement -- it was never their main issue. The Lakers finished eighth in offensive rating (points per 100 possessions) and were comfortably in the top 10 for most of the season.
The other end of the floor, however, is where they struggled. The Lakers finished 18th in defensive rating, allowing 103.6 points per 100 possessions.
More than anything, the Lakers were never able to form a defensive identity because of their vast assortment of injuries, including 183 games missed by key rotation players. It remains to be seen if a healthy roster could have jelled given some of their limitations, but they were never given a chance.
The constant turnover, combined with the collective age and ill-fitting parts, meant few lineups developed defensive chemistry, as evident by the Lakers' ever-changing defensive schemes. No group approached pick-and-roll or weakside defense similarly, and the results were often ugly.
Elite defenses are often characterized as "playing on a string," a phrase among NBA personnel that implies defensive cohesion and synergistic movement. The Lakers were the opposite of that. They often broke down out of miscommunication, leading to finger pointing and, ultimately, an early playoff exit.
The misfit pieces
Dwight Howard and Metta World Peace are far and away L.A.'s two best defenders, but both dealt with issues -- Howard's shoulder and back injuries; World Peace's waning lateral quickness -- that sometimes prevented them from having the profound impact the Lakers needed.
Still, with Howard on the floor, the Lakers allowed just 101.7 points per 100 possessions, which would rank 10th best in the league. When Howard was on the bench that figure dropped to 107.8 points per 100 possessions, which would rank 28th best.
Besides those two players, the rest of the Lakers' defenders are rather subpar, especially at the point guard position, where Steve Nash and Steve Blake will never be confused for defensive stoppers. The slow-footed point guards allowed opposing point guards to register an 18.0 player efficiency rating (PER), fourth worst in the league.
Kobe Bryant, shouldering a heavy offensive burden, often took plays off defensively, choosing to pick his spots and roam like a free safety. When engaged -- like Jan. 15 against Brandon Jennings and the Milwaukee Bucks -- he played great on-ball defense, but that was the exception more than the norm.
Pau Gasol took a step back defensively, as well, struggling to properly defend pick-and-rolls and close out on stretch big men. He still provided length and size around the rim -- along with his high basketball IQ -- but was clearly hobbled and often late in his help coverage.
Earl Clark, Jodie Meeks and Jordan Hill each showed stretches of defensive ability, but were all somewhat inconsistent. Antawn Jamison has notably been a poor defender throughout his career, and Chris Duhon and Darius Morris fell out of the rotation in the second half of the season.
No defensive structure
Since the start of the D'Antoni era, the Lakers have yet to employ a cohesive defensive system, and the results showed, as they struggled against offenses that moved the ball well, had a lot of off-ball action and forced them to make multiple rotations.
Often, the Lakers were fine with rotating once or twice, but if a team was patient enough, it could create a gap in L.A.'s defense by waiting for it to implode.
In the half court, the Lakers couldn't contain either the ball handler (19th in opponent points per play) or the roll man (25th in PPP) in pick-and-rolls, and were erratic in their coverage.
Most of the guards went over the top of the screen, thus parting the sea to the rim, but the big men ranged from hedging higher (Jamison) to dropping back to the elbow (Howard) to often neither (Gasol). If the ball handler or roll man got past the two initial defenders, they often scored, as the Lakers' helpside and weakside defense was porous at best.
Their lack of size and athleticism on the perimeter allowed them to be exposed in isolation situations (23rd in PPP), as almost every problem in the half court stemmed from being unable to stop dribble penetration in some fashion.
Of course, the area in which the Lakers' age was the most evident was transition defense (22nd in PPP), where they lacked a sense of urgency, couldn't keep up with athletic teams and routinely gave up uncontested layups and 3-pointers.
Second-half improvement
It's important to distinguish the first half of the Lakers' season from the second half, as they vastly improved defensively after a players-only meeting in Memphis before a game on Jan. 23.
Following the 106-93 loss to the Grizzlies that night, the Lakers were 17-25 -- and 12-20 under D'Antoni -- and ranked 20th in defensive rating. From that point on, however, the Lakers rose to 13th in defensive rating and went 28-12 to make the playoffs.
A few factors certainly helped the improvement: they were slightly healthier (Bryant's season-ending injury notwithstanding); Howard's mobility improved; Gasol and Howard learned each other's tendencies; lineups formed a sense of familiarity and cohesiveness; and the desperation of making the playoffs ignited a newfound drive.
Over the final 2 1/2 weeks of the season, with the Lakers fighting for their playoff lives, they allowed just 102.2 points per 100 possessions, ninth best over the stretch.
What's more encouraging is that, in 55 minutes during that period, the Howard-Gasol-World Peace-Bryant-Nash lineup allowed just 87.7 points per 100 possessions, which would lead the league-best Indiana Pacers' mark by a wide margin.
After the All-Star break, the Lakers relied on Howard even more. With him on the floor, they allowed 101.2 points per 100 possessions (10th best again). When he was on the bench their defense fell apart, allowing 113.5 points per 100 possessions, the worst figure in the league and an indication that Howard was vital to any defensive success they had.
In his exit interview, Bryant told reporters the Lakers need to add "length, speed and athleticism" in the offseason. If they can re-sign Howard (the biggest factor), add an athletic defender or two and iron out their defensive philosophy with a full training camp, a healthy Lakers squad could dramatically improve its defense next season.
Stats used in this post are from ESPN.com, NBA.com/Stats, 82games.com and MySynergySports.com.