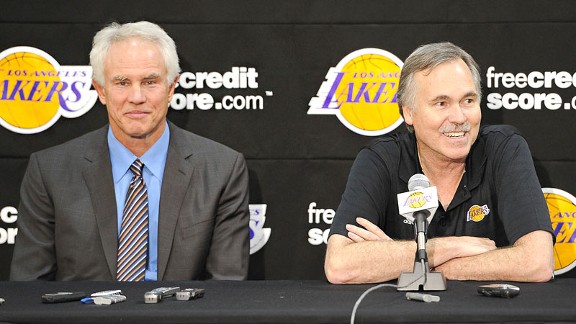 Jayne Kamin-Oncea/USA TODAY Sports
For a franchise that has won 16 titles, any Los Angeles Lakers season that doesn't end with a championship is considered a failure. But rather than just dole out a blanket "F" for the Lakers' disappointing 2012-13 season, we're going to break down each part of the team's production in groups: Our series ends today with the coaching staff and front office. We have already covered the starters this week and the bench backcourt and bench frontcourt last week.
COACHING STAFF
The Lakers had three men roaming the sidelines in 2012-13. Mike Brown coached the team to an 0-8 preseason and 1-4 start to the season and was fired. Bernie Bickerstaff bridged the gap on an interim basis, led the Lakers to a 4-1 record and stayed on the rest of the year as an assistant before being let go. Mike D'Antoni took over and the Lakers went 7-15 in his first 22 games and 28-12 in his final 40 before being swept out of the playoffs.
What will D'Antoni's fate be? On the final day of the regular season, Lakers general manager Mitch Kupchak said D'Antoni had done a "great job" and added, "We don't anticipate any kind of a change."
You could read into the Kupchak's word choice and wonder why he didn't come out and explicitly say, "Mike's job is safe and he is going to coach the Lakers next year," but that's just semantics. Kupchak endorsed D'Antoni again following exit interviews, saying, "To Mike's credit, he made adjustments. Once we started getting players back and once he started to see what our real strengths were, he was flexible and made adjustments, and that's when we started to win games and gather momentum."
Rather than being dropped in and having to swim against the current, as D'Antoni had to do this season, the coach will be able to wade his way into things next season.
Obviously, with a $4 million salary and being handed a roster with as much talent on it as the Lakers have, D'Antoni should have to face some of the music for the Lakers' being ousted from the playoffs so early. However, the deck was stacked against him this season from the ridiculous amount of injuries his team experienced, to not having a training camp, to not being able to pick his own coaching staff. Even Phil Jackson would be challenged to have success under those conditions.
Outlook for 2013-14
D'Antoni should get a fair shake next season to prove that he was the right man for the job. His first order of business should be strengthening his relationship with Dwight Howard, should the big man re-sign with L.A. Right along with that, he'll be charged with shoring up the Lakers' defense that was far too inconsistent, even when L.A. was winning late in the season. And it will be time to figure out what kind of offense he'll be running, combining what he is comfortable coaching with what his players are comfortable executing. The thought is D'Antoni won't be coming off knee replacement surgery and will have more familiar faces on his coaching staff and should be able to display more confidence than he did in Year 1.
Grade
C: D'Antoni gets a passing grade for getting L.A. into the playoffs, despite all the injuries it was faced with, but even he would admit that the team should have come together quicker.
FRONT OFFICE
For the last several seasons the Lakers operated under a triple axis of power with Kupchak, Lakers owner Dr. Jerry Buss and Jerry's son, vice president of player personnel Jim Buss, working together to call the shots.
The elder Buss died in February, making a difficult season on the court an even more troublesome one off of it for the Lakers franchise.
Dr. Buss was part of putting the team together, and was reportedly the most vocal supporter of D'Antoni when Jackson was being considered to be brought back. He would be just as disappointed with the way the season ended up as anyone -- he set the championship standard in L.A. -- so it's fair to dole out some criticism to the front office group in this case.
But you have to take into consideration their intentions.
First off, give the Lakers credit for committing to a $100 million payroll plus $30 million in luxury taxes because they felt like they had a chance to win a title this season. None of the 29 other NBA teams do business like that. Lakers fans should feel fortunate that their team's brain trust consistently goes all-in.
Second, even with the disappointing nature of the season, look at how some of their moves panned out. Howard instead of Andrew Bynum, who didn't play a game for Philadelphia all season? Amazing move. Could you imagine how the season would have played out in L.A. had they kept Bynum or even worse, offered him a max extension, and he had to sit out an entire 82-game slate?
Then there is the point guard they traded for, Steve Nash. Yes, paying close to $30 million over three years for someone who will be 41 years old at the end of the contract is extreme. And yes, L.A. leveraged its future to do so by sending off draft picks to Phoenix to acquire Nash. But look at it this way: even with the age and injuries, Nash was still better than the point guard he replaced in Ramon Sessions (Sessions shot just 40.8 percent overall and 30.8 percent from 3 for Charlotte this season compared to 49.7 and 43.8 for Nash) and even though L.A. maybe could have pushed to make the first round pick it sent to the Suns lottery protected, it didn't end up mattering. L.A. made the playoffs, the pick is not in the lottery. Giving up a mid-first round pick in a mediocre draft to add a Hall of Famer to your lineup is a move you make every day of the week and twice on Sunday.
Where the front office gambled and lost was putting together such an aging, top-heavy roster means that there's hardly any money remaining to fill out a viable bench and, consequently, if some of your main players get injured (or all of their main players, in the Lakers' case) you're going to be severely hampered.
L.A.'s lack of roster depth became even more apparent in the playoffs when San Antonio was subbing in their bench unit and not skipping a beat.
Outlook for 2013-14
This summer should reveal a lot about the front office's vision for the future. Should Howard choose to re-sign, L.A. will begin to build the franchise around him for years to come. If Howard chooses to leave, that's when it really gets interesting. Will the Lakers try to revamp one final time while Kobe Bryant is still under contract to try to get Bryant that coveted sixth ring? Or will the team be disciplined and try to clear cap space for the summer of 2014 and start fresh? Who will be amnestied? Who will be traded? What will happen on draft night? As those questions are answered, Kupchak and Jim Buss will form their reputations.
Grade
C: When the Lakers' front office was going for broke last summer, nobody thought that meant going for broken bones. They deserve credit for ambition and creativity, but ultimately the end results did not cut it.