INDIANAPOLIS -- The Indiana Pacers had a certain look to them Monday night -- or that's what the ever-quotable Nick Young thought, anyway.
"They came out like they ain't had a meal in a long time -- some hungry dogs," the Los Angeles Lakers reserve guard said.
Meanwhile, the Lakers came out like they were hungover -- emotionally, at least. However, from how miserable they looked, one can never assume other factors weren't at play.
The Lakers trailed by as much as 39 points en route to a 110-91 blowout that wasn't nearly that close, dropping them to 8-17 and snapping a three-game winning streak.
This one was u-g-l-y, as the score would indicate.
The Lakers trailed by 33 at intermission, their biggest halftime deficit since the team moved to Los Angeles in 1960. At halftime, they were four points shy of their fewest points in any half ever.
The turning point: tipoff.
"Sometimes, you gotta pat yourself on the back for such an atrocious job," said Lakers star Kobe Bryant, who was indeed atrocious, scoring 21 on 8-of-26 shooting in 30 minutes.
The Lakers were playing their third road game in four nights, and the second of a back-to-back set, so fatigue must be considered.
But players also said there was an emotional hangover from Sunday night in Minneapolis, where Bryant surpassed Michael Jordan for third place on the NBA's all-time scoring list.
"I think we probably got comfortable," Young said. "We all saw everything was about Kobe [on Sunday] night, seeing all the cameras, everybody tweeting. It was streaming everywhere. Kind of got into it. [Monday night] it was like, no more cameras around, no NBA TV following us. That could have been a part of it."
Bryant wouldn't admit that it was a factor.
"We didn't have our legs at the start of the ballgame," Bryant said. "Got in late last night. It's a lot of games for us. Everything was short. All the shots were short. Late on rotations. We just couldn't get ourselves activated."
But Bryant did admit that in his NBA career, now in its 19th season, he can't remember any game getting out of hand so quickly.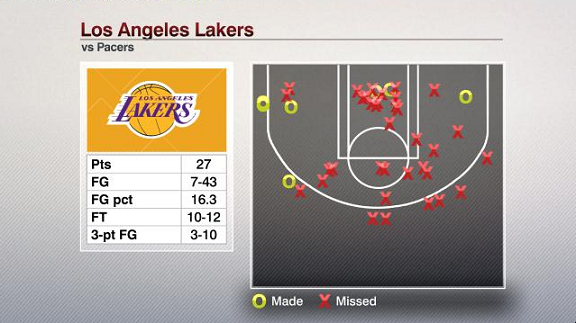 The Lakers' first half was among their worst ever.
"I don't think so," he said. "They jumped out to a quick lead on us, and we just compounded it by the fact that we couldn't throw the ball in the ocean [while] sailing a boat. It was one of those nights."
Lakers coach Byron Scott wasn't pleased with the loss, naturally, but he was happy the Lakers performed well on their recent road trip.
"This was a great road trip for us -- to win two out of three games on this road trip is still a very successful road trip," he said. "We have to keep that in mind."
He didn't deny that the team had an emotional hangover from Sunday, either.
"We could take all that into consideration, but all that is an excuse," Scott said. "We just got outplayed tonight. That's the bottom line."