ONE MOMENT
Or in this case, twelve of them, each lasting one minute apiece, coming together to create a time commonly referred to as "the fourth quarter."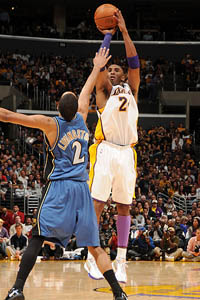 Andrew D. Bernstein/NBAE via Getty Images
Positive stuff like Kobe's baskets were a big
part of the first half, not the second.
During this time span, the Lakers got outscored 32-17, shot just 38.5 percent from the field while allowing a hapless Wizards crew to sink half their shots, and turned the ball over a ridiculous eight times. As a result, the Lakers began the quarter up 22 points, then watched the streamers drop to commemorate a single digit victory margin. Tacos secured for Staples patrons, but hardly in style and definitely not in a way to be proud of.
I won't exaggerate the situation and claim to have feared a loss brewing. Frankly, there was no chance in hell. Washington doesn't have enough talent on hand to put the fear of God in an opponent while up 25, much less while chipping away at a deficit. Plus, the Lakers weren't being outplayed as much as they were simply sloppy. I knew a win was coming, which makes the scenario considerably less scary.
It doesn't, however, make the scenario any less wasteful, and for a team about to embark on a difficult road trip while shorthanded, the chance to rest starters and key reserves went inexplicably flushed down the toilet. There was absolutely zero reason Kobe Bryant and Pau Gasol should have flirted with 40 minutes of run after entering intermission with a 26-point advantage. Ditto Lamar Odom, who's already playing through a painful shoulder ailment as it is. That D.J. Mbenga played less than three minutes (none during the fourth quarter) and Adam Morrison didn't even remove his warmups is pretty indicative of how drastically the Lakers lost their focus during the final stretch.
Some will write this off as simply a case of playing down to an opponent, a reaction less likely to surface against the Cleveland's and Denver's of the world. Perhaps a reasonable statement. Of course, the Lakers haven't exactly killed it against elite teams, so there's only so much solace this theory will provide for certain fans. And either way, there was a mission accompanying this evening's cupcake contest.
To paraphrase our last President, Mission unaccomplished.
--Andy Kamenetzky
PHIL JACKSON DOESN'T DISAGREE WITH "ONE MOMENT"
"It was awful. It was an awful second half," he said. "The way we're playing right now, we just can't seem to sustain an effort over 48 minutes."
Jackson pointed to a slow, slogging pace and too many turnovers as a reason the team struggled over the final 24 minutes. As is often the case, noted ways in which the Lakers seemed simply to ignore the principles of the offense in the third and fourth quarters:
"It seems like everybody is looking for their type of game they want to get accomplished out there. Whether it's their shot or they want a screen roll or whether they want the ball in their position instead of just playing ball and hitting the first guy open," he said. "The offense is really easy to run. Swinging the ball is a simple remedy against almost any defense, whether it's a zone or man-to-man. Just swing the basketball, change sides of the floor for Christ's sake. They just sit on one side of the floor and don't get things accomplished, and what happens is (the ball) gets stalled, and our offense gets stalled."
--Brian Kamenetzky
WHAT ANDY PLANNED TO USE AS "ONE MOMENT," UNTIL THE LAKERS BOTCHED IT, ALONG WITH A RARE CHANCE TO ACTUALLY FILE RIGHT AS A GAME ENDED
Andrew Bynum's strained Achilles tendon has most fans concerned. Beyond just fretting an ETA for the return of a young center playing well before Friday's injury, the upcoming roadie would be challenging with their All-Star caliber big in the fold, much less on the shelf. It's times like these, even against NBA bottom feeders, when your superstars wreaking havoc is a reassuring sight.
Kobe Bryant and Pau Gasol did just that during the first half.
The first quarter belonged to El Spaniard, and the outburst couldn't have been more fitting. After all, the Lakers were hosting "Noche Latina," a celebration of the Spanish-speaking community's presence within their fan base. The team donned "Los Lakers" jerseys, mariachi music played during several breaks in the action and the Staples patrons were waving sticks with Pau's mug attached.
"Pau on a stick," if you will.
It was a party, and Pau appeared dead set on ensuring "rager" status.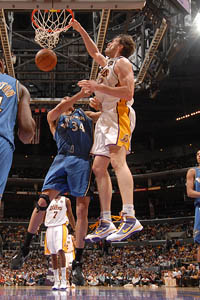 Andrew D. Bernstein/NBAE via Getty Images
Pau Gasol threw down during Noche
Latina.
He scored L.A.'s first bucket on a running reverse layup, a score set up perfectly by Derek Fisher's pinpoint pass in transition. On Washington's ensuing possession, a good defensive tone was set after Gasol forced his way through traffic to tap Al Thornton's miss to himself, preventing a second chance opportunity for the Wiz. He also helped created Shannon Brown's high-arching baseline jumper after the two worked a give-and-go sequence to perfection.
Gasol finished the quarter with 10 points, four rebounds and an assist (en route to an eventual 28/12/3 line), reflective of his effectiveness filling Drew's shoes. At times, quite literally, as one of his buckets struck me as Bynum-esque. A steal by Lamar Odom steal eventually put the ball in Fish's hands, and the point guard tried setting up Pau for another transition basket. The lob pass, however, required Gasol to vacuum up the rock and gather himself before making good on the layup.
You know whose soft hands often create such scores? Andrew Bynum.
In the meantime, if Noche Latina was a fiesta, Kobe Bryant's first quarter gave the appearance of being left off the guest list. Six of his first eight shots bricked, and a scant two points in the frame meant taking a backseat to Gasol, Odom (four boards, three steals) and Brown (five points in under two minutes).
Well, if we've learned one thing about Kobe, dude is nothing if not unafraid to be the roundball version of a party crasher.
After going one-for-three to open the second quarter, Bryant turned hot in a hurry. White hot. "Inside an active volcano while wearing a rubber suit" hot.
His next seven shots were drained in succession, one those rolls we've seen so many times over the years. The surge began as he worked down low with the shot clock fleeting and Mike Miller playing pretty stout defense in isolation. No matter. Kobe proceeded to back down his Team USA buddy, then spin around for the patented fall-away J as the buzzer sounded. Swish.
From there, a trio of triples in as many consecutive possessions and a 19-footer drained running off a dish and a screen from Josh Powell to fashion a 20-point explosion for the frame.
Bryant also enjoyed a terrific sequence standing his ground against Andray Blatche's baseline drive well enough to allow Odom time to arrive for a block. Washington secured the loose ball, but after Miller missed a trey, Kobe boxed out and snagged the rebound, a new possession eventually converted into a layup by LO.
Unfortunately, a poor second half put a damper on this 26-point halftime lead, but the fact remains: El Jefe and his main hombre looked more than capable of holding down the fort while Drew heals up.
--AK
PAU'S HEAD ON A STICK
It's not every day a man looks into the crowd and sees his head on a stick. "I tried not to look at the stands when I was making any shots," said Gasol, "because it is a little weird. But it was cool. I hope the fans had fun with it, that they dind't throw them away, or do anything weird with them. I had no idea the initiative was going to happen tonight."
"It was cool to see twenty thousand (Note: here Gasol trailed off a bit trying to find the right description before carefully settling on...) Pau's heads hanging out in the stands at Staples."
He left the locker room with a big stack of Gasol heads for friends and family. Or so he says. I joked he was actually keeping them for himself, but Gasol swears they were for others. I don't think he's quite narcissistic enough for me to say he's lying.
--BK
SHORT MINUTES FOR D.J. MBENGA
Don't go taking your "Banging with Mbenga" shirts out of the drawer quite yet.
Without Andrew Bynum available Sunday night, Phil Jackson primarily went with Josh Powell as the guy providing rest to Lamar Odom (36:23 of playing time) and Pau Gasol (38:25). D.J. Mbenga played only 2:28, compared to almost 19 for Powell. "A lot of it is a matchup situation," Jackson said. "We're a little more mobile. Josh is great on screen-rolls. He's a strong rebounder. There are a lot of things he can do as a center out there. It's going to end up being a situational type substitution, I think."
Maybe, but my guess is most situations will have PJ calling on Powell. First, he left the impression Mbenga isn't quite ready for big burn. "I think it's somewhere in the five, six minute mark right now until he's back in what I would consider optimal shape," Jackson said. But none of this should come as a surprise. Mbenga didn't play all that much last season when Bynum was out, either.
Foul trouble, specific centers. That's likely to be what dictates D.J.'s minutes. Otherwise, look for Powell to suck up what's available in the frontcourt thanks to Bynum's absence.
-BK
BIG NUMBERS
13: Lamar Odom's rebound count, with four on the offensive glass. LO tends to be a pretty fierce rebounder under most circumstances, but with Drew sidelined, it's nice to see him work the boards hard right from the start.
3: Odom's blocks. Ditto what I said before about helping in Bynum's absence.
7: Shannon Brown's points matched LO's rebounds, but what really stood out to me was the shot count. Just seven, with four dropping through. On the heels of a four-for-eight Friday against Minny, I'm hoping we've entered a more effective and efficient stretch for Shannon, who's been a little erratic since the All-Star break.
70 percent: Speaking of efficient nights, how about Ron Artest hitting seven of 10 shots for a very sweet 16 points.
61.1 percent: Washington's third quarter clip from the field. While the fourth quarter is when purple and gold sloppiness truly reared its head in the form of lead slippage, this pitiful showing shouldn't get a free, unmentioned pass.
MORE VIDEO
Derek Fisher talks about how the team is continuing to improve, even if it's going slower than players and coaches would like:
Fish, on how a lack of continuity has hurt them, plus praise for Lamar Odom's willingness to play in pain: