With just a minute and seven seconds officially in the books, Ron Artest takes a handoff from Pau Gasol, then drives the baseline squarely into Nenad Krstic. A charging foul is called, making Ron Ron the third Laker, along with Kobe Bryant and Lamar Odom, to attract a very fast whistle. As Oklahoma City set up its next possession, I couldn't help but wonder if this bad start was a sign of things to come.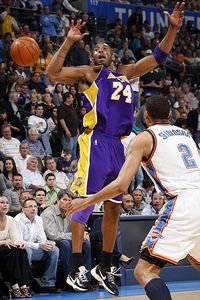 Layne Murdoch/NBAE via Getty Images
Kobe's nine turnovers were just the tip
of a disastrous iceberg.
My instincts were correct, but I truly underestimated just how bad an omen we were talking about. I mean, check out the Lakers' numbers for the first quarter alone.
Thirty percent from the field on six-for-20 shooting. Zero three-pointers in four tries. The rebound battle lost 17-8. Six turnovers, five charged to Kobe alone. Thirteen points for Russell Westbrook, who may be evolving into one of the league's better young point guards, but was in the midst of a shooting slump (42 points his last five games) and has been held slightly below his 16.2 scoring average in three games against the Lakers this season.
It felt as if I were watching the basketball equivalent of a 15-car pileup. But worse, after the initial accident, the police cars arriving on the scene were manned by cops who all simultaneously hit the gas instead of the brakes and ended up part of the wreckage. From there, a slew of tow trucks show up, but they all spontaneously suffer flats, then catch on fire. Before long, another explosion, as the helicopter filming the debacle for the local news suddenly encounters mechanical failure and falls from the sky.
And then things got ugly.
To attempt truly "analyzing" such a complete and utter disaster would be a waste of my time to write and yours to read. Seriously, what would be the point? But I do think it's worth noting how this was a complete failure from top to bottom. There have been times where Kobe's teammates don't come through in support when he's triple teamed and dishing for wide-open looks. Other times, the supporting cast has shown up but remained inexplicably underutilized as Bryant went into one-on-one mode. We've seen the starters play big and the bench bring nada to the table. We've seen Jordan Farmar, Shannon Brown and Odom outplay the first five.
This time around, however, the Lakers shared the wealth. Or lack thereof, since nobody-- save perhaps Odom in scattered spots -- played well. At all.
The Lakers failed to establish any inside presence whatsoever, despite Oklahoma's lack of a classic big man patrolling the paint. With his jump hook clearly not cooperating, Gasol nonetheless refused to drive against the defensively-challenged Krstic, accruing only nine points in 10 shots. After the game, Phil Jackson minced no words, describing El Spaniard as "soft inside."
En route to only 11 points on as many shots, it wasn't just a matter of Kobe adding insult to personal injury with nine turnovers. It was the variety of ways he couldn't protect the ball. He was stripped. Cross court passes were telegraphed and stolen. Twice, Bryant flat out lost his footing, along with the handle on his way down to the hardwood.
As for the role players, Artest and Derek Fisher alternated between "ineffective" and "invisible." Brown missed six of his 10 tries and Farmar was limited to four points in a failure to build on a terrific combined effort against San Antonio.
In its own demented right, however, this collective wipeout is a positive, since there can be no fingers pointed except in the direction of one's own chest. Everyone should feel the onus to man up tomorrow night against the Rockets. I'm actually banking on such a reaction, if I may be so optimistic.
Having said that, I'm still gonna stay off the road until the fourth-quarter buzzer sounds in Houston.