Despite the terrible road trip, for all practical purposes the Lakers have wrapped up the top seed in the Western Conference playoffs. (If they somehow lose it, what follows becomes a moot point and quite frankly I'll already have hunkered down in my secret underground bunker, waiting for the fallout to pass.) Behind them, the other seven teams on the postseason ladder are clustered together, stepping all over each other and fighting for space on the same rungs.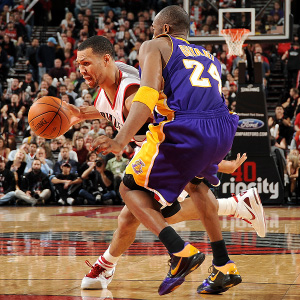 Andrew D. Bernstein/NBAE via Getty Images
So is Kobe vs. Brandon Roy a good thing or a bad thing for L.A.?
Through Wednesday, only 4.5 games separate seeds two through eight, and things are particularly tight near the bottom. Oklahoma City has 28 losses, Portland and San Antonio 29. While there's still a fair amount of basketball to be played, in all likelihood, the Lakers will see either Timmy D. and Co., the Blazers, or Thunder.
None are cakewalks.
Currently the Spurs occupy the eight spot, and while Monday's road loss to the Nets implies they're not interested in rising, don't be fooled. They destroyed the Rockets Wednesday, and are filled with cunning, guile, and championship savvy. Meanwhile, the Thunder are young, dynamic, just beat the snot out of L.A. last week and are fresh off a road win in Boston. Portland is finally healthy (as healthy as they'll get, at least) and have won 14 of their last 17.
Any of the three constitute a greater opening round challenge than the Nuggets two years ago, or last season's Jazz squad.
So which one constitutes the most favorable matchup for the purple and gold? Which is the least? (Note: I'm aware the current answer seems to be "any NBA team with a pulse," but putting aside those concerns for a moment...)
We have our opinions... but at this point in the season, aren't you tired of hearing them? So we polled 15 members of the local and national media, from beat writers to bloggers, asking for their POV's (we'll chime in at the end, because we can't help ourselves).
The Respondents: Elliott Teaford (Los Angeles Daily News), Kevin Ding (Orange County Register), Mark Medina (Los Angeles Times), Henry Abbott (ESPN.com TrueHoop), Kevin Arnovitz (ESPN.com TrueHoop), Ramona Shelburne (ESPN Los Angeles.com), Dave Miller (former NBA assistant coach), Chris Palmer (ESPN The Magazine), Kurt Helin (ProBasketballTalk.com), Eric Pincus (Hoopsworld), Chris Clark and "Wondahbap" (Silver Screen and Roll), Darius Soriano (Forum Blue and Gold), Arash Markazi (ESPNLosAngeles.com).
Here's how it broke down:
Most Favorable:
Oklahoma City- 7
Portland- 4
San Antonio- 4
Middle Ground:
Oklahoma City- 6
Portland- 6
San Antonio- 3
Least Favorable:
San Antonio- 8
Portland- 5
Oklahoma City- 2
A sampling of the feedback:
Oklahoma City
Bring 'em
-Teaford: "OKC is too young to deal with the Lakers in the first round. Two quick wins at home and it would be short series."
-Ding: "Playoff inexperience is monumental."
-Arnovitz: "If I'm the Lakers, I think I want OKC, in large part because they're the easiest of the three teams to defend. When the Thunder are stagnating, they have trouble moving the ball in the halfcourt (and don't really have a pure "ball-mover" in their lineup). The Lakers' length will compound that problem even further."
-Abbott: "I believe strongly in the Thunder's stingy defense. However, in the playoffs there's so much veteran/referee/physicality jujitsu that veterans and their tricks become paramount. The Thunder don't yet have rolling."
-Medina: "The Lakers have prevailed in close games against the Thunder this season, and OKC has shown a tendency not to be able to prevail during crunch time, as indicated by its 9-12 mark in games decided by five points or fewer."
Avoid 'em
-Wondahbap: "The Lakers would win the series, but the Thunder have athleticism that gives them problems, plus a point guard (Westbrook) we have no answer for (unless Kobe plays him), a defender (Thabo Sefolosha) that will make Kobe work, and hustle guys that tend to give Lakers problems, like Serge Ibaka and Jeff Green... They have a great home crowd, they're hungry, and have some guy named Kevin Durant. I think they could be a Rockets type of thorn in the Lakers side, only more talented."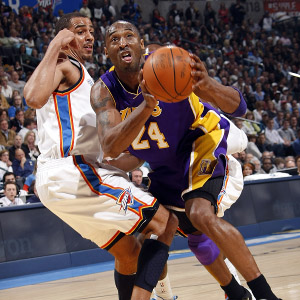 Layne Murdoch/Getty Images
Thabo Sefolosha's ability to defend Kobe as well as anyone is enough to elevate the "danger" factor of the Thunder.
-Clark: "I don't know that OKC will go far in the playoffs, because they are too young to be counted on, but I'd rather not see that type of youthful exuberance in the playoffs. A matchup with them is like Russian Roulette. They'll probably kill themselves, but if not you might be dead."
Portland
Bring 'em
-Shelburne: "I know their horrible history in Portland, but the Blazers are rail thin right now and lacking the kind of physical frontcourt that can slow down the Lakers' bigs. As good as Marcus Camby is, he weighs about as much as the quarterback of my high school team. Can't see him being able to make up for the losses of Greg Oden and Joel Przyzbilla."
Avoid 'em
-Ding: "Blazers have decent belief they can beat Lakers, good depth of talent, great Brandon Roy."
-Arnovitz: "A very hostile road court. They're also a more efficient offensive team than the Spurs and, with Camby now situated beneath the basket, much improved defensively."
-Soriano: "They have a great player (Roy) and they have enough wing depth (Roy, Batum, Fernandez, Webster) to throw at Kobe to make his life tough. You combine that with Camby/Aldridge and I think their formidable at enough positions to give the Lakers the most difficult challenge."
-Helin: "Not so much the Rose Garden thing as much as the "How do you stop Brandon Roy?" thing. With Derek Fisher, or by wearing Kobe Bryant out on defense? Probably Kobe, because Fisher is going to get burned a lot by Andre Miller, who has started to really blend in. LaMarcus Aldridge is playing well. A lot of things that bother me, and this year's Blazers know what the playoffs are like."
San Antonio
Bring 'em:
-Clark: "San Antonio only has one thing going for them in the playoffs: A core with huge playoff experience. They're cagey and smart. But it's impossible to imagine them out-caging the defending world champions. Besides, I think back to two seasons ago, when the Spurs were probably a better team and the Lakers were probably worse, with basically the same core on each side. And that went to the Lakers in 5."
-Helin: "Yes they have the Big Three and Ginobili is playing out of his mind, but they are just not deep. They are ok on offense and defense, but not spectacular at either. They play Matt Bonner and Antonio McDyess a lot of minutes. There are places to attack. Ginobili is a problem but you can sic Ron Artest on him, and Gasol can play Duncan to a standstill. Not an easy series win, but you know what you're getting and you know their limitations.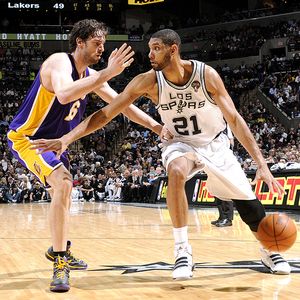 D. Clarke Evans/NBAE via Getty Images
Pau Gasol has had success defensively against Tim Duncan.
-Wondahbap: "They don't have one person to bother Kobe, meanwhile L.A.'s bigs give Duncan trouble: Bynum on offense, Pau on defense. Lamar is just as big a match-up problem for them as Kobe... The Spurs are old, unathletic, and rely on the three too much against the Lakers. They can't use wily, veteran tricks against the Lakers."
Avoid 'em:
-Abbott: "I don't know which team we'll get. Antonio McDyess and Tim Duncan look like they've been playing at three-quarters speed the last several times I've seen them. But let's assume those two bump it up several notches, DeJuan Blair keeps banging hard ... then you add Tony Parker to a lineup where George Hill and Manu Ginobili are both playing the best basketball of their careers. The Lakers could be facing a well-coached team long on skill and jujitsu."
-Palmer: "Experience is one of the single most important qualities a playoff team can have. They've got tons."
-Shelburne: "The Spurs area shell of their former selves, but because of their history, experience and ability I will never count them out. I can't see them taking a seven-game series from the Lakers, but if they steal Game 1 or 2 at Staples Center, things could get dicey."
-Pincus: "Don't sleep on San Antonio. LA can beat them – historically they've almost always beaten them – but that's still a team that has done it while the other two are still kids trying to figure it out. Brandon Roy is a bad man, so is Kevin Durant. But the Spurs have knowledge the other two squads don't have."
What Your Hosts Say
Andy: "I've had a difficult time making up my mind. I've not only entertained every possible 1-3 order, I've actually decided every combination was the correct one before backtracking minutes later. To me, this speaks not to a waffling nature, but rather the biggest issue facing the Lakers in the first round (throughout the playoffs, really): There is no real "answer."
Oklahoma City, Portland and San Antonio all offer legitimate challenges and the gap between them is marginal at best.
Still, I'm not pulling a Drew Rosenhaus. So here goes.
For the scariest draw, I've mostly flip-flopped between San Antonio's experience offsetting age and a lack of athleticism or OKC's athleticism (and very... good... defense) offsetting age and a lack of experience. Sometimes it's easy to picture an erratically disciplined Lakers falling prey to a Spurs team smart enough to recognize mistakes and capitalize, especially if Tony Parker is healthy. Other days, I envision the Lakers sucking wind to hang with OKC and Kevin Durant catching fire at just the right time.
Thus, I've decided to split the difference and crown Portland, seeing how their bases are reasonably well covered. They can run or slow the game. They've got youth, but also collective postseason experience. They have some size to counter the Lakers' length, particularly if Andrew Bynum is rounding back into shape. And while Brandon Roy isn't Kobe, he's as close as any W.C. two-guard comes.
Best-to-worst draw
1) Spurs
2) Thunder
3) Blazers
Of course, Portland was initially my "best draw," so again, no clear call."
Brian: Unlike Andy, I at least have a clear cut "most favorable," and it's San Antonio in a walk. I'm not saying the Spurs are patsies, but they're the least threatening team of the bunch, with a top end measuring lower than the other two. As was mentioned above, I think the Lakers match up well against them. Gasol has been successful against Duncan defensively. Odom is a tough draw for them, and the Spurs lack a guy who matches up well with Kobe. Meanwhile, the Spurs aren't so mobile as to help neutralize the Artest factor.
If Parker isn't healthy or fully functional, it's an even easier call.
They're the devil the Lakers know vs. the devils they don't. I think L.A. could control this series, despite San Antonio's wealth of experience.
Between Oklahoma City and Portland, it's close. Both teams present real challenges. Sefolosha is as effective against Kobe as anyone, Westbrook is dynamic, and Durant can score with the best in the league and has improved throughout the season. Plus, as Arnovitz points out, OKC plays great defense. Probably better than anyone else in the conference right now. On the other hand, a concerted effort from the Lakers to hammer them inside could be very successful, and while I do think experience can be overrated in the playoffs, it's true teams rarely take the big steps in their first go round.
They're where the Blazers were last season, which is why I'll say Portland is the most dangerous squad. Lots of length on the wings to throw at Kobe, and a great go-to guy in Roy. And while the atmosphere at Ford Center would be raucous, it would likely be tinged with a "happy to be here!" feeling. The Rose Garden, meanwhile, will be an angry, near-violent place. They'll be looking for blood, and if they smell it, watch out.
The Blazers are playing fantastic ball, and remember, going into the season we all thought they'd be an elite team in the conference. Injuries, not poor play, screwed them up. Now they're healthy (Oden and Przyzbilla aside) and rolling.
Frightening.
So my order is the same, I guess, but I do feel stronger about it than Andy.