According to Elias Sports Bureau, since the 1998 season, there is only one player who's won two or more NBA titles without logging even one second of court time during a Finals game. It's the same player, by the way, who led the nation in scoring (28.1 ppg) just four years ago as a junior in college, a campaign among the more compelling in recent memory.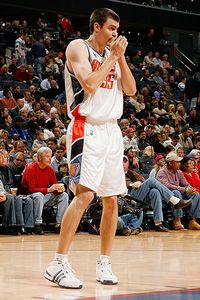 Brock Williams-Smith/NBAE/Getty Images
It's never fun getting picked by Michael Jordan.
Adam Morrison.
Since entering the nation's consciousness, Morrison has been described in many ways. A scoring machine. A long haired, mustachioed flake. Diabetes conqueror. A can't miss NBA prospect. An NBA failure waiting to happen. The next Larry Bird. The next Kwame Brown. An enigma. A scrub. An expiring contract. Jimmy Kimmel's favorite target.
He is most concerned, however, about his current label: Unemployed.
"It's tough mentally to try to stay positive," admitted the small forward when I spoke to him in July. Morrison entered last season with the mindset of a guy facing the prospect of falling out the league. It has remained on his brain all season, and his Laker teammates made a point of picking up his spirits. "Adam is hard on himself," noted Lamar Odom shortly before the regular season ended. "I don't think he's fighting to stay in the league... His time will come. Everybody here knows what he can do.
"He is one of the best scorers in the league, even though he hasn't been playing a lot."
Morrison's agent reassures him of interest around the league, and the client says his rep has never misled him. Still, proof comes with a dotted line for the self-described pessimist. "I don't believe it until I sign with somebody," he insists.
This difficult time mirrors Morrison's entire career, four seasons worth of choppy sailing. He underachieved in Charlotte, whether measured against a bar elevated beyond his grasp, or simply his own standards. He encountered rotten luck after a devastating knee injury during the 2008 preseason -- ironically, against the Lakers -- stole his entire sophomore campaign, plus much of the athleticism he could hardly afford to spare in the first place. (Morrison says he no longer feels the effects of the ACL tear, save the occasional soreness standard for any athlete.) He became a 13th man with the Lakers after a 2009 midseason trade, appearing in just 49 games for a grand total of 285 minutes.
His career has also invoked its share of irony, reminders of how elusive balance can be.
Being drafted too high by the 'Cats left him in over his head with a bulls eye on his back and a psyche to repair, but also with financial security most people will never accumulate in five lifetimes. Joining the stacked Lakers was a terrible fate from the standpoint of career-preservation. But it was also a happy experience for Morrison, who regained his confidence in the company of supportive teammates and coaches.
Morrison entered the NBA with all eyes on him. It's now easy to forget he was recently in the league he's worried about permanently exiting.
"I've been on all spectrums," said Morrison during his 2010 exit interview. "I've been at the top, in the sense, at the college game. Highly touted. I've been injured, not playing. And I've been to where I don't even suit up. So I've seen all aspects of the game."
It would be nice to discover a happy medium.
To a certain degree, he's off to a good start, since he's no longer the hyped NCAA sensation whose "battles" with J.J. Redick became the 24/7 talk of college basketball. Whose long hair and mustache were their own story. Whose tears during the final seconds of a 2006 Sweet 16 loss to UCLA made him either the poster boy for passion or the ultimate crybaby. He was a million things to a million people, at times bigger than the game itself. At least that's how it felt to Morrison, who grew frustratingly unable to escape the image of himself.
"It was just the persona of me as a mythical person or a sideshow. It was just over-saturated with me coming out to where it got to the point where I couldn't go anywhere.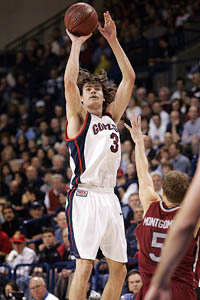 Dustin Snipes/US Presswire
The spotlight at Gonzaga eventually got to Morrison.
"To be honest with you, I was burned out when I came [into the NBA], as far as mentally. I was all over ESPN every night during the college season. I was probably one of the most recognizable collegiate athletes at the time. Everywhere I went, somebody knew who I was. It was a little overwhelming. My experience at Gonzaga kind of went sour, because I was always doing an interview, doing something for somebody. Sign this. Going to this. I always felt like I kinda got used in a sense toward the end, for their personal gain. So as far as that, looking back on it now, I came in kind of wanting to get away from that, and obviously, the worst place to go is to is [where] the higher expectations [are]."
Morrison learned about the burden of expectations, as fans and media piled on while he failed to goose the franchise. Without question, the expectations were beyond his talent, and he hit the rookie wall hard after 50-60 games to boot. But worse, he wasn't ready for the mental challenge involved. Life under a harsh microscope threw Morrison for a loop, a matter worsened upon being standoffish with the media, even as a rookie. The end result was a barrage of negative articles and fan feedback taken strongly to heart.
"He had rabbit ears," says Bobcats Assistant Coach Jeff Capel (who's remained in contact with Morrison and displays an obvious affection for him) before a February game at Staples Center. "He couldn't tune it out. I think it really affected him."
Bobcats All-Star Gerald Wallace sensed pressure building after Morrison didn't catch fire upon returning from injury.
"He was kind of expected to come back and pick up right where he left off. With him trying to get back into rhythm, people kind of turned against him. I think once that happened, he started getting down on himself and losing confidence. I don't think it was fair for him to be put under that kind of pressure, especially coming off an injury like that."
"I think he was probably hurt by (the talk), just knowing he's a pretty sensitive kid," suspects Bobcats coach Larry Brown, tone sympathetic before offering the reality check.
"But it comes with the territory. You're the third pick in the draft, that's the way it is."
As Odom uniquely phrased things, "If you sell fish, everybody expects you to sell the most fish."
No argument from Morrison. Even while citing the injury as a legitimate obstacle, he still points the finger largely at himself for his shortcomings in Charlotte.
"If I had known how to handle scrutiny and the NBA lifestyle, I probably would have been better off," said Morrison when we first talked in February.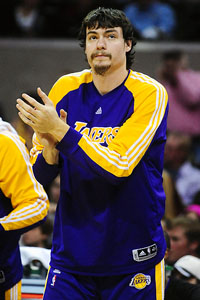 Mark J. Rebilas/US Presswire
Life as a Laker was enjoyable. Now Morrison needs to find PT to match the atmosphere.
Morrison is now at peace with his past, and despite bottom feeder status as a Lakers player, rediscovered a love for the game and faith in his skills. He felt like his role mattered, even along the fringes. He understood the lack of playing time, and learned from the professionalism and thick skins of teammates like Kobe Bryant and Pau Gasol. Cracks like Kimmel's were "bothersome at first," but Morrison doesn't really care anymore. Besides, he's heard worse stuff, attempted in no way as good spirited fun.
"I've been called one of the worst five picks of all time. That kind of stuff. You just gotta live with it. Nothing you can do about it."
Except hope for a shot at redemption, then capitalize.
Ideally, he'd love to find a role as a source of points off the bench. "I think I could be a really good sixth man," suggests the forward. "I know I could still score. I've done it my whole life and I did it even in practices with the Lakers. You can ask any of the guys." (For what it's worth, various Lakers constantly praised Morrison's ability to push starters during practice. As Odom insisted, "Leave him open and he'll embarrass you.")
What Morrison can do in an actual game remains a question mark, having logged so few minutes of late.
The Laker brass emphasized the need to improve his guard skills and defense during Adam's exit interview. With front office types recently in Las Vegas for the Summer Pro League, Morrison participated in workouts for several teams. Mostly shooting drills, plus some two-on-two and three-on-three scrimmages. According to an NBA executive in attendance, Morrison looked in good shape, with better athleticism, lift and strength than he expected. On the flip side, there were still limitations in many areas, whether creating off the dribble, rebounding or moving laterally.
But, as he put it, Morrison "has some tools, and if they're the ones you wanted, they could find a home."
The exec could also see Morrison as a pure scorer off the bench, a volume shooter who'll get his numbers on certain nights. During others, the hope is he scores enough points to justify the ones he might allow. A team like the Memphis Grizzlies, lacking in second unit punch, is mentioned as a potential fit. Or perhaps Golden State, where everybody shoots first and asks questions later.
As for Morrison's prospects for employment, the exec says it won't be easy to land a job ("If it was, he'd already have it."), but still handicaps the odds of him landing on an NBA roster at "100 percent."
For now, Morrison is playing the waiting game. Ever the realist, he's mulled his future should no NBA team call. A two-year old daughter makes uprooting his life to Europe an unappealing option, one he'd prefer not pursue unless absolutely necessary. After four years in the NBA at a lottery picks' salary, that time may never come. Thus, Plan B for Morrison could be drastic. "If it doesn't work out, it doesn't work out. I'll just go into something else. It's just one of those things."
The disappointment at such a fate, even theoretical, is evident in his voice.
When I first approached Morrison in February to let him know I was working on a story about his career path, he interrupted me mid-sentence:
"I have no idea where my career is gonna end up."
Six months later, those words still ring true.