The final play was, to be frank, a disaster from the start.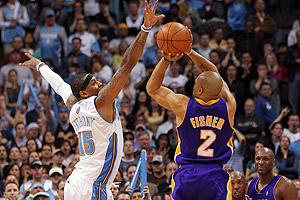 Doug Pensinger/Getty Images
Shorter man with no vertical vs. tall man who can jump = bad outcome on final shot.
With 12.7 seconds remaining and the Lakers down by two to the Nuggets in Denver, Pau Gasol inbounded the ball to Derek Fisher, who quickly pushed up court against Chauncey Billups. With about seven seconds to go, Lamar Odom popped out and set a screen for Fish, blocking off Billups. The other three Lakers --Gasol, Sasha Vujacic and Ron Artest (you'll notice an important name missing) -- were closely guarded. Here Fisher missed what would be his best chance to fire away. It would have been a deep three, but compared to what followed would have been ideal.
Off the screen and heading right at the wing, Fish was picked up by Carmelo Anthony on a switch. Six seconds to go. Fish tries to find space to make an entry to Odom, who is fronted by Billups, but can't do it over/around the much larger Anthony. Fish tries to probe with the dribble, but it's hardly his strength. With about 3.5 to play, Artest flashes high beyond the top of the arc. Maybe Fish could have hit him there? Moving away from the bucket and with J.R. Smith in the vicinity, it would have been a tough look.
Out of options, Fish rose, pulled the trigger ... and was blocked easily by 'Melo. Lakers lose, 98-96.
Obviously the outcome wasn't good, but neither was the execution. The Lakers had a timeout remaining, and despite the risk of letting Denver set its defense could (should) have used it to advance the ball and set up a play. I don't think Fisher, who struggles to create with the ball, should have brought it up. Better Odom, with his potential to create better mismatches and also get off a shot against any defender Denver had on the floor. Once LO set his screen and Fish still wasn't free, someone else needed to come and give him a better outlet.
All that said, it's still hard to get too worked up over Thursday's result. Any visit to Denver is a potential loss, even with a full complement of players available. Take away Kobe Bryant, a late scratch because of swelling in his right knee, and Andrew Bynum? Yikes. Add in a first half in w'hich the Lakers finished 12 points down 12 and shot 33.3 percent from the field, thanks to a combined three of 19 from Vujacic, Shannon Brown, Jordan Farmar, and Fisher, and suddenly the context of the final shot changes.
Now, it's suddenly more impressive the Lakers had one trip to tie or win. That they didn't seem less consequential.
The game ended similarly to the Feb. 18 one-point, Kobeless loss to the Celtics at Staples. Close game, ending when Fisher couldn't get a good look. Again, the Lakers, in a final shot situation, missed both the skill and the structure brought by Kobe's presence, which is about as surprising as the sun rising in the east. Of course they missed it, he's Kobe Bryant.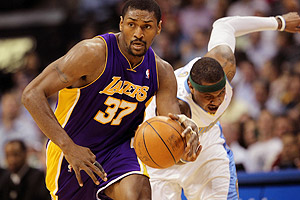 Doug Pensinger/Getty Images
Thrust into a position where he had to produce, Ron Artest came through. 22 points on seven-of-11 shooting.
But just as it was in the five games earlier in the season, the Lakers found success in the second half for one basic reason -- they played hard. Very, very hard. Instead of folding up the tent, the excuse (no Kobe) built in, they came out in the third quarter out-running and out-hustling the Nuggets, ripping off a 20-5 run to take the lead. They got stops, hit some open looks, and showed a tremendous amount of pride. When players hit big shots, the bench erupted. Guys slapped hands and swung towels. They crashed the offensive glass, something at which they had success all night.
In the end, the Lakers couldn't make enough plays. Final trip aside, Brown hurt the team with a terrible pass after a great backside block on Smith. Gasol, who finished with 26 points, 13 boards, a team-high five assists, and three blocks, frittered away a critical possession, holding the ball too long against Nene, then having it stripped by the Brazilian. It was ugly in spots, but the more important thing to take away from the game is the palpable sense of emotion.
The Lakers were invested in this game, and almost pulled it out, despite playing without two of their top five players. As a result, they almost stole a game they shouldn't have been able to win.