Fourth quarter. The game clock registers just three seconds remaining.
Then two.
Then one.
Another tick, and the Lakers take official ownership of the Western Conference for the third year running. The exact totem pole spot anticipated back in October when analysts went into Nostradamus mode. No surprises. A script faithfully honored, and through more than just the standings. Fittingly, this win was secured in a manner some might say is a microcosm of the season as a whole.
The Lakers got the job done, despite a failure to offer four dominating quarters of roundball. Or even a dominating half. The same inconsistency, lack of execution and waning focus painting this entire season was present again.
A 19-point halftime lead was quickly offset by a 9-0 Minnesota run after intermission, creating the resemblance of a game even though victory was never truly jeopardized for even a nano-second. With three minutes left in the third, the Lakers had already launched 15 treys, despite facing a Minnesota squad challenged more than any other in the league to challenge baskets in their paint. Long two's were also the rage, often snapped up without much ball movement or a touch inside. Lamar Odom's shot took its sweet time to join the party.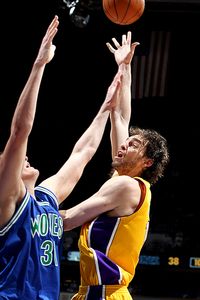 David Sherman/NBAE via Getty Images
Pau Gasol picked up the slack with
Kobe and Drew on the shelf.
Then again, these matters can- even legitimately- be written off as the byproduct of playing the second end of a back-to-back after a dog fight in Denver. Making matters worse, the team arrived in Minnesota around five AM, a sure-fire recipe for groggy brains. The Timberwolves have 15 wins to their name and play in a building quiet enough to double as a library. If there's a better haven for narcoleptics looking to nod off without fear of judgment, I'm all ears.
It takes a lot to get geared up in that setting. Certainly more than just the absences of Kobe Bryant and Andrew Bynum.
Thus, the Lakers did enough to get by and came through without truly being challenged. And keeping with the very essence of inconsistency, there were also plenty of positives offered while sometimes going through the motions:
-Pau Gasol had 29 points on 11-of-17 shooting, pulled down 15 rebounds, blocked four shots, and missed just one free throw in eight tries.
-Despite weary legs and no Bynum, the rebounding battle belonged to the Lakers (46-45) and nine of Minny's shots were blocked. Even playing with intermittent focus, there were only a dozen turnovers.
-Ron Artest nearly broke the broadcaster's table chasing after a loose ball he poked away from Kevin Love. If that doesn't qualify as energy, I don't know what fits the bill.
-The bench, often maligned for its erratic nature, actually played quite well on the whole. In particular, during the first half, when they busted open what appeared to be a blowout in the making. Jordan Farmar finished the night with 13 points, Sasha Vujacic added seven in a considerably more controlled effort than Thursday's hyperactive debacle, and Josh Powell and Luke Walton found ways to lend a hand. For what feels like the first time since about 1973, no substitute had a negative +/- rating.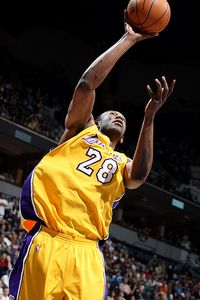 David Sherman/NBAE Via Getty Images
Tacos!!!
-In the meantime, game ball honors arguably went to D.J. Mbenga, whose 13:37 of run was a two-way burst of energy. Five-of-seven shooting for a career-high eleven points, highlighted by a running hook shot not quite worthy of the "sky" descriptor K-Cal 9 announcer Joel Meyers awarded it, but purty nonetheless. Two offensive rebounds. One of his two blocks came after sticking with Ryan Gomes all the way on a drive to the rack. Phil Jackson offered praise for Mbenga after the game, along with consideration for more run featuring a Spanish-Congolese frontcourt.
So there you have it. Some good, some "meh," and arguably little revealed as the Lakers remain firmly under the microscope. Like many of the previous 78, this game was an exercise in getting by. Killing time before the real season begins. What to take away from the results, I don't know, especially minus two key starters. Hell, at full strength, this squad can be a riddle, which makes the search for "meaning" in a game against NBA bottom feeders the equivalent of peeling a metaphorical onion the size of L.A. County. Tears are more likely to surface than answers.
Plus, it's been a loooooong five months and change since the 2009-2010 season began. Full disclosure, I'm a little tired.
Like the Lakers, I can't wait for the playoffs to start, ready or not.