Earlier, I passed along the news Kobe Bryant will sit out the final two games of the regular season, the official reason being an "avulsion fracture of the right index finger." Unofficially, he could use said finger to point to all the other body parts bothering him throughout the year. Bryant has fought ankle, knee, groin, elbow, and back trouble, plus flu (stomach/normal) and other maladies we probably don't know about. He just sat out two games thanks to the knee, and is (over an admittedly small sample size) shooting 30 percent in three April games.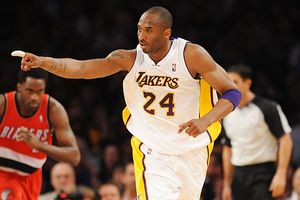 Noah Graham/NBAE via Getty Images
No, over there. That's where I'll be sitting in street clothes for the final two games of the regular season.
One need not believe in unicorns and jackelopes to also believe Bryant could use a few more days of R-and-R.
Particularly since the games remaining aren't steeped in meaning. First, the Lakers should be able to beat Sacramento (Tuesday) and the Clippers (Wednesday) without Kobe. We're talking about opponents with one and two wins respectively over their last 10 games. Moreover, the Lakers have fallen behind Orlando for the second seed overall in the playoffs, and even with those two winnable games appear unlikely to catch the Magic. Orlando also has two games remaining, tonight in Indiana, then Wednesday hosting Philly.
Indy is hot (winning eight of 10), but I'll still toss my lot in with Orlando in both tilts. If form holds, the Lakers have nothing to play for relative to the standings.
Finally, any lingering hopes the Lakers had to gain some continuity and momentum heading into the postseason died heading into the weekend when Kobe made the (wise) decision to sit against Denver and Minnesota. Rhythm will have to be built on the fly over the course of this week and into the postseason. At this point, health becomes paramount, with Kobe's health being paramountiest.
The only surprising aspect of the news- media and fans have wondered if Bryant would sit out games for the last week or so- is that Kobe said after Sunday's loss to Portland he'd play this week. As the evening went on, he apparently changed his mind. "He obviously must have thought about it after the ballgame, because I got a text last night (at about) eight o'clock that said he probably shouldn't play the last two games, the way he felt," Phil Jackson said. "Obviously there are some extenuating circumstances there physically he thinks he can help out, and I gave him the liberty to make that choice."
Asked if he was concerned Kobe might have trouble finding a rhythm after a week on the sidelines, Jackson, who agreed Bryant seems a little worn down, split a few hairs but didn't seem overly bothered. "Certainly I'm concerned about it, I'm not worried about it that much. I think he'll find a way. We'll have harder practices. We'll have practice time. Obviously there should be two or three days before our (final) game and the start of the playoffs," he said. "I think he'll find a rhythm. I think a lot of it is Kobe's choices of shots. He's taken some tougher-than-natural or normal type shooting chances, and I think that's contributed to his poor shooting."
I asked Jackson if he thought there was a way they could protect Kobe physically when he returns, perhaps running him off the ball more, for example. "I think basically some to get back out to the guard position, my own personal feeling is, rather than sitting down at the forward spot a lot of times," he said. "I think actually getting in the guard position and facing the basket more than back to the basket, which has been kind of his angle here for the last few weeks."
Meanwhile, Kobe's teammates seemed unconcerned about his ability to round into form before the playoffs. "No, you know how good Kobe is," Lamar Odom smiled. "He won't have a problem. I don't care if he missed 50 games."