Hey folks. Quick update from practice today (no video, as the camera flew with Andy to Oklahoma City). I'll have to keep things brief, too, since it's my anniversary, and I'd love to have another.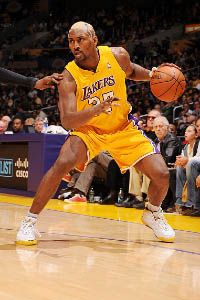 Noah Graham/NBAE via Getty Images
Ron Artest is completely menacing for opponents these days, except when he's shooting.
Most of the Big Themes of the Day are covered in the notebook I put together for the main page with the estimable Arash Markazi:
Phil Jackson would like to see more assertiveness from Lamar Odom. Obviously this is not uncharted territory, but with 11 points and 13 shots through two games, the need is clear. He's capable of making a major impact offensively even while not scoring, but Tuesday wasn't one of those nights. Defensively, Odom has been part of two strong Lakers efforts, but they need more of his full floor game, particularly with Ron Artest struggling and the offense sputtering.

Speaking of which, Artest's shot and the team's lack of outside shooting generally was a major topic of conversation.

Andrew Bynum skipped practice and received treatment on his sore left Achilles tendon, but will play Thursday night.

A couple notes about Joe "Jellybean" Bryant's courtside seat to watch his son (Kobe, for those not making the connection) during Tuesday's game, as well as missed opportunities on the fast break for the Lakers.
More items of note from this afternoon...
Jackson didn't say much about Artest's shooting problems, but was chattier in regards to Derek Fisher's accuracy issues. Combined, the pair are a rather appalling 11-43 from the floor through the first two games of the series, but Jackson seemed unconcerned about his veteran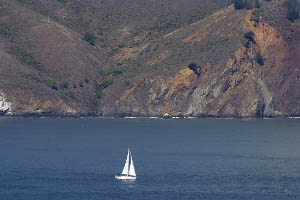 Eric Risberg/AP Photo
As a group, were the Lakers to toss a basketball off this boat, it's questionable whether they'd hit water.
guard. "I don't worry about Derek that much. He's had some shots at the basket that didn't go in, and opportunities inside. If it's outside shots he's not hitting, we know he's got to get it in rhythm, and he'll make the ones that are in rhythm. He'll shoot himself out of it."
From my end, I'll repeat what I've said all year about Fish-- He's hurting them far more offensively than defensively. When he gets wide open threes as a spot up shooter, he should fire away. He's also pretty accurate with the in-rhythm, one dribble jumper as the defender flies by.
I can live without his forays into the lane or the pull up jumpers in transition.
Oklahoma City was extremely aggressive fronting the post and collapsing on Bynum and Pau Gasol, forcing healthy amount of turnovers and limiting the touches each, particularly Bynum, could get. Jackson said they obviously want to feed the post, but dwelling too much on the post can be counter-productive. Like telling someone that absolutely, positively, and under no circumstances are they to think of elephants.
"Well, the idea is not to over-focus on it so it takes the rhythm out of your offense," he said. "Take the opportunities when they come, and if the ball is moved and the players move right, we'll find those passes."
Luke Walton said ball movement and awareness are key. "Making the extra pass helps a lot, too. You've got to keep a defense like that honest. Yesterday, we didn't do that. We just kept trying to go through the triple teams," he said. "They had 17 blocks, or something like that. I don't remember playing in a game with 17 blocks. We worked on a bunch of stuff today to give ourselves more options, and to be more aware of that type of defense."
There's a certain amount of patience is required, too, Walton said. If the pass to the post isn't available, go with a different plan. If the double comes hard in the post, move the ball again: "The angles were bad yesterday. This whole offense is about spacing, and getting angles. We've got to be under control when we do get it. They're bringing three people running down right away, and if you're spinning and off balance you can't really make a play. So we've got to kind of bait them a little bit. If they don't come, you make your move. If they do, be willing to make that extra pass and hit shots...
...Get it in, then out, and you can even swing it and bring it back in on the other side. Now their defense is closing out to shooters as the ball is coming back in, and then they have to change direction again. It makes it a lot more difficult than when they're just sitting there waiting to pounce on the ball."
Oh, and one more thing goes into finding space in the paint, something proving to be a far more fundamental problem: "Making shots definitely helps," Walton said.
As I noted last night, there is no magic button for L.A.'s shooting woes. Accuracy isn't a question of complacency or focus (though good shot selection is obviously tied to good shot conversion). They can get better, because right now Fish and Artest in particular have nowhere to go but up, but generally speaking the Lakers aren't suddenly going to transform themselves into a bunch of Dell Curry clones.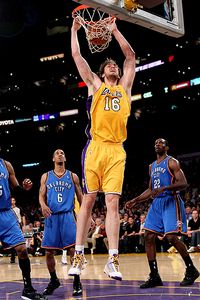 Stephen Dunn/Getty Images
We've all been a little distracted of late, but Pau Gasol's play of late is worthy of attention.
Pau Gasol and his quality work over the first two games has gone somewhat unnoticed thanks to the attention devoted to Bynum's return and Kobe's struggles. Jackson noted how well El Spaniard is playing. "He's playing very well, and he's doing a good job. I think he's been reliable out there in taking the shots we've wanted. You'll have to ask him how he feels about his game. He'll seek places he can improve, and where he can do a better job. But he's, I think, been moving the ball well, and playing good defense on a variety of people. He's helping us out a lot."