While there was certainly a sense the Lakers would be better off with the Thunder than, say, San Antonio, generally speaking, nobody thought L.A.'s first round matchup with the Oklahoma City would be easy. I, like a lot of media types, picked the Lakers in six. A healthy portion picked L.A. in seven.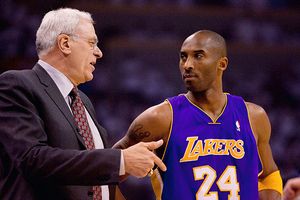 Dilip Vishwanat/Getty Images
Kobe Bryant and Phil Jackson have some work to do getting the Lakers back on a winning track before Tuesday's Game 5.
But nobody without an overdeveloped need for contrarian thinking or an Oklahoma City ZIP code actually picked the Thunder to win. Maybe those predictions are out there, but I couldn't find them.
A total lack of experience was seen as Oklahoma City's biggest impediment. No team in basketball entered the postseason with a roster more flush with playoff seasoning than the Lakers, no team had less than the Thunder. After all, OKC is -- stop me if you've heard this -- the NBA's youngest team. Second-season experience is seen as one of the great intangibles.
The problem for the Lakers is that the less ethereal, less mystical aspects of the matchups -- the tangibles, if you will -- were a little unsettling. The Thunder came in with all the ingredients to make life miserable for L.A. Go through the checklist:
-- A superstar, go-to scorer (Kevin Durant): Check.
-- A lightning fast, super-athletic point guard (Russell Westbrook): Check.
-- A defender capable of making Kobe Bryant work (Thabo Sefolosha): Check.
-- An active, high-level defense (OKC was arguably the Western Conference's best team on that end over the second half): Check.
On the blog and on the air, I noted Oklahoma City, if they didn't shrink in the spotlight or come unglued in the moment, had the potential to be the toughest opponent the Lakers could see navigating through the Western Conference playoff bracket.
With the series tied at two following Saturday's 110-89 blowout it's fair to say the Thunder are not overwhelmed.
Moreover, they're trending up. There were signs of inexperience in Game 1, but Oklahoma City came back with a stronger effort in Game 2 at Staples, erased a third-quarter deficit before pulling away in Game 3, then completely embarrassed the Lakers last night. If you could watch the games without the benefit of jerseys and preconceptions, which team would you say is playing better? If you tuned at any point after Game 1 and the first quarter of Game 2 and watched without a scoreboard at the bottom of the screen, which team would you assume was winning?
Which has been the Lakers' problem all season. For all the talk of magic buttons, enchanted levers or supernatural switches, most of the expectations for the Lakers to crank things up in the playoffs were based on what we think they should be, not what they were over 82 games. There was very little indicating this Lakers team capable of suddenly raising its level beyond the near-universal understanding they're supposed to be able to raise their level.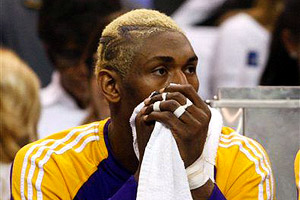 Linda Ogorocki/AP Photo
Ron Artest's shooting has been a drag on the team's performance.
If the Lakers were going to make a third straight Finals, they'd have to scratch, claw, and grind out every win.
It's not all doom and gloom. Remember, if you picked the Lakers in six, by definition you're picking them to lose twice. If you had to guess which, the first two games in Oklahoma City certainly seemed like prime candidates. While I'm sure fans are serving gnawed fingernails for Sunday brunch, the series is moving back to Staples on Tuesday for Game 5 (after a much needed extra day off), where the Lakers are more effective and the Thunder are almost certain not to shoot the 41 free throws averaged in Games 3 and 4 at Ford Center.
OKC will likely get a few run-out dunks, but the crowd won't respond in a way to carry them through three or four more possessions. The Thunder's energy will have to be self-generated, something they're capable of doing but it's impossible to recreate the extra charge provided by their home crowd.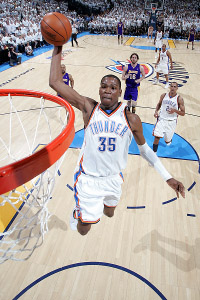 Layne Murdoch/Getty Images
Thus far, the Lakers have struggled to keep Kevin Durant and his teammates on the ground and out of transition.
The Lakers need to find the balance between the overwhelmingly Kobe-centric offense of Game 3 and the no-Kobe O of Game 4 (for the record, I thought Bryant was a little too passive last night, but his mates simply didn't do enough with the chances they were given, and reiterate my belief that health, or lack thereof, is the dominant factor with Bryant through four games). More importantly, the Lakers have to get back to the defensive form displayed in Games 1 and 2.
And they have to make their free throws. As Phil Jackson pointed out after Saturday's loss, if L.A. makes instead of misses nine of their first twelve attempts at the stripe, it's a totally different game, with the Lakers still playing from behind but by a much more manageable figure.
I'm not as confident about "Lakers-in-six," but I'm not yet ready to come off "Lakers-in-something." But the threat of a monumental, catastrophic end to the season is real. Oklahoma City will demand L.A. play a good game on Tuesday to hold serve on their home floor. If they do, the Lakers very likely take the series.
As I wrote last night, we've waited all season to find out exactly what kind of team the 2009-2010 Lakers are. Tuesday, over 48 minutes we'll get an answer.