With 3:11 remaining in the second quarter, Carlos Boozer is fed on a re-post by Deron Williams. Having just unsuccessfully tried to back down Pau Gasol, facing up for traction against El Spaniard yields results no better for the Jazz's All-star. Boozer loses the handle upon contact and Derek Fisher dives for the loose ball, slipping it to Gasol from a seated position. Pau's roots as a teenage point guard are in full effect as he dribbles right-handed down court before backing down Kyrylo Fesenko near the arc. The ball is then dished to Fisher as Pau re-posts while waiting to get the rock back.
This time, reestablished position pays dividends for a big man.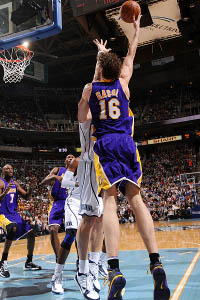 Andrew D. Bernstein/NBAE via Getty Images
This was a bad man. Or un hombre
malo, if you prefer.
Gasol pounds the ball a few more times, then spins left for a drive down the baseline. Fesenko does a solid job cutting off the basket, but the Ukrainian remains over-matched. Pau stops his footwork on a dime like a basketball James Brown, reverses back, then spins forward for a righty hook.
Arm stretched towards the heavens, Gasol watches as the ball rattles through the cylinder.
The Laker bench is on its feet, minds blown at the seven-footer's grace and control.
Twitter is in overdrive with "Dream shake" references.
Meanwhile, Gasol is in complete control of the sequence, just like he was throughout the night as the Lakers completed a sweep of the Utah Jazz.
There are times when looking at the box score drives home exactly how well a guy played. Other times, you have to look beyond the box score to really understand the impact.
In Pau's case, both approaches are necessary.
Obviously, it doesn't take John Hollinger or another famous stat-head to glean a big game from perusing Gasol's numbers. 33 points on 12-of-18 shooting. 11 trips to the line, with nine converted. 14 rebounds, seven coming on the offensive glass. A pair of assists to complement a pair of blocks. Any shnook with the ability to count knows these are gaudy tallies. But even in their honkin' glory, they don't explain just how profoundly Gasol made an impact in securing the win.
-His 10-point first quarter sparked the Lakers' turning tide after an initially slow start. Gasol knotted the game at 16 with a layup upon cutting to baseline inbound pass from Ron Artest, who timed the pass perfectly. After the lead seesawed a bit, Pau drilled a 10-footer to put the Lakers up 25-23, a lead they never surrendered again. Five-of-six shooting, plus four boards and a block. A tone was set and maintained.
-With 5:03 remaining in the game and the Lakers up by 13, the writing may have been on the wall for Utah, but they clearly hadn't bothered reading it. Furious pushes during the fourth and (especially) third quarters revealed, despite tremendous odds, the Jazz's unwillingness to roll over and call 'er a series. Thus, Gasol made the call for them. Nine points were reeled off in 99 seconds --even his scoring featured numerical symmetry-- and the defending champs were up 20 again in a jiff. The fat ladies --not to mention these awful women-- were singing like the late, great Lena Horne. (R.I.P. to an all-time great.)
-If this was Boozer's last game in a Jazz uni, he has Gasol to thank for it being a miserable experience. Yes, 14 rebounds were nothing to sneeze, but this was must-win game where his team desperately needed some scoring, and the free agent-t0-be was held, largely checked by Gasol, to just 10 points on 11 shots. Making matters worse was the frustration building as nothing came easy. Boozer turned the ball over four times and eventually fouled out. Adding insult to injury, Gasol drew five of the whistles.
Throughout the night, the power forward's defense was consistently outstanding.
During this series, Gasol scored 20+ in three games and collected no fewer than a dozen rebounds in any contest. Two blocks and two passes or more each night. 80 percent or higher at the line every game. This on the heels of a first round averaging 18 points, 12 rebounds and nearly four dimes. Kobe Bryant is looking springier and more dominant as the days roll by, and with a week to chillax before the Western Conference Finals, his aching body parts will only get more much-needed rest. For that matter, the entire roster will get a chance to recharge the batteries.
But there is no teammate for Kobe --or the Lakers-- more important than Pau, and judging by the last 10 games, dude's got a right mind to keep the O'Brien in L.A.
BIG NUMBERS
30: Lamar Odom's +/- figure on the night, his digits coming on the positive side. This represented the highest total of any player on the court. His numbers (10 points, five rebounds, one block) were fairly modest, but it's virtually impossible to measure out so high without doing something right.
12: Shannon Brown's points off the bench. Half came via a pair of huge triples in the fourth quarter to keep the Lakers buffered before Pau put the nails in the coffin. He also ended the first quarter on a thunder dunk so big, even Jazz fans even seemed to begrudgingly appreciate it. Now if we could just do something about Shannon's propensity for ill-fated fastbreaks without numbers.
6: Only half a dozen turnovers for the Lakers, besting an impressive seven during the previous contest in Utah. As I noted before Game 3, if you're gonna win on the road in front of a raucous crowd, taking care of the ball is a must. Mission accomplished.
6: Andrew Bynum's points on the same amount of shots. For that matter, Drew was one foul short of making it six fouls and a DQ. There were scattered moments here and there, but not a ton of overall impact. If there's any downer attached to the Lakers taking pair in Utah, it was Bynum largely invisible both times. Hopefully, this was nothing more than a pair of bad games for a young player dealing with injury. And even if it's a trend, as last season proved, the Lakers can win a title without Bynum dominating. However, it's that much harder without him contributing, and that much easier with him in the mix.
Somewhere between .7- 1.3: The amount of seconds Fesenko used before executing a catch-and-shoot on the Jazz's final play of the third quarter. Unfortunately, only six-tenths remained on the clock, all of which Fesenko burned while turning to face the basket, avoiding Gasol's fly-by, then squaring up to launch. Sure, that's a lot of steps for a split-second play, but in fairness, if Fes hadn't taken his time, the air ball might have been three feet short, as opposed to just two.
Marv Albert's calling of the sequence was nothing short of brilliant: "They can go catch and shoot... not with Fesenko, though."
Full disclosure. As happy as I was to see the Lakers sweep, maintain momentum and get their bodies some rest, there was a small smart of me genuinely sad to see my time with Kyrylo Fesenko end. He just makes me happy. I've never seen a player so awkward and clueless, yet beaming with 24/7 joy. I'm not convinced he's even aware the Jazz lost the series. I don't even know how to classify Fesenko as a player. I just know I'm gonna miss him.
I used to always say Slava Medvendenko was the most unintentionally entertaining player in NBA history. Even more than my man Von Wafer. I'm an unabashed Stanislav booster. But I'm starting to wonder if Fes has Slava beat. Very tough call, and either way, it's fitting Kyrylo is also from the Ukraine, because he's kind of the Bizarro-Slava. All bang and physicality (yet oddly gangly), with no touch whatsoever. The two, however, remain permanently linked by an obliviousness impossible to fake.
I'm just happy I got to see both live, and in their primes.
And with that, Robin Lopez, you're officially on the clock to make me laugh. I know you're a much better player than Fes, but I remain hopeful the goofiness will shine through. Show me what you got, son.