Lost in the wake of Cleveland's Game 6 loss in Boston and the What now? talk for LeBron James is something of greater interest to Lakers fans: We may have just seen the evaporation of the last, best chance to watch James and Kobe Bryant square off with a title on the line while both are at the top of their games.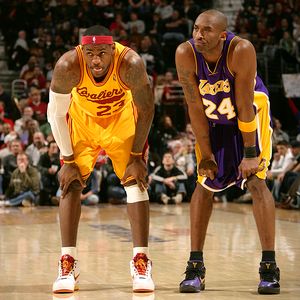 David Liam Kyle/NBAE via Getty Images
We may never see Kobe and LeBron tussle for anything more significant than the right to preserve a merry Christmas.
ESPNLA.com's Arash Markazi has a great piece illustrating what we, as basketball fans, have lost should this be the case:
"...All great stories have heroes and villains, ebbs and flows, drama and intrigue and that's what Kobe versus LeBron potentially represented. It represented everything we miss about the NBA during the 1980s when we'd have either Magic versus Bird, Magic versus Dr. J, Bird versus Dr. J or Magic versus Isiah every year for a decade. These weren't distinctly separate characters who never played one other; they were intertwined and were ultimately judged by how they fared against each other on the biggest stage. That's why the league was so transcendent then. Anyone sitting down to watch the NBA Finals back in the '80s knew who the top two players facing each other were. It was like a heavyweight boxing match, back when people actually knew who the heavyweight champion was..."
I picked L.A. and Cleveland to meet in the Finals before the start of the season, and admit part of my choice was based on wish fulfillment. I wanted to see LeBron and Kobe battle for a Larry O for the romantic reasons Markazi describes. I hoped for something tangible adding clarity to the seemingly endless 23 vs. 24 debates.
Maybe I'm a sucker- rarely is the reality as good as the fantasy- but at least I'd have plenty of company, right?
I wished for it, even while understanding how in this day and age the overwhelming celebrity of the principals would probably overwhelm whatever was actually happening on the floor (and that with Ron Artest on board, Kobe wouldn't spend nearly as much time on LeBron as he would have had Cleveland advanced to last season's Finals). Every aspect of the series would be projected through the Kobe/LeBron prism. Coverage would likely have been suffocating and myopic (I'm sure I'd have been part of the problem).
I still wanted to see it.
It also likely would have fed into one of the great drawbacks of a star system admittedly serving the league very well over the last 30 years.
In the wake of LeBron's postseason exit, it strikes me how much we still work to take the team game of basketball and boil it down to the play of one superstar. No question LeBron was stupefyingly awful in Game 5, and despite a triple-double in Game 6 still didn't deliver the sort of powerful, dominant performance defining his best past work. (With the off shooting and heavy TO numbers, it certainly wasn't your typical trip-dub.) But the underplayed story isn't simply how LeBron failed, but how Boston helped him fail. Every time he touched the ball, James earned the attention of multiple Celtics.
He wasn't good enough to fully carry his team, and the rest of the guys weren't able to pull him through. In that, there were similarities to what Boston did to Kobe and the Lakers in the '08 Finals, when Bryant was made to struggle and his teammates couldn't compensate. Who on L.A.'s roster can you say had a good series?
This isn't tennis or golf. No single player is able to win an NBA title on his own. Last season, Kobe earned just credit for leading a team to a championship and for playing outstanding ball along the way. But the Lakers won not simply because Kobe was the best player (give or take) but because the best player was on the best team. Kobe had support when he was playing well and when he wasn't. The same will have to happen this year for L.A. to repeat.
But more than anything, seeing Cleveland again fail despite yet another fairly desperate attempt to reconfigure their roster proves just how difficult it is to create a championship alchemy. So many planets have to align, and for some franchises decades pass in between those moments when they do. The Lakers, thanks to an incredibly unique combination of excellent ownership, bold management, and well-timed bits of luck (like the type allowing L.A. to draft Magic Johnson in 1979, for example) have enjoyed a relatively freakish amount of success.
Putting aside all the arguments about damage done to LeBron's legacy (a little premature) or how Cleveland's loss influences The Great Best Player Debate, Lakers fans should take a look at long suffering Cavs fans and remind themselves how fortunate they are.
This whole purple and gold thing is working out pretty well for you.