The obvious Western Conference Finals storyline is the Lakers attempting to exact revenge on the Suns for first round exits in 2006 and 2007. The former series saw the Lakers become just the eighth team in NBA history to blow a 3-1 lead. The latter featured one Laker victory. Now the Lakers are the consensus favorites and the Suns are the respected underdog, so the story has been turned on its ear.
But like most great tales, there's a B-plot. The story within the story. And that's where Jordan Farmar fits in.
The Lakers backed into the 2007 playoffs 4-6 run after final 10 regular season games. Cohesion was minimal, and with Kwame Brown, Mo Evans, Lamar Odom and Luke Walton nursing injuries, so was health. Plus, they just weren't that great a team. An active imagination was needed envision victory. Because of these realities, the series itself contained little genuine intrigue (although Kobe's radio tour aftermath certainly made up for it). Still, this anticlimactic affair featured one interesting wrinkle. Smush Parker had become a lethargic basket case, so Phil Jackson made a drastic decision 80 games into the season and promoted rookie Jordan Farmar.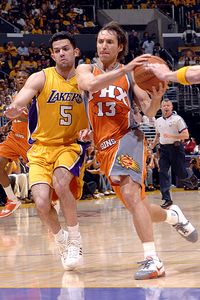 Noah Graham/NBAE via Getty Images
Farmar spent a lot of the 2007 playoffs
chasing Nash, but it was a growing
experience.
Matching playoff wits against Steve Nash is a challenge for seasoned veterans, much less a newbie averaging 15 minutes per game. The kid was clearly overmatched and after a solid Game 1, steadily faded. Still, there's no shame in getting outplayed by a two-time MVP, and it was a positive experience for the point guard.
"It was cool," said Farmar while recounting the experience at a recent practice. "I want to be a starter all the time. My whole career. So it was great for me. I got a chance to get out there at the beginning and play the game a little differently. More comfortable in the situation."
As Farmar noted, starting's always the goal, and to many, this series represented a signpost moment for his eventual career as the Lakers' starting point guard. Even with the offseason acquisition of Derek Fisher, it was only a matter of time before the reins were passed from a (then) 34 year-old to his protege.
Three seasons later, Jordan remains Fisher's backup. More notably, he hasn't made headway in taking the gig, despite L.A.'s obvious need for an heir apparent. I asked Farmar if this was a disappointment development in his career.
"Yeah. I mean, that's what I want for my career. I'm all about winning, so given my role on this team, I accept it wholeheartedly and try to do my best to help us win a championship. That's my obligation to the team and to the organization. At the same time, in my personal career, as my career goes on, I want to make strides to progress in my career. From that point, it's kind of gone up and down a little bit. I want to continue to keep getting better, to keep getting more opportunities. I really want to run a team."
99.999 percent of NBA players prefer to start (.001 being Robert Horry), so Farmar coveting the spot shouldn't raise eyebrows. More concerning, however, is the flimsy case he's made. Farmar's basic stats have mostly dipped since his sophomore season. Ditto the PER. During a period in 2009 when his attitude was questioned, he briefly fell out of the rotation in favor of mid-season addition Shannon Brown, despite the lack of triangular knowledge. It's unfortunately easier to argue Farmar's regressed than improved since his second season, particularly on defense. At the very least, he's been stuck in neutral.
Removing the "starter" issue from the equation, I asked Farmar to assess his career progress purely as a player:
"It's hard to tell. I'm not getting to play basketball the way I know how to play basketball. I'm not the one making the plays, making the decisions. I'm more spacing the court, feeding the guys and being aggressive on occasions on my opportunities. It's just different. That's just my role on the team, to bring energy, to get us in our stuff, and to run the offense the right way. It's just a little different. In terms of my progression, my progression in this role has kind of come around to where I'm comfortable doing this role, but I still want more for my overall career."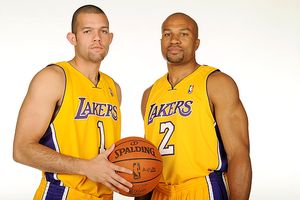 Andrew D. Bernstein/NBAE via Getty Images
Youth will not be served for the time being.
This take is pretty fascinating, because he's arguably right and delusional at the same time. Farmar's been accused of an inflated sense of his skill, and I'd be lying if I claimed never to concur. He often attempts way too much on the offensive end without accomplishing enough on the other side. At the same time, it's genuinely hard to refute his point about the Laker system not playing to his strengths. Farmar likes to play uptempo while making decisions with the ball in hands like a traditional point guard. The Lakers play slower, emphasize the post or Kobe, and often require him to spend time spotting up. It's a job description Farmar clearly isn't wild about, even when attempted in earnest.
After four years in a Laker uni, I'm still not convinced Farmar would make a great NBA starting point guard. But I absolutely think the odds would increase in a different system. The consensus opinion will be revealed this summer when Farmar hits restricted free agency. I'm not sure what the market holds for him, but I've felt for a couple of seasons this will be Farmar's last year in L.A. due to a mutual lack of interest. At a recent team dinner, it was acknowledged some faces could be gone next season. Jordan insists his focus is the title run, but acknowledged the concept of a last hoorah in purple and gold has crossed his mind.
"You never know how it's going to work out."
It's important to note Farmar wasn't complaining about his situation, nor was any bitterness expressed while answering my questions. I broached the subject, not him. Yes, failure to secure a starting spot leaves Farmar unsatisfied, but he still recognizes the unique value of his four NBA seasons.
"In terms of my career, I've done everything you can do as a basketball player. I was a first round draft pick. I played in the Rookie game. I got sent down to the D-League. I came back up. I came off the bench. I didn't play at all. I started. I went to the Finals and lost. I went to the Finals and won. I've done pretty much everything you can do. I've gotten injured. I've had to sit out. I've had surgery. I've been through so many things as a basketball player in four years. I just have a lot of experience and a lot of preparation to really do more in my career.
"I've been through it all, man. I just want to play.
"I'm very, very happy. I've helped this organization, one of the greatest in the history of basketball, win another championship. I'm definitely a big part of that and it feels very special and it's time to do it again. As far as what's been accomplished, I'm very happy about it.
"I can't complain... I don't know if I would have traded it for anything."
Uncertainty may loom on Farmar's horizon, but one thing's iron-clad. He's a member of the Los Angeles Lakers and a series begins Monday where he needs to step up. Phoenix's reserves have been critical to their postseason success, and it'll be up L.A.'s bench to match effectiveness and energy. Of any Laker in the rotation, much less the three main reserves, Farmar's made the smallest impact during the playoffs. Now is the time to demonstrate the capabilities he's always steadfastly believed in.
If this emerges his final season as a Laker, it would only be fitting to succeed against the opponent showing him what playoff ball is all about.