Let's be honest. From 1959-1969, the Celtics were the Lakers' daddies. Seven trips to the finals in eleven seasons. All seven defeats at the hands of the Celtics. (Adding insult to injury, the Lakers opened the 70's with another shot at a ring, only to lose to the Knicks). The favor was finally returned in 1985 and dominance from the Showtime era onward has clearly belonged to the Lakers. But during this painful period in purple and gold history, the best the Lakers could do was create a few indelible moments, however fleeting, during these ultimately fruitless quests.
Jerry West provided one for the ages.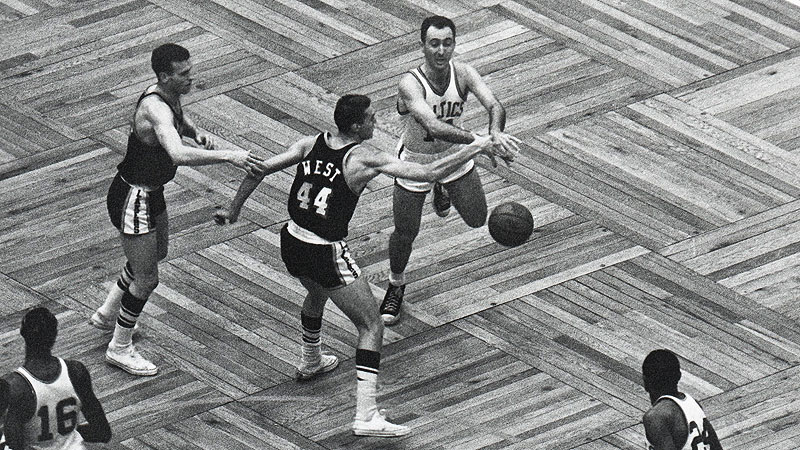 US Presswire
The Celtics may have won the 1962 title, but at least Jerry West delayed the celebration.
Having just watched West score four straight points to tie the game at 115 apiece, a record Sports Arena crowd of 15,180 watched as The Logo pulled off one of the most thrilling one-man shows ever to cap a win.
With four ticks remaining in regulation, Sam Jones inbounded to Bob Cousy. Or at least that was the plan until West became the fly in the ointment. The pass was intercepted and Mr. Clutch was off to the races, sprinting 30 feet to beat the clock for a layup. Smoke was coming out of Red Auerbach's ears (as opposed to his cigar) as the Celtics coach claimed West couldn't have reached the other goal in so little time. No matter. The basket stood, and #44 came through in fashion befitting an icon.
The heroics weren't enough prevent to prevent the Lakers from blowing a 3-2 series lead, but a Laker legend nonetheless cemented his legacy.
ESPNLA.com and Land O' Lakers are counting down the ten greatest playoff moments in Laker history. Upon completion, fans will be asked to vote on the single greatest moment of all. Previous moments include:
Shaquille O'Neal's near quadruple-double in the 2001 NBA Finals, Game 2